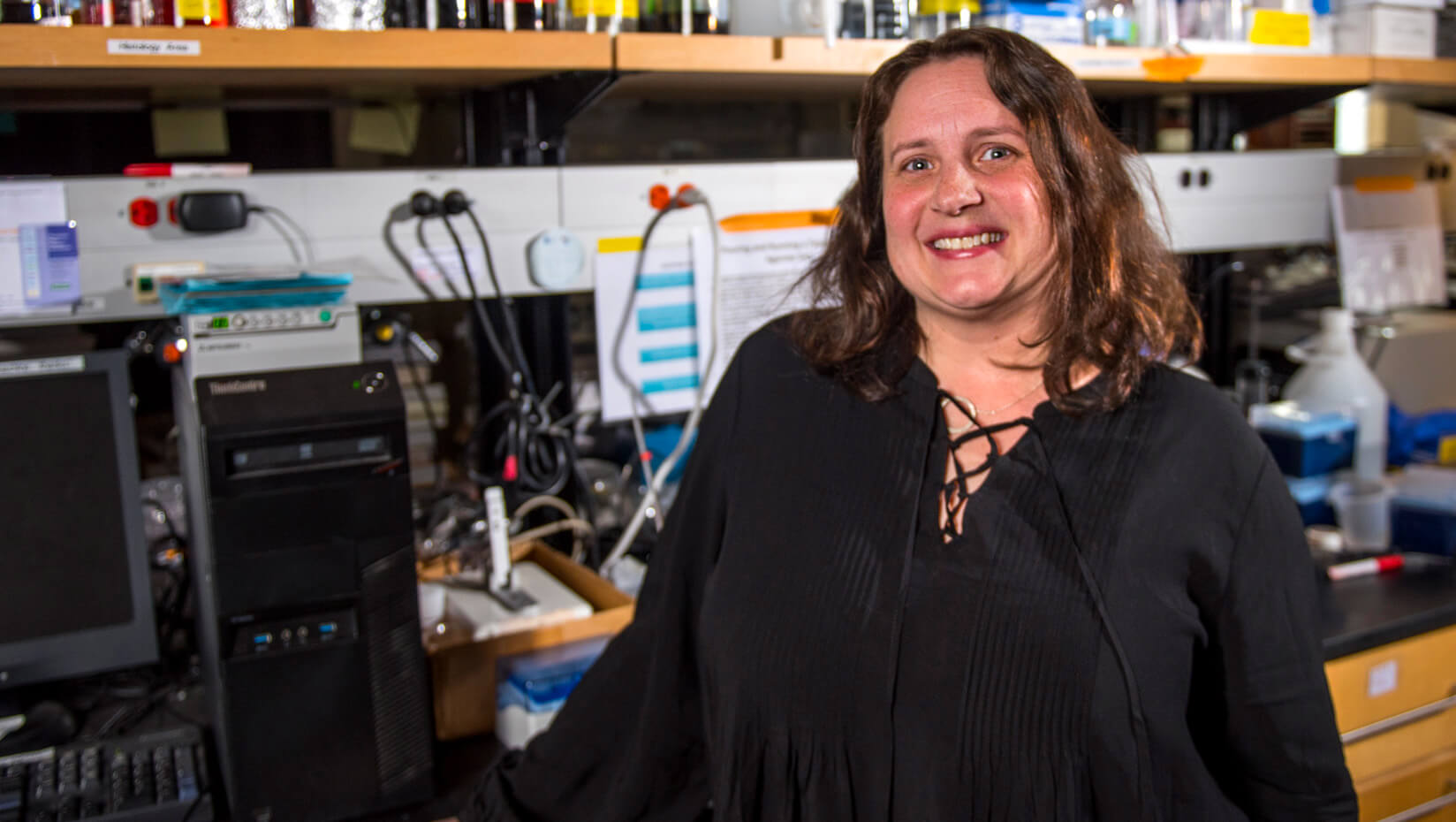 Neurobiology professor aims to engage more biomedical students with $1M NSF CAREER award
Understanding the creation of new nerve cells in adult brains while engaging more Maine college students in biomedical research is the focus of a five-year study being led by a University of Maine researcher.
Kristy Townsend, an assistant professor of neurobiology at the University of Maine, is leading the research that will focus on adult neural plasticity and neurogenesis. The broader impact goals of the project are to expand a capstone course for seniors to conduct original biomedical research, and the development of an outreach program and summer fellowship with community colleges and other underrepresented groups in Maine in order to engage students in research and increase access to biomedical careers.
The National Science Foundation (NSF) recently awarded Townsend a $1 million CAREER grant for the project, "Novel Mechanisms of Adult Neurogenesis."
"The fun thing about this project is that we get to combine our basic biology research about the adult neural stem cells in the brain that are important for energy balance regulation with our passion for training students in biomedical research, which is the other main focus of our lab's work," Townsend says.
"Biotechnology and biopharma are two growing industries in Maine, and given our close proximity to Boston (the nation's 'hub' for biomedical research) and our critical mass of brainpower in academic institutions and industry in Maine, it only makes sense to ensure our college students across the state gain a strong education in biomedical research, so their training can serve as a foundation for and springboard to biotech/biopharma jobs here in Maine. We need to be part of the pipeline that keeps this industry growing in Maine, encouraging students to stay here or come back here for their careers, which will also serve to enhance our own research here at UMaine."
Townsend, a UMaine alumna, recently joined the Board of Directors for the nonprofit Bioscience Association of Maine (BioME), and looks forward to bridging academic and industry interests to advocate for biomedical work in Maine, while also supporting the association's goals for workforce development, another integral focus for NSF and the CAREER award.
In early 2017, Townsend created a weeklong biomedical course for students from Southern Maine Community College (SMCC), the largest school in the Maine Community College System (MCCS) and the only one with a biological/biotechnology program. The course, which was offered again in January 2018, led to the initiation of the outreach program with community college and other underrepresented students in Maine, with the goal of increasing biomedical training and supporting community college students to transition to UMaine.
The course focused on investigating fatty liver disease and took students through common cell and molecular techniques that would be used in biomedical research. Professional development and biomedical career topics also were covered.
The new program will allow students statewide who normally would not easily gain access to biomedical research fellowships to apply to take part in a summer fellowship in Townsend's lab at UMaine. It also would allow UMaine graduate and undergraduate students to lead research seminars at the MCCS schools and serve as mentors for community college students transitioning to UMaine.
"Our goal is not only to boost Maine's workforce, but to also increase access to biomedical research careers," Townsend says.
To provide greater opportunities for UMaine students interested in biomedical or neuroscience research, Townsend also aims to enhance her existing Capstone course, "Biomedical Research: Neuroscience and Energy Balance," which involves students in original biomedical research in the Townsend Lab. NSF funding will allow the curriculum for this course to be formalized and to increase the supply budget for students working on capstone projects in the lab.
The research portion of Townsend's CAREER project aims to better understand how human brains make new nerve cells as adults, and specifically will examine cellular and molecular mechanisms for adult neurogenesis in regions of the brain that control appetite and calorie-burning capabilities.
"If we can better understand how new neurons are made in the parts of the brain that are supposed to tell us to eat less, or eat more healthy foods, or burn more calories by communicating with our fat tissues through our peripheral nerves, that knowledge about adult neural plasticity could translate into knowledge about how healthy metabolism is controlled," Townsend says.
The experimental design, techniques and data analysis stemming from the project will be translated into the curriculum of Townsend's courses on neuroscience and cell biology, and will serve to enhance her existing capstone course.
"Students in our lab and in my classrooms will benefit from seeing real data and learning about how and why it was collected, as well as the meaningfulness of this new knowledge for the research fields we are studying in class," she says.
In addition to bridging research and teaching in the classroom and in her laboratory, Townsend also is involved in strengthening neuroscience on campus and in the state by leading or working with several groups for undergraduate and graduate students, as well faculty members.
Those efforts — the Student Neuro Club, Neuro Journal Club and Maine Society for Neuroscience — will continue during the NSF-CAREER period, according to Townsend.
Earlier this year, Townsend received a $750,000 Collaborative Sciences Award from the American Heart Association for a three-year study looking at the aging of fat tissue and its effects on cardiovascular and metabolic conditions. She also was awarded $792,000 from the National Institutes of Health for a project investigating brain-adipose communication and how peripheral nerves in fat tissue function. The awards are complementary, Townsend says, and together should uncover new knowledge about how nerves and fat tissue interact to affect metabolic health.
The NSF Faculty Early Career Development (CAREER) Program offers the foundation's most prestigious awards in support of the early career-development activities of those teacher-scholars who most effectively integrate research and education within the context of the mission of their organization.
More about the NSF CAREER Program is online.
Contact: Margaret Nagle, 581.3745