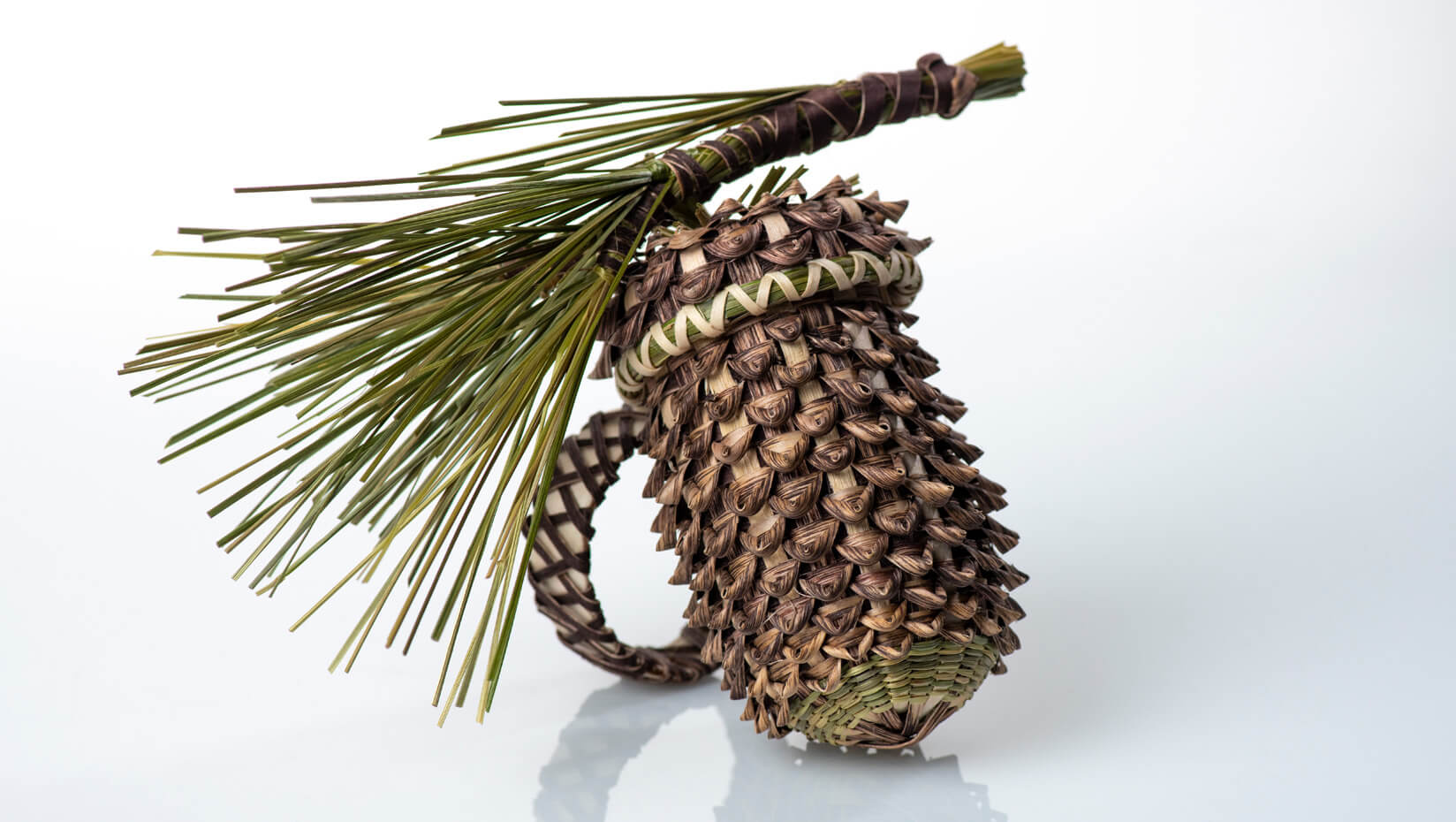 Access to sweetgrass key for artists at Maine Indian Basketmakers Holiday Market
In December, Micmac Donna Sanipass' spectacular, detailed pinecone basket made of brown ash and sweetgrass will be raffled off at the Maine Indian Basketmakers Holiday Market.
Proceeds will support the 24th annual market that will be held 9 a.m. to 3 p.m. Saturday, Dec. 8, at the Collins Center for the Arts at the University of Maine.
Sweetgrass (Hierochloe odorata), one of the basket's two materials, is a cultural grass that Wabanaki people have been harvesting for generations. For Wabanaki people, harvesting sweetgrass maintains a connection to their spiritual practice, the landscape, and their familial ties and ancestors.
Known as welimahaskil in Maliseet, sweetgrass grows in wet meadows, alongside streams and in marshes, including in Bass Harbor Marsh in Acadia National Park.
But harvesting in national parks had been prohibited until 2016.
Suzanne Greenlaw, a doctoral candidate in the UMaine Senator George J. Mitchell Center for Sustainability Solutions and the School of Forest Resources, researches Wabanaki cultural resource issues, including access to sweetgrass and brown ash.
Ensuring access to, and harvesting rights of, sweetgrass in protected areas is critical to native basketmakers. Greenlaw, other tribal members, and park officials are exploring the possibility of native basketmakers having harvesting rights in the park's salt marshes.
In summer 2017 in Bass Harbor Marsh, native gatherers identified areas — one-meter plots — they wished to harvest. Then they did so as part of Greenlaw's project with Michelle Baumflek, a research biologist for the United States Forest Service.
One-meter control plots also were marked.
Prior to and post-harvest in 2017, Greenlaw and Baumflek counted sweetgrass stems in the plots. And in summer 2018 when they returned, Greenlaw says sweetgrass was more abundant in the harvested plots than in the control plots.
When conducting research, Greenlaw utilizes both Wabanaki Traditional Ecological Knowledge and scientific knowledge.
"To be here (in Acadia National Park) means we're changing the way we perceive protection and conservation, that indigenous knowledge is being seen as equal to, or an alternative way to know things and to do things," she says.
Excluding people from an area to protect it isn't a native concept, says Greenlaw, adding there's a reciprocal, beneficial relationship between native people and plants.
"Being able to pick sweetgrass is … a way we maintain our culture," she says.
Hundreds of years ago, it's possible that native ancestors harvested sweetgrass in the area now named Bass Harbor Marsh. And now "we're in the same area, doing the same activity, potentially telling the same stories," she says.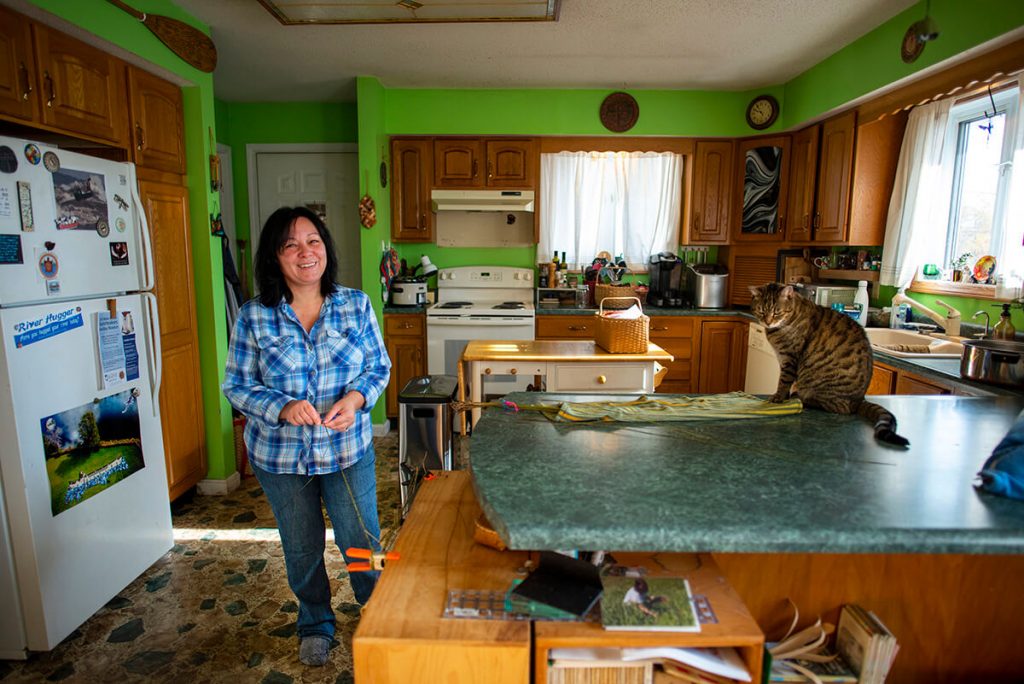 Penobscot Jennifer Neptune braids strands of sweetgrass for baskets under her cats' watchful gaze in her kitchen on Indian Island.
Some women can braid sweetgrass so fast that their hands are a blur and the sweetgrass "hums," she says.
Neptune, who majored in anthropology and minored in Native studies at UMaine, is executive director of the Maine Indian Basketmakers Alliance.
She gets inspiration for her designs from older baskets. So, she visits museums. And she goes to antique shops to do what she calls basket rescues to bring them home.
In addition to being fragrant basket material, Neptune says sweetgrass is used in ceremonies, burned during prayers and hung in houses for protection.
She's harvested sweetgrass — from the root, blade by blade — in July or August in the same spot for nearly 20 years. Because it grows alongside other grasses, Neptune says sometimes it blends in with them.
"But you just stop and change your focus and you can see it all," she says.
Having access to land to harvest sweetgrass is essential to pass on traditions, connect to the land, and demonstrate proper technique to protect the grass and the marsh. "We kind of need each other," Neptune says.
The Maine Indian Basketmakers Holiday Market — a collaboration between the Hudson Museum and Maine Indian Basketmakers Alliance — offers opportunities for award-winning and new artists to sell baskets directly to the public, as well as provide educational demonstrations.
"This event is one of only a handful where the public can meet Maine Indian artists, learn about these ancient traditions and acquire one-of-a-kind art forms," says Gretchen Faulkner, director of the Hudson Museum.
Schedule for the free-admission event:
10 a.m. — Welcome ceremony
10:30 a.m. — Traditional Penobscot songs
11 a.m. — Brown ash-pounding demonstration
Noon — Basket demonstration with Donna Sanipass (Micmac)
12:30 p.m. — Drumming and singing with Chris Sockalexis (Penobscot)
1 p.m. — Fashion show
2 p.m. — Burnurwurbskek Singers
3 p.m. — Raffle drawing for the brown ash and sweetgrass pinecone basket made by Donna Sanipass (To purchase tickets, call 207.581.1904.)
Contact: Beth Staples, 207.581.3777