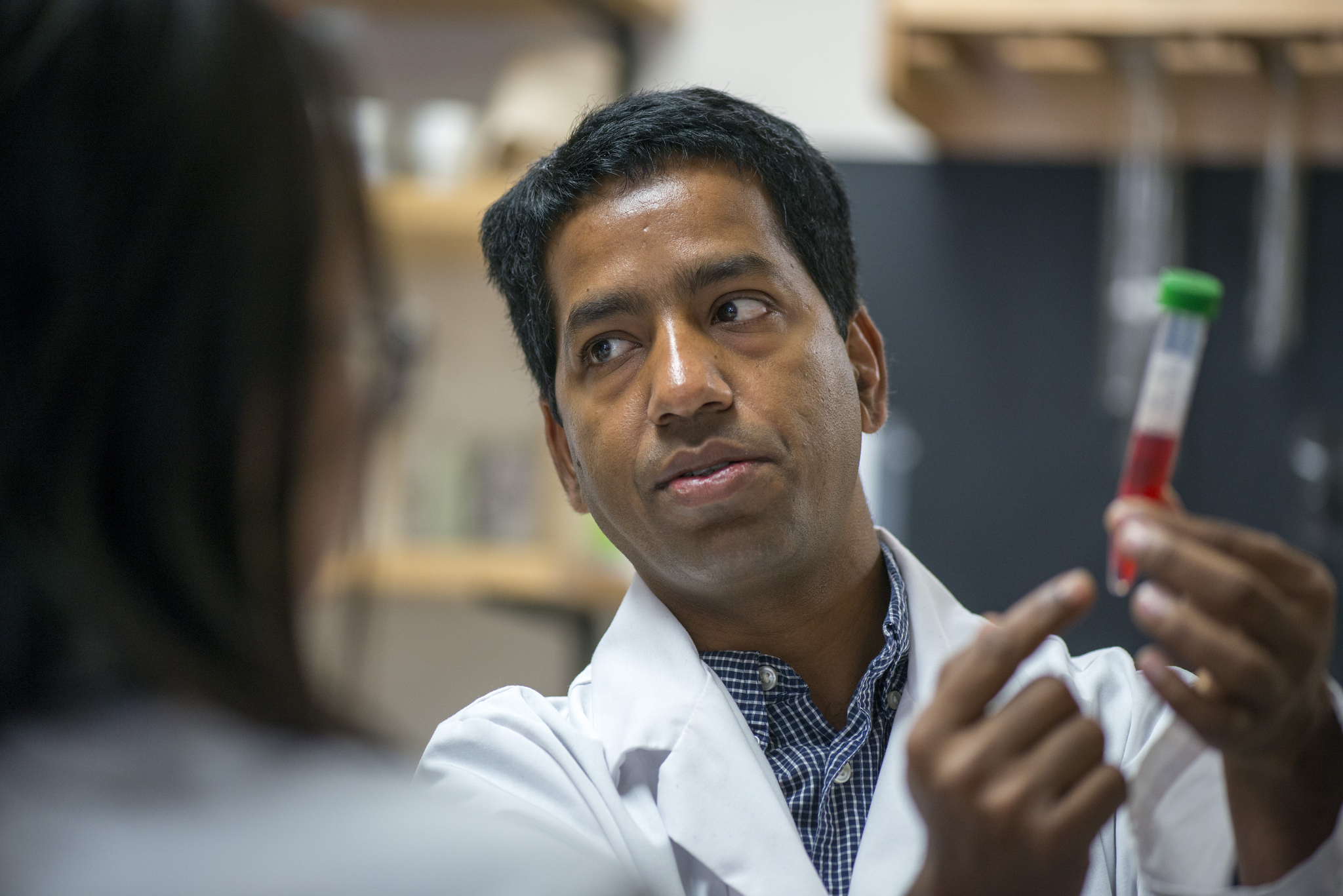 Food science majors to engage in active learning to prepare for industry demands
Balunkeswar (Balu) Nayak is leading a charge to strengthen food science majors' understanding of science and engineering by replacing lecture-centered instruction with active-learning strategies.
The University of Maine associate professor of food processing is directing a multi-university project to boost math knowledge and problem-solving skills of food science majors for careers in food processing, food engineering and food manufacturing.
Nayak says critical objectives are to improve their knowledge about safety relating to food recalls; traceability issues due to globalization; new import and export regulations; and workforce preparedness.
Food science students — the next-generation workforce in industry, regulatory and non-government agencies — "should understand the big picture of sustainability in food processing, preservation and distribution," says Nayak.
In the United States, more than 1.5 million people work at 26,000 food companies. The food and beverage industry faces complex demands — including consumers who want healthier foods, an increasing number of food safety regulations, and concern for socioeconomic and environmental impacts of food production and manufacturing.
To meet these demands, food science majors need a solid STEM background and the ability to craft innovative ideas and solutions.
To help make that happen, UMaine will utilize $367,341 of a $747,328 award from the U.S. Department of Agriculture—National Institute of Food and Agriculture Higher Education Challenge Program for a collaborative project that begins this summer and concludes in 2022.
The team includes Susan McKay, founding director of the Maine Center for Research in STEM Education (RiSE Center) and professor of physics and astronomy at UMaine. It also involves professors at five other land grant universities.
Nayak, McKay and the other co-directors will identify learners' challenges, including those faced by first-generation college students, underrepresented populations and those in difficult financial situations.
Students say common problems they face in food processing and food engineering courses include the rapid pace, heavy workload, lack of practice problems, and limited student-centered active engagement.
Switching from traditional lecture-centered instruction to an active learning format is expected to address a number of these concerns, Nayak says.
The team will develop a learning model that incorporates group discussions and teamwork among students — inside and outside the classroom — at six land grant universities. Students in different regions of the country will interact and share information about their local food systems and conditions, says Nayak.
The model also will provide students with chances to intersect with the food industry to experience real-time emerging challenges, as well as to network globally and learn about career opportunities.
A previous analysis of STEM disciplines found student performance improved by about 6 percent with active learning-based teaching. And, student failure rates in traditional lecture courses have been found to be 50 percent greater than those in courses that incorporate active learning. Other studies have found active-learning strategies improved all students' achievement, especially traditionally underrepresented students.
The root cause(s) of student underpreparedness also must be uncovered and addressed, says Nayak. For insight, project leaders will gather feedback from graduates and instructors of university food science programs, as well as employers of graduates.
Nayak says UMaine will lead the active-learning instruction training for faculty at the participating universities, with the goal of improving student learning in food processing and engineering courses.
The effectiveness of the project's model will be assessed and knowledge gained will be used to improve courses at universities nationwide. In 2015, more than 40 institutions granted more than 2,000 food science degrees.
Other project co-directors are Helen Joyner of the University of Idaho /Washington State University; Buddhi Lamsal of
 Iowa State University; Girish Ganjyal of Washington State University; Haibo Huang Balunkeswar (Balu) Nayakof Virginia Polytechnic Institute and State University; and
 Adedeji Akinbode of the University of Kentucky. Horizon Research Inc. — a private research firm located in North Carolina specializing in work related to STEM education — also is a partner. Kellogg Company and Nestle are industry supporters.
Laura Millay, the RiSE Center research and evaluation coordinator and Erin Vinson, RiSE Center campus programs coordinator, also will be part of the project, titled "Enhancing Learning Outcomes in Food Engineering and Processing Courses for Non-Engineers Using Student-Centered Approaches."
Contact: Beth Staples, 207.581.3777