UMaine Researcher Meets U.N. Secretary General On Research Vessel
University of Maine School of Marine Sciences associate research professor Lee Karp-Boss had the opportunity Saturday to meet with Ban Ki-moon, the secretary general of the United Nations, and spark his interest in oceanography using hands-on activities she co-developed at UMaine.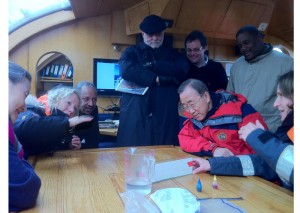 Karp-Boss met with Ban on board the Tara, a 118-foot schooner that is the research vehicle for the Tara Oceans Expedition. Karp-Boss is the chief scientist for the leg that left New York City Sunday and is sailing to Bermuda. This is the third leg with a UMaine scientist as chief – School of Marine Sciences professor Emmanuel Boss previously sailed with the Tara from Panama to Savannah, Ga. – and the second for Karp-Boss.
Ban was on the Tara for about 90 minutes following a Feb. 9 U.N.conference about the Tara project.
The Tara left from Lorient, France, on Sept. 5, 2009, and has since been through the Mediterranean Ocean, in the Middle East, around southern Africa and across the Atlantic Ocean to South America. By March 2012, when the boat returns to Lorient, the expedition will have visited 32 countries with 50 stopovers.
Tara Oceans Expedition is primarily a European-funded venture, but has also received support from NASA, the United Nations, the National Science Foundation and the National Institutes of Health. Maine scientists from both UMaine and Bigelow Lab are active in the project.
For more information about the expedition, go to the Tara expedition website.
Contact: Jessica Bloch, (207) 581-3777 or jessica.bloch@umit.maine.edu