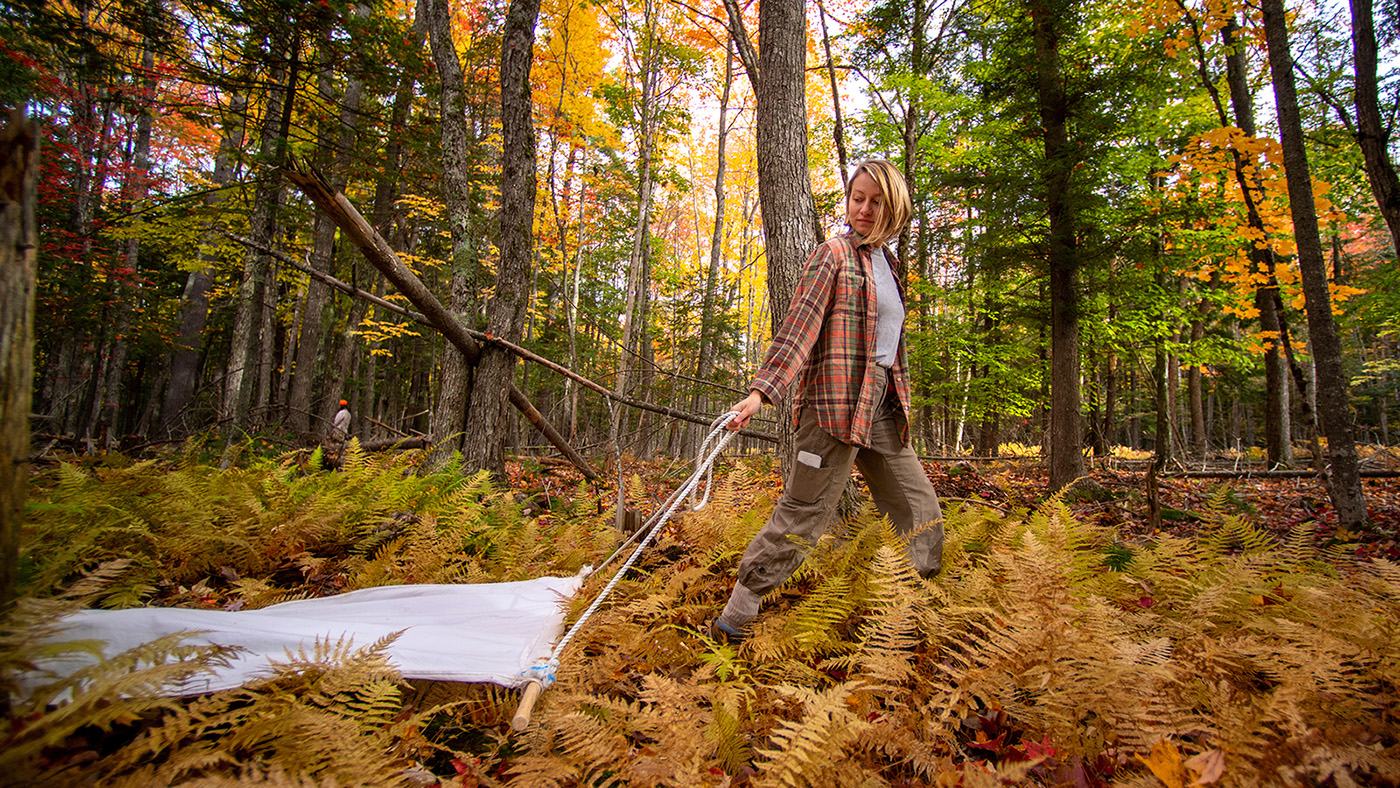 Community scientists key to pioneering UMaine tick study
A study led by researchers at the University of Maine spearheaded a new approach to finding where ticks love to lurk. The Maine Forest Tick Survey trained hundreds of woodland owners in Maine to systematically comb their properties for disease-toting ticks to discern how forest management may influence the pest's prevalence.
Ticks pose a growing public health burden. Lyme disease, which can be transmitted by deer ticks, is the second most common infectious disease reported in Maine. Each year, an estimated 476,000 Americans are diagnosed with or treated for Lyme disease. The blacklegged ticks (Ixodes scapularis) that have spread across Maine since the 1980s also transmit pathogens that cause diseases like anaplasmosis and babesiosis. 
These concerns compelled hundreds of volunteers to scout for ticks on their properties. Over two years, more than 300 volunteers collected 7,246 ticks from nine counties in southern and coastal Maine. More than 20% of participants reported that they had been diagnosed with Lyme disease previously, and 96% reported that they knew someone who had. Interest in participating in data collection was so robust that the researchers had to create a waiting list. 
Questing for Better Tick Habitat Data
The survey approach pioneered by Allison Gardner, a UMaine medical entomologist and associate professor, and colleagues used active survey techniques, a first among tick community science projects.
"The involvement of community scientist volunteers in data collection allowed us to quantify tick densities and habitat at an unprecedented scale. Individual research labs simply lack the capacity to visit hundreds of properties in a single year," Gardner says. "We anticipate that this extensive data set will provide new insight into landscape features and forest management approaches that ultimately may inhibit tick-borne pathogen transmission."
Previous large-scale tick monitoring relied on passive surveillance. Just as ticks lie in wait for an animal to brush past, researchers waited for unlucky humans to discover and report their encounters. This approach, however, introduces reporting bias that makes data difficult to interpret and ultimately conceals ticks' habits.  The precision of the active survey approach gives communities, policymakers and healthcare providers better data to help people avoid ticks and the diseases they spread. 
Volunteers Explored their Woodlands Like Scientists
Elissa Ballman, a research associate in Gardner's lab and first author on the study, trained volunteers to collect field data like professional scientists. The volunteers also learned how to identify invasive plants which, according to previous studies, offer ideal conditions for hungry ticks. In return, volunteers received training, annual project reports, access to exclusive social media groups, free tick-borne pathogen detection services and access to subject-matter experts. More than 85% of participants completed all aspects of the survey.
"It was a good learning experience for me, understanding where to find the most ticks. Where are their habitats? Where do they like to be? Once you figure that out, you also learn what kind of illnesses are in your area," says Jill Ferrelli, who surveyed her property in Elliot, Maine for both years of the study. "There were two or three different diseases that were in the ticks out behind our home. It surprised me to see that we have ticks in this area that carry diseases other than Lyme." 
Testing Ticks Revealed Prevalence of Disease-Causing Pathogens
Back at Gardner's lab, which is part of the Maine Agricultural and Forest Experiment Station, the research team processed thousands of specimens, sorting them by species and life stage. Blacklegged tick nymphs, which pose the greatest risk to human health, were tested for pathogens at the University of Maine Cooperative Extension Diagnostic and Research Laboratory, in collaboration with Tom Rounsville and Griffin Dill. The researchers found that 25% harbored the pathogen that causes Lyme disease, 6.2% carried the bacteria that causes Anaplasmosis, and 5.8% percent harbored the parasite that causes babesiosis. 
The research team also included undergraduate research assistant Michel Galli, who is based in Gardner's lab. Jessica Leahy, Henry W. Saunders Distinguished Professor in Forestry, and Carly Sponarski, a former assistant professor of human dimensions of wildlife and fisheries conservation, also contributed to the study. 
The study was published in the May issue of the journal Ticks and Tickborne Diseases. The research was supported by the USDA National Institute of Food and Agriculture through the Maine Agricultural and Forest Experiment Station.
Contact: Erin Miller, erin.miller@maine.edu