UMaine professors honored for contributions to science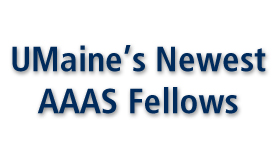 Two University of Maine professors have been elected as Fellows to the American Association for the Advancement of Science (AAAS) for their contributions to science and technology.
Joyce Longcore, associate research professor in UMaine's School of Biology and Ecology, and Susan Brawley, professor of plant biology in the School of Marine Sciences and cooperating professor of biological sciences, will be recognized at the AAAS Annual Meeting in February in Boston.
Longcore, Brawley and the other 700 recently elected Fellows will be presented with a certificate and a blue and gold rosette to honor their accomplishments.
Longcore was elevated to the rank of Fellow "for distinguished contributions to mycology/microbiology on aquatic fungi (chytrids), developing extensive collections and isolating and describing Batrachochytrium dendrobatidis (Bd), the cause of global amphibian declines," according to AAAS.
She is a leading researcher on chytrid fungi, including a fungus believed to be responsible for the worldwide decimation of frogs. In the last 30 years, more than 100 amphibian species have become extinct.
Longcore isolated a pure culture of Bd in 1997 after a die-off of exotic frogs in captivity at the Smithsonian National Zoological Park in Washington, D.C. She and her Smithsonian colleagues described it as a new genus and species, and she and collaborators have studied populations of it throughout the natural world.
Longcore says she is honored to bring attention to the university for her work with chytrid fungi.
Brawley was elevated to the rank of Fellow "for innovative and interdisciplinary approaches in elucidating critical factors in rocky seaweed distribution, and for inspiring and training students at all levels," according to AAAS.
She is an expert on marine algae and algal reproduction. Brawley and her students focus on adaptations that allow algae to reproduce successfully under natural stresses in the intertidal zone, particularly in rockweeds and red algae. She is also working to foster integrated aquaculture with sea vegetables in Maine, and to increase appreciation for their nutritional and culinary benefits.
Brawley is a former editor of the Journal of Phycology and former president of the Phycological Society of America. She led a National Science Foundation project from UMaine that won a New England Board of Higher Education's Regional Excellence Award for effective science outreach in Maine schools.
She is currently on sabbatical in California.
"I am delighted that Dr. Susan Brawley and Dr. Joyce Longcore were named AAAS Fellows," says Edward Ashworth, dean of Natural Sciences, Forestry, and Agriculture, and director of the Maine Agricultural and Forest Experiment Station.
"Being an AAAS Fellow is a distinct honor and certainly a well-deserved recognition for two outstanding scientists who have contributed much to their fields of study. I am very proud of these accomplished faculty members and their association with our college and UMaine."
Four other UMaine faculty members also are AAAS Fellows: Edward Grew, Irving Kornfield, Paul Mayewski and Malcolm Shick. The late Bruce Sidell was also a Fellow.
Grew is a research professor of geological sciences in UMaine's School of Earth and Climate Sciences; Kornfield is a professor in the School of Marine Sciences; Mayewski is director and distinguished professor in UMaine's Climate Change Institute, professor of Earth sciences, and a cooperating professor in the School of Marine Sciences and School of Policy and International Affairs; and Shick is a professor of oceanography and zoology, cooperating professor of biological sciences, and associate director of the School of Marine Sciences.
Sidell, founding director of the university's School of Marine Sciences, died in 2011.
Founded in 1848, AAAS has 120,000 individual and institution members. Fellows are nominated by their peers and chosen by the AAAS Council. The mission of the international nonprofit is "to advance science, engineering, and innovation throughout the world for the benefit of all people."
Contact: Beth Staples, 207.581.3777