Bluefin Biology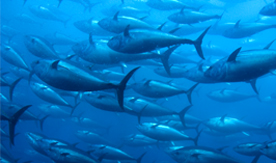 Tuna research could inform fishing regulations on the Species of Concern
A University of Maine researcher is analyzing biological data from Atlantic bluefin tuna that could lead to refined population estimates and impact where restrictions on the historically overfished species should be placed.
"The Atlantic bluefin tuna is a big, sexy fish," says Walter Golet of the tuna that can grow over 10 feet in length, weigh as much as 1,500 pounds and swim faster than 40 mph.
A year ago, a 593-pound bluefin sold for $736,000, says Golet, a postdoctoral research associate with UMaine's School of Marine Sciences and the Gulf of Maine Research Institute.
Commercial fishermen have been pursuing the prized, warm-bodied species for decades. Beginning in the late 1970s, worldwide demand and prices for large bluefins increased substantially, Golet says, and stock assessments indicated a rapid decline in the number of adult fish.
Since a rebuilding plan enacted in 1998, assessments suggest a minimal increase in the number of adult fish, says Golet. In 2011, the National Marine Fisheries Service was forced to conduct a status review on Atlantic bluefin tuna and listed it as a Species of Concern.
Golet's research seeks to provide up-to-date, life history data of the bluefin stock that, in turn, would serve as a basis for effective, appropriately placed fishing regulations.
The data will be derived from biological sampling of the tuna's dorsal spines, reproductive organs and sagittal otoliths — small, calcified structures inside the head that are sensitive to orientation and acceleration.
By studying these biological samples, he and fellow researchers can determine the age of the tuna, when it reached sexual maturity, and whether it was born in the Gulf of Mexico or Mediterranean Sea. This knowledge is vital to accurately estimating how many fish there are and how many can be harvested by fishermen from more than 25 countries pursuing bluefin in the North Atlantic, Golet says.
Otoliths log data throughout a bluefin's life, Golet says.  Otoliths are small crystal-like structures that accrete minerals at different rates depending on the animal's physiology and the chemical properties of the water. These characteristics make them ideal to determine age and where the fish was born, he says.
For his research, Golet is using biological samples of bluefin tuna caught by commercial and recreational fisherman from Maine to Rhode Island from June through October.
"Bluefin tuna come to the Gulf of Maine to fatten up," he says. "A large bluefin tuna can gain 100 to 150 pounds in four to five months. They use those lipids to swim back to spawning grounds and to make sperm and eggs."
Approximately 38,000 fishermen have permits to catch Atlantic bluefin tuna in waters from Maine to Texas; all but about 2,000 are recreation permit-holders, Golet says.
The study is part of a program for the International Commission for the Conservation of Atlantic Tunas and the National Marine Fisheries Service. In addition to the University of Maine, study participants include the University of Massachusetts Amherst (Large Pelagics Research Lab), University of Maryland, Spanish Institute of Oceanography, Fisheries and Oceans Canada and National Marine Fisheries Service.
The National Oceanic and Atmospheric Administration awarded Golet and collaborators $241,133 in 2011 and $196,133 in 2010 to conduct the research.
Contact Beth Staples, 207.581.3777