Plate to Plant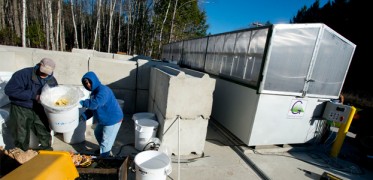 UMaine opens new campus composting facility
A joint collaboration between the University of Maine Dining Services and University of Maine Cooperative Extension will establish the first facility for advanced composting of food waste in Maine.
The effort involves the purchase of a 10-foot by 40-foot enclosed, automated composting unit called the EarthFlow 40, manufactured by Green Mountain Technologies, based in Washington state. This unique facility, along with the expertise of the UMaine Extension Professor Mark Hutchinson, has the potential to convert more than 1 ton of organic waste per day from campus dining facilities — from potato peels and lettuce leaves to meat scraps — into a rich soil amendment that will be used in UMaine landscaping and on university crop fields.
The composting facility, located off Rangeley Road on campus, also promises to save money and will continue the institutional advancement toward sustainability, while serving as a demonstration site for students, individuals and potential commercial users.
During the academic year, nearly 1 ton of organic waste is generated daily in UMaine's three dining commons and the Marketplace, the largest retail dining facility on campus. UMaine Auxiliary Services, which oversees on-campus dining and other student services-related departments, has been composting organic waste for nearly 14 years in an effort to be as environmentally responsible and cost effective as possible by keeping the weighty discards out of the waste stream. Most recently, UMaine has contracted with a private composting firm at a cost of $65,000 annually.
The UMaine compost facility is expected to cost $25,000 a year to staff and maintain using Facilities Management personnel. The resulting compost will be used campuswide as a soil amendment that benefits soil structure.
The compost is a soil enhancer, not a fertilizer. The biggest benefit of compost is its ability to hold plant nutrients in place in the soil, says Hutchinson, a University of Maine Cooperative Extension professor who directs the award-winning Maine Compost School, based at Highmoor Farm, a UMaine Agricultural and Forestry Experiment Station in Monmouth, Maine.
Hutchinson, who has 10 years of research in composting, developed the "recipe" for the UMaine composting facility. Ingredients will include the pre- and postconsumer waste from the dining commons and the Marketplace, as well as used horse bedding — primarily wood shavings and sawdust — from UMaine's J.F. Witter Teaching and Research Center.
Compost directly from the facility can be used on farm fields. For use in landscaping, including ornamental gardens, the compost will be aged in an open-air shed for several months before it is used in ornamental gardens.
In addition, the compost will supply the new greenhouse located next to the compost facility, where students in the UMaine Department of Plant, Soil, and Environmental Sciences are growing edible greens to supply the dining commons.
The student-run greenhouse and compost facility are expected to be an educational resource, not just for UMaine students, but also school and community groups.
"This will allow us to close the loop, not only composting on campus, but producing a product that is used on campus," says Dan Sturrup, executive director of Auxiliary Services. "At UMaine, we'll go from plate to plant. And, with the help of the greenhouse, back to the plate again."
According to Misa Saros, UMaine's conservation and energy compliance specialist, the composting system is in keeping with UMaine leadership and commitment to sustainability — from its sustainable agriculture minor to its campuswide green initiatives, all of which have earned the university a citation in Princeton Review's Guide to 322 Green Colleges for four consecutive years.
"We are very excited to be implementing a system that makes productive use of a valuable resource that is too often discarded in landfills or incinerators," says Saros.