UMaine Study Assesses Bangor Concerts' Economic Impact
Beat Benefits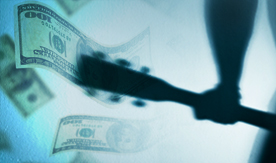 Bangor's Waterfront Concerts have had an economic impact of more than $30 million over the last three years, according to a new study by a University of Maine economist.
The impact was about $18.6 million in local spending by concertgoers, with an additional $11.8 million in indirect spending since 2010, according to Todd Gabe, UMaine professor of economics. The concerts attracted more than 200,000 people to the Bangor Waterfront Pavilion and supported an average of 160 local jobs per year — with an employment high of 252 jobs in 2012. Gabe's study shows that the economic impact increased substantially in each of the last three years that Waterfront Concerts has staged outdoor performances.
Gabe estimates the direct economic infusion was almost $3 million in 2010, $5.8 million in 2011 and $9.8 million in 2012. Direct spending and indirect expenditures combined for each of the three years amounted to $4.9 million, $9.6 million and almost $16 million, respectively.
"The number of shows has increased since 2010, and people seem to be coming from greater distances," Gabe said. "This explains the large increase in economic impact."
The findings from Gabe's study were presented to the Bangor City Council on Jan. 14. The analysis is based on taxable lodging and restaurant spending figures from Maine Revenue Services, ticket sales information provided by Waterfront Concerts, and data on overnight visitor spending from the Maine Office of Tourism.
Zip codes associated with ticket sales indicate that a quarter of concertgoers — an estimated 50,000 people — live within 30 minutes of the waterfront pavilion. About 15 percent of them traveled more than three hours to attend a concert, and as many as 27 percent of the longer-distance travelers probably were overnight visitors to the area, according to Gabe.
His analysis also estimates that Bangor-area residents who attended Waterfront Concerts reaped an additional benefit of $16.7 million by not having to pay travel costs.
"Not having to spend the money to attend shows in Boston or Portland is a benefit to locals, which goes beyond the impact to local restaurants and hotels," Gabe says.
The concert series has featured 41 concerts since 2010 with such international performers as Toby Keith, Journey, Lynard Skynard and Bob Dylan.
Gabe's research interests include the knowledge and creative economies, local industry clusters, and state and local economic development. Gabe also has conducted numerous economic impact studies.