Monitoring the Global Carbon Cycle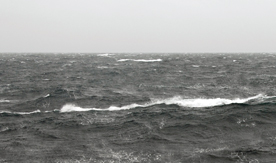 The National Aeronautics and Space Administration has awarded a University of Maine marine researcher up to $957,871 to improve ways to detect and track changes in the oceanic carbon pool, subsequently allowing scientists to better understand its role in oceanic ecosystems and the removal of atmospheric carbon dioxide.
Ivona Cetinić, a research associate in the School of Marine Sciences and the Darling Marine Center in Walpole, Maine, is leading a four-person team that will develop a novel way of detecting particulate organic carbon (POC) in oceans, using data collected by satellites.
POC — which includes phytoplankton, zooplankton and marine debris — is part of the oceanic mechanism that "pumps" carbon dioxide from the atmosphere to the depths of the ocean to be stored.
Oceanographers seek to better understand how POC distribution varies in oceans around the world. Together with policy makers, they are interested in learning whether the changing climate is impacting POC and the global carbon cycle.
Cetinić and her team will analyze seawater collected from multiple places in the world's oceans, including from coastal Maine, equatorial and polar regions, to see how POC distribution varies in different marine ecosystems. The team will use those oceanographic measurements to develop an algorithm — a set of calculations that can be used to detect POC from space.
NASA's Ocean Biology and Biogeochemistry program is funding the three-year project through November 2015. Mary Jane Perry, a professor at the School of Marine Sciences and Ira C. Darling Marine Center; Nicole Poulton, a research scientist at Bigelow Laboratory for Ocean Sciences in East Boothbay, Maine; and Wayne Homer Slade, who earned a doctorate in oceanography at UMaine and is now at Sequoia Scientific Inc. in Bellevue, Wash., are collaborating with Cetinić on the study.
Contact: Beth Staples, 207.581.3777