What's New Under the Hood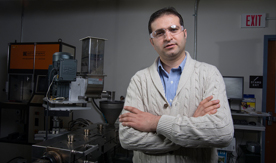 Growing up in Kars, a heavily wooded city in northeast Turkey, Alper Kiziltas appreciated nature and understood the importance of natural resources at an early age. That interest in forestry science and its effect on his country led him to the University of Maine in 2007 to pursue graduate research in the School of Forest Resources.
Three years later on a trip back to Turkey, Kiziltas met a carpet manufacturer with a growing concern over nonbiodegradable waste. Kiziltas wanted to find a solution not only for the businessman, but for the country, environment and future generations.
"My biggest concern is to find uses for recycled materials to keep the environment beautiful for younger generations," says Kiziltas.
Kiziltas' award-winning research in UMaine's Advanced Structures and Composites Center in collaboration with Professor Douglas Gardner has focused on the use of natural fillers such as microcrystalline cellulose, wood flour, hemp, flax and kenaf fibers as opposed to conventional reinforcing fillers such as glass fiber, carbon fiber, nanoclay and silica. He is exploring new heat-resistant automotive plastics from these natural materials, which he has determined can stand the stress of high temperatures and are low-cost, low-density, strong, renewable, recyclable and biodegradable.
Kiziltas will continue his research at Ford Motor Co. in Dearborn, Mich., when he starts a six-month internship in August.
Last year, Kiziltas received an Automotive Composites Conference & Exhibition (ACCE) Graduate Scholarship Award from the Society of Plastics Engineers for his research proposal focused on cellulose-filled recycled carpet for under-the-hood applications for the automobile industry.
Other recognition he has received for his preliminary research results include the Dean's Undergraduate Mentoring Award at UMaine's 2013 Graduate Academic Exposition and first place for his oral presentation and third place in the commercialization competition at the 2012 GradExpo. He also won first place in the poster competition in the 2012–2013 SPE Automotive Composites Conference & Exhibition (ACCE) for his project having the greatest potential effect on ground transportation.
Most recently, Kiziltas was named the 2013 outstanding Ph.D. student in UMaine's College of Natural Sciences, Forestry, and Agriculture.
In 2010, Kiziltas submitted the "Under the Foot to Under the Hood" proposal to the Republic of Turkey, Ministry of Science, Industry and Technology. Out of more than 700, it was chosen to receive $60,000 in funding if he returns to Turkey and opens his own company. The competition is open to students from Turkey until five years after earning an undergraduate, master's or Ph.D. degree.
Kiziltas earned an undergraduate degree in forest products engineering from Karadeniz Technical University in Trabzon, Turkey, and in 2006 was awarded one of two full scholarships from the Republic of Turkey's Ministry of National Education to pursue graduate studies in wood sciences and technology in the United States.
In August 2009, Kiziltas earned a master's degree from UMaine's School of Forest Resources and became the first UMaine student to earn a graduate certificate in innovation engineering. This August, he will start his internship with Ford, and will receive his Ph.D. from UMaine in May 2014.
Kiziltas hopes to convert the nylon used in carpets to a form that could be used by automobile manufacturers by mixing the recycled nylon with the natural fillers.
Many scientists think natural materials can only be used in thermoplastics with a low melting point, Kiziltas says. However, he thinks UMaine is the only research institute that can heat cellulose at such high temperatures, opening the door for more uses of the materials.
Kiziltas says according to carpet industry estimates, about 4–6 million tons of carpet are disposed every year worldwide, with less than 5 percent of the disposed materials being recycled and less than 1 percent being reused. Nearly 95 percent of nonbiodegradable carpet waste ends up in landfills, taking up space that could be used for other materials.
Carpet is generally made up of a face fiber and backing. About 65 percent of carpets sold in the U.S. are made of nylon, making it the most popular face fiber because of its versatility, moldability and resistance to high temperatures and harsh chemicals. Even though nylon performs the best among synthetic fibers, it is also the most expensive.
Demand for nylon in the automotive industry is expected to increase because of government regulations requiring fuel economy upgrades. Lightweight nylon can help make cars lighter, more efficient and environmentally friendly, according to Kiziltas.
Kiziltas believes nylon from carpet waste can fill the demand in the automotive industry once properties from the materials are converted to meet required standards.
After speaking with automotive manufacturers, Kiziltas learned the market requires a high specific strength and modulus, low density and inexpensive reinforcements for nylon. From his master's thesis research, he knew cellulose fiber reinforcement could be a suitable candidate to mix with the recycled nylon and found natural fibers-filled nylon composites could be produced for under-the-hood applications where conditions are too severe for other plastics.
The reused nylon could be used in simpler automobile applications, such as dashboards, engine covers and side panels, that require less modification, Kiziltas says, but adds that he and his team "like a challenge."
Kiziltas, who lives in Orono with his wife — who is also a UMaine graduate student — and their two young children, says he would like to return to Turkey to continue his research with the scholarship he was awarded, but he may wait a few years to do so.
"I would like to work in a research institute to mentor young scientists while using my background to make new materials," Kiziltas says.
He has already mentored and supervised more than six students in the field of natural fillers-filled thermoplastic composites for automobile applications. One of his mentees, third year civil engineering student Alex Nash, won the Society of Plastic Engineers (SPE) 2013–2014 Extrusion Division/Lew Erwin Memorial Scholarship.
Kiziltas says he used to want to be a professor, but after taking the innovation engineering courses at UMaine, his image of his future began to shift as he discovered his passion for creating new materials with moneymaking potential.
In the long term, Kiziltas would like to return to Turkey to help his native country become more developed and scientifically advanced. He also hopes to help build a relationship between Ford Motor company and UMaine while doing his internship at Ford's research facilities this summer.
"I don't want to see my degrees on a shelf. I want to see them put to use in the industry," Kiziltas says.