NSFA 2013 Faculty Award Winners
NSFA Outstanding Public Service Award—2013
Eleanor Groden, Professor of Entomology
School of Biology & Ecology
Ellie Groden is an entomologist whose research on insect pests has been important for Maine's potato industry and for homeowners and landowners. Her research on biological control of Colorado potato beetle led to non-chemical ways to control this pest. As potato growers started noticing a new problem, Ellie shifted her research to methods to control the European corn borer. When biologists at Acadia National Park contacted her about a problem with a new invasive species—the European fire ant—Ellie responded with targeted research programs once again. As these ants have spread throughout Maine, she has made a considerable effort to educate land managers, pesticide control applicators, and homeowners on how the ants are spread and how to control populations. Ellie's research has recently broadened to include other invasive insect species, including the lily leaf beetle and emerald ash borer. Ellie Groden's responsiveness to the needs of Maine's resource professionals and citizens makes it clear that she is committed to public service.
NSFA Outstanding Research Award—2013
Peter O. Koons, Professor
School of Earth & Climate Sciences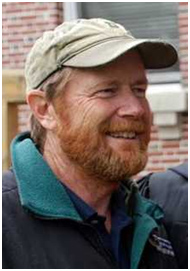 Peter Koons studies the basic structures and processes of the Earth to develop a better understanding of issues such as the strength of Earth materials, deformation history of mountain belts, and deformation related to glaciated terrains. He made one of the largest conceptual breakthroughs in tectonics in recent years by explaining that not only does the uplift of mountains lead to increased erosion, but that erosion itself feeds back to control rates of the deep-Earth deformation processes. Since 2006, Peter has submitted more than 25 proposals and brought more than $3.6 million to UMaine. In the last ten years, he has authored or co-authored approximately 30 papers. Peter also has played a major role in training the next generation of researchers, advising or co-advising 9 graduate students and serving on the committees of 34 others. Peter has also used his expertise to benefit the state, from informal discussions with the Maine Geological Survey about earthquake hazards to serving as a resource to other colleges in Maine. At the 2003 Penrose Conference, Peter was singled out by a colleague who said, "we are standing on the backs of giants, and one of those giants is Peter Koons who first demonstrated the links between climate and tectonics." The University of Maine is indeed fortunate to have such a scientist.
NSFA Outstanding Teaching Award—2013
Harold B. Dowse, Professor of Biology
School of Biology & Ecology
Harold "Dusty" Dowse has had a long career dedicated to students in UMaine's zoology and biology programs. Over his 30+ years at the university, because of the breadth of his expertise, he has taught a great diversity of courses: from comparative anatomy to parasitology, from biomedical instrumentation to biological rhythms. Although the teaching technologies he uses have changed over the years, Dusty believes the underlying philosophy has not. He sees himself as a tribal storyteller, who selects and organizes the information for each course and then makes each class interesting, humorous, and rich in information. Although students in his classes may find the material challenging, they recognize and appreciate Dusty's ability to clarify it and connect it to what they already know. In the words of one of his students, "Professor Dowse is an amazing teacher. …He is enthusiastic, inspirational, innovative… and advocates for students individually and for the topics he is teaching."