History Repeats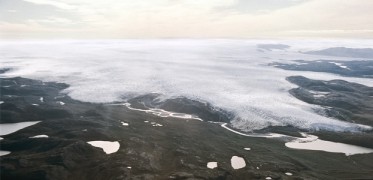 A team of University of Maine scientists studying nearly 11,700-year-old ice cores from Greenland found that history is repeating.
Paul Mayewski, director and distinguished professor of UMaine's Climate Change Institute, says today's climate situation in the Arctic is equivalent to, but more localized, than the warming during the Younger Dryas/Holocene shift about 11,700 years ago.
Mayewski led the research team that examined Arctic ice formed 11,700 years ago during a rapid climate transition from the Younger Dryas (near-glacial) period to the Holocene era (period of relative warm since then). Ice cores, in essence, are timelines of past climates.
The abrupt shift then included a northward shift in the jet stream, an abrupt decrease in North Atlantic sea ice and more moisture in Greenland. These changes resulted in milder weather, fewer storms and initially more than a doubling of the length of the summer season around Greenland, the team says.
"It is highly unlikely that future change in climate will be linear as evidenced by the past and by the recent, abrupt and massive warming in the Arctic," Mayewski says. "Understanding and ideally predicting the likelihood, timing and location of future nonlinearities in climate is essential to realistic climate prediction, adaptation and sustainability."
The ice formed during that one-year onset of the Holocene climate "sheds light on the structure of past abrupt climate changes and provides unparalleled perspective with which to assess the potential for near-term rapid shifts in atmospheric circulation and seasonality," Mayewski says.
Additional exploration of the ice cores, with respect to the length of seasons, is expected to yield information about precursors for abrupt climate shifts. "Identifying and using the precursors will fill an essential void in climate prediction models by testing for sensitivity in the context of past analogs," the researchers say.
In the university's W.M. Keck Laser Ice Facility, the researchers had the first-ever ultra-high-resolution look at ice cores formed during the swift shift from the near-glacial period to the current period of relative warmth. The ice core samples were removed from a depth spanning 1,677.5 meters to 1,678.5 meters, or from 11,643 to 11,675 years ago.
Mayewski has led more than 50 expeditions to the Arctic, Antarctica, Himalayas, Tibetan Plateau, Tierra del Fuego and the Andes. He has shared his research with numerous media venues including "60 Minutes," "NOVA," BBC, "Fresh Air" and "The Diane Rehm Show."
The research team includes Sharon Sneed, Sean Birkel, Andrei Kurbatov and Kirk Maasch, all from UMaine. The researchers' findings are included in the article, "Holocene warming marked by abrupt onset of longer summers and reduced storm frequency around Greenland," published in the January 2014 issue of the Journal of Quaternary Science.
Contact: Beth Staples, 207.581.3777