Pooling Expertise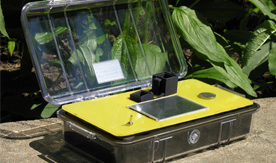 University of Maine researchers have designed a handheld device that can quickly detect disease-causing and toxin-producing pathogens, including algal species that can cause paralytic shellfish poisoning.
The device — a colorimeter — could be instrumental in monitoring coastal water in real-time, thereby preventing human deaths and beach closures, says lead researcher Janice Duy, a recent graduate of UMaine's Graduate School of Biomedical Science and Engineering. Duy is now conducting postdoctoral research at Fort Detrick in Maryland.
The research team, which includes UMaine professors Rosemary Smith, Scott Collins and Laurie Connell, built a prototype two-wavelength colorimeter using primarily off-the-shelf commercial parts. The water-resistant apparatus produces results comparable to those obtained with an expensive bench-top spectrophotometer that requires technical expertise to operate, says the research team.
The instrument's ease of use, low cost and portability are significant, say the researchers. The prototype cost researchers about $200 to build; a top-shelf spectrophotometer can cost about $10,000.
A touch screen prompts users at each step of the protocol. Researchers say an Android app is being developed to enable future smartphone integration of the measurement system.
Duy says the device almost instantaneously identifies pathogenic organisms by capturing target RNA with synthetic probe molecules called peptide nucleic acids (PNAs). A cyanine dye is added to visualize the presence of probe-target complexes, which show up as a purple solution; solutions without the target RNA are blue.
The versatile instrument can also be adapted to detect other organisms. The researchers say, in theory, any organism that contains nucleic acids could be detected with the simple colorimetric test. They have verified the system works with RNA from a soil-borne fungus that infects potatoes.
The research team's teaching and expertise spans several UMaine schools and departments, including Electrical and Computer Engineering Department, the Laboratory for Surface Science and Technology, the Graduate School of Biomedical Science and Engineering, the Department of Chemistry, the School of Marine Sciences and the Department of Molecular and Biomedical Sciences.
The instrument is being incorporated into fresh and marine water testing in the Republic of Korea and the researchers say they'll give several devices to state officials to test and use in the field in Maine.
The researchers published their findings in the journal Biosensors and Bioelectronics.
Contact: Beth Staples, 207.581.3777