2014 Outstanding Graduating Student — Jinlun Bai
Bai named Outstanding Graduating International Student in College of Natural Sciences, Forestry, and Agriculture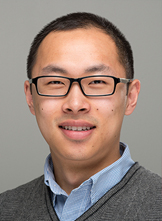 Jinlun Bai of Kunming, China, is the Outstanding Graduating Student and Outstanding Graduating International Student in the College of Natural Sciences, Forestry, and Agriculture at the University of Maine.
The Honors College student double majored in biology and psychology and minored in neuroscience. He received a UMaine Presidential Scholar Award and a Maine INBRE Functional Genomics Thesis Fellowship. Bai worked as an organic chemistry peer tutor for the past three years and as a subject area coordinator for two years in the UMaine Tutor Program.
As a certified EMT, he has volunteered with the University Volunteer Ambulance Corps and was involved in Student Government, Sigma Phi Epsilon, Health Professions Club, Biology Club, Alternative Breaks and the International Student Association. Bai has been accepted into the Ph.D. Program in Biomedical and Biological Sciences at the University of Southern California.
Tell us about the research, internships or scholarly pursuits you were involved in as a student
For the past three years I have been working as an undergraduate research assistant in Professor of Zoology Harold Dowse's lab. My main role was to maintain Drosophila culture, monitor fruit fly heartbeats using a microscope-phototransistor system and perform data analysis to examine the effect of specific mutations on cardiac function. Currently I am doing my independent thesis research in Dowse's lab, using RNAi technique to explore how mutations on calcium regulatory proteins CaMKII and calpain affect heart frequency and rhythmicity.
Beyond academics, what extracurricular activities occupied your time? (clubs, sports, etc.)
I have been working as an organic chemistry peer tutor for the Tutor Program for the past three years and a subject area coordinator for two years. I have been volunteering at the University Volunteer Ambulance Corps as a certified EMT. I was also involved in Student Government, Health Professions Club, Biology Club, Alternative Breaks and International Student Association. Sports wise, although I didn't participate in any sports teams or intramurals, I enjoy going to the recreation center to play squash and badminton every week.
What are your plans after graduation?
I was fortunate to be accepted into the Ph.D. Program in Biomedical and Biological Sciences at the University of Southern California, so starting next fall I will be pursuing a Ph.D. degree there.
What difference has UMaine made in your life and in helping you reach your goals?
UMaine has had a huge impact on me. As an international student, UMaine has provided me an opportunity to experience a different culture and to improve my English. Professors and classmates here are so friendly and they are always willing to help whenever I needed. UMaine has also provided me countless academic resources so that I was able to be constantly learning and improving. The biology undergraduate program also prepared me well for my next step of study. Here, each course I took revealed a different perspective of biomedical science as well as its applications. Classes such as cell biology and principles of genetics deepened my understanding of the area from the molecular level, while medical physiology and behavioral endocrinology painted a bigger picture from the systemic level. Furthermore, I also appreciated the experience of working at the Tutor Program and volunteering at UVAC. They gave me an opportunity to contribute back to UMaine and to truly be part of the community.
Have you had an experience at UMaine that has changed or shaped the way you see the world?
I have grown and learned so much in the past four years here at UMaine and it was not just any one experience but the combination of various experiences that shaped the way I see the world. In general, all these experiences have taught me to think critically, to analyze the situation logically and comprehensively and to make mature decisions. They also made me more understanding and compassionate, as well as appreciate the opportunities I have and how lucky I am.
Why UMaine?
As the flagship institution in the University of Maine System, UMaine has many top academic resources and hands-on research opportunities for undergraduates. The Honors College Civilization Sequence was appealing because it would broaden my knowledge of humanity and civilization. Located in Orono, UMaine's beautiful environment and friendly atmosphere also make it stand out. Most importantly, the UMaine Trustee International Tuition Scholarship made it possible for me to come here to receive this top-notch education.
How would you describe UMaine's academic atmosphere?
UMaine has a very positive academic atmosphere. Most of the students here are willing to learn, and the professors are always trying their best to teach and to help. There are also a variety of very supportive academic resources such as the Tutor Program, Writing Center and Math Lab. Here at UMaine, there is always something for me to learn.
Have you worked closely with a professor or mentor who made your UMaine experience better?
Yes. I have taken introduction to neuroscience and comparative anatomy with Dr. Dowse and he is definitely one of the most inspiring professors I've known. In the lab, he is always very patient when explaining concepts and procedures and encourages a lot of independent critical thinking. As a mentor, he always provided me valuable advice toward my classes as well as my future career development. I've learned so much from Dr. Dowse and he definitely made my UMaine experience significantly better.
What advice do you have for incoming students?
I would tell them that by choosing UMaine, they have made the right choice. However, the right choice is only a start. To make the experience truly valuable, they need to make an effort too. There are countless academic resources here that will prepare them and help them succeed in their future career, as well as great mentors that can provide priceless ideas and advice. So go ahead, put yourself out there and enjoy the experience.