Scrubbing Below the Surface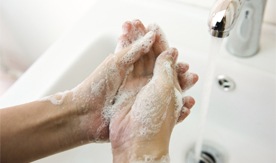 Julie Gosse, University of Maine assistant professor of molecular and biomedical sciences, is examining how a synthetic antimicrobial common in soaps and deodorants inhibits cells that sometimes fight cancer.
Triclosan (TCS) was once limited to use in hospitals. But in the 1990s, manufacturers began putting the chemical into antibacterial soaps, toothpaste, body washes, facial cleansers and a multitude of other over-the-counter hygiene products.
TCS also is used in fabrics, plastics and clothing — from yoga mats to kitchenware to socks — to slow or stop the growth of bacteria and mildew. Because of its pervasive presence in products, Gosse says it's also now in waterways.
When TCS inhibits the function of mast cells in skin, allergic disease may be eased. But Gosse says mast cells are complex players and are involved in both pro- and anti-cancer roles, in fighting bacterial infections and in central nervous system disorders such as autism.
"The results of this study will fulfill an urgent need by providing insights into the impact of TCS on public health, as well as insights into the inner workings of this crucial cell type, and will point to either pharmacological uses for or toxic impacts of this ubiquitous chemical," she says.
The National Institutes of Health awarded Gosse more than $420,000 for the three-year project that begins Aug. 1.
In 2012, she and several UMaine undergraduate and graduate students published a paper about TCS that concluded it "strongly inhibits several mammalian mast cell functions at lower concentrations than would be encountered by people using TCS-containing products such as hand soaps and toothpaste."
This grant, she says, will allow continued exploration of the molecular mechanisms underlying the effects. She and her research team will use a variety of methods and tools — including the fluorescence photoactivation localization microscopy (FPALM) technique invented by UMaine physicist Sam Hess. The technique images individual molecules.
Hess is participating in the research, as are Lisa Weatherly and Juyoung Shim, graduate students in Gosse's lab, and students from the Hess lab.