Seeing Forests Through The Trees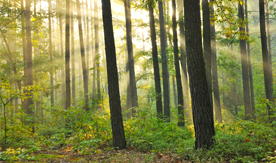 Since 1800 — two decades before the Pine Tree state existed as a state — the most rapid rate of land protection in northern New England (NNE) occurred from 1999 to 2010.
Forty-four percent of all the protected area (PA) in Maine, Vermont and New Hampshire was added during those 11 years, says Spencer Meyer, former associate scientist for forest stewardship with the University of Maine Center for Research on Sustainable Forests.
Conservation easements on privately owned land fueled an abrupt increase in the protection rate from 1999 to 2010, he says. Conservation easements became financially appealing to both landowners and conservationists who partnered to save landscapes from development to ensure forests and ecosystem services — including water purification — remained intact.
For example, in 2001, the Pingree Forest Partnership — a landmark working forest conservation project — was forged. The 762,192 protected acres is bigger than all of Rhode Island and is still the largest of its kind in the nation.
The 11-year span from 1999 to 2010 was one of three distinct eras of PA growth, says Meyer, who earned his Ph.D. at UMaine in 2014. The other two were 1800–1979 and 1980–1999. All, he says, are characterized by new policies and an expansion of conservation tools.
To inform successful future conservation planning, a research team led by Meyer sought to explore socioeconomic and policy factors that influenced the rate, type and distribution of previous land protection.
"It is important to take pause occasionally and revisit our past," he says. "This conservation history research was especially rewarding because it gave us a chance to examine how much has already been accomplished by conservationists. The frequent innovation and accelerating protection we have documented bodes well for the future of ecosystems and people in the region."
Researchers found there has been a "significant influence of expanded policy and economic drivers guiding protection" and that it is important to develop "new conservation innovations for achieving future gains in protection."
Short-term constraints — including real estate market conditions — impact conservation action, says Meyer, now a NatureNet Fellow at the Yale School of Forestry and Environmental Studies, where he collaborates with The Nature Conservancy.
Thus, the team recommends that conservation groups focus on priority areas and take a proactive, rather than reactive, approach to protection, and be ready to capitalize on financial market conditions that make large conservation deals attractive to landowners.
Much of NNE is privately owned, Meyer reports; 16 percent of New Hampshire is federally or state owned, while eight percent of Vermont and five percent of Maine are. All three states are heavily forested. Maine has 84 percent forest cover, while Vermont and New Hampshire both have 67 percent.
A group of conservation scientists, led by the Harvard Forest, have proposed protecting 70 percent of New England's forests from development to achieve a sustainable landscape by 2060. If the protection rate realized from 1999 to 2010 continues, Meyer says the 70-percent goal could be achieved in 2089.
Broad objectives of PAs in NNE include conservation of biodiversity, retaining benefits of ecosystems, public open space, recreation, and natural resource removal, such as timber harvesting, he says.
Tension exists due to people's increasing demand to use land and the need to conserve land and ecosystem services, and land protection has been a global conservation strategy of a number of public and private groups for more than 100 years, Meyer says.
Land protection from 1800 to 1979 had an "evolving suite of conservation objectives," he says, including watershed protection, open space and recreation. The 179-year era consisted of slow, incremental expansion of PAs, including (Acadia National Park, the Appalachian Trail and Baxter State Park) and multiple-use forests.
The middle era of conservation of PAs — beginning around 1980 and lasting until 1999 — included a surge in land trusts to protect private land from development. Public acquisitions, continued in a linear fashion during that time, according to researchers.
The rate of protection in NNE between 1999–2010 was four times what it was during the 19-year span from 1980 to 1999 and 20 times the rate between 1800 and 1979, says Meyer. During the span from 1999 to 2010, the accelerating rate of protection was the fastest in Maine, where 71 percent of the state's total PA was safeguarded from development.
"Regardless of what the future holds, the 200-year history of conservation innovation in New England offers hope for future efforts to protect ecosystems and their myriad ecological, social and economic benefits in the face of rising human populations," the team writes.
The Maine Sustainability Solutions Initiative (SSI) and the National Science Foundation EPSCoR program supported Meyer's Ph.D. fellowship in UMaine's School of Forest Resources.
Researchers from UMaine working with Meyer included Christopher Cronan of the School of Biology and Ecology, Robert Lilieholm of the School of Forest Resources and Michelle Johnson of the Ecology and Environmental Science Program, as well as David Foster of Harvard University.
The team's findings are reported in "Land conservation in northern New England: Historic trends and alternative conservation futures," published in May on the Biological Conservation website.
Meyer and another team earned the 2014 University of Maine President's Research Impact Award for spearheading creation of the Maine Futures Community Mapper — an online mapping tool for planners to visualize future landscape scenarios. The Elmina B. Sewall Foundation and SSI funded the Maine Futures Community Mapper.
Contact: Beth Staples, 207.581.3777