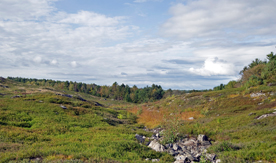 Conserving nature's stage — the physical features such as landform, soil and bedrock that contribute to species biodiversity — is the focus of a special section of the June issue of the international journal
Conservation Biology
that includes research by two internationally recognized scientists at the University of Maine.
The special section emphasizes the value of incorporating a variety of geophysical settings into conservation planning when managing diverse species adapting to climate change.
Malcolm Hunter, UMaine's Libra Professor of Conservation Biology; Paul Beier of Northern Arizona University; and Mark Anderson of The Nature Conservancy are the guest editors of the journal section, which includes 10 research papers by 33 co-authors on the conservation approach known as conserving nature's stage (CNS).
The approach provides a structure for creating conservation plans that recognize that nature is dynamic and resilient, and needs arenas for evolution.
In 2013, Hunter, Beier and Anderson led a three-day international workshop on the CNS approach to conservation management, funded by the Doris Duke Charitable Foundation. The result is the collection of papers now featured in the Conservation Biology special section.
The principal paper authors include Jacquelyn Gill, UMaine assistant professor of terrestrial paleoecology, writing on "A 2.5-million-year perspective on coarse-filter strategies for conserving nature's stage." Gill, Hunter and four other co-authors explore how geodiversity minimized the number of global extinctions caused by past episodes of climate change, despite many local extinctions. They conclude that CNS accommodates dynamic processes, including extinction, evolution, community turnover and novelty, and acknowledges changes as "intrinsic properties of the very nature we aim to conserve."
Hunter also co-authored two of the other research papers: "Incorporating geodiversity into conservation decisions" and "Why geodiversity matters in valuing nature's stage."