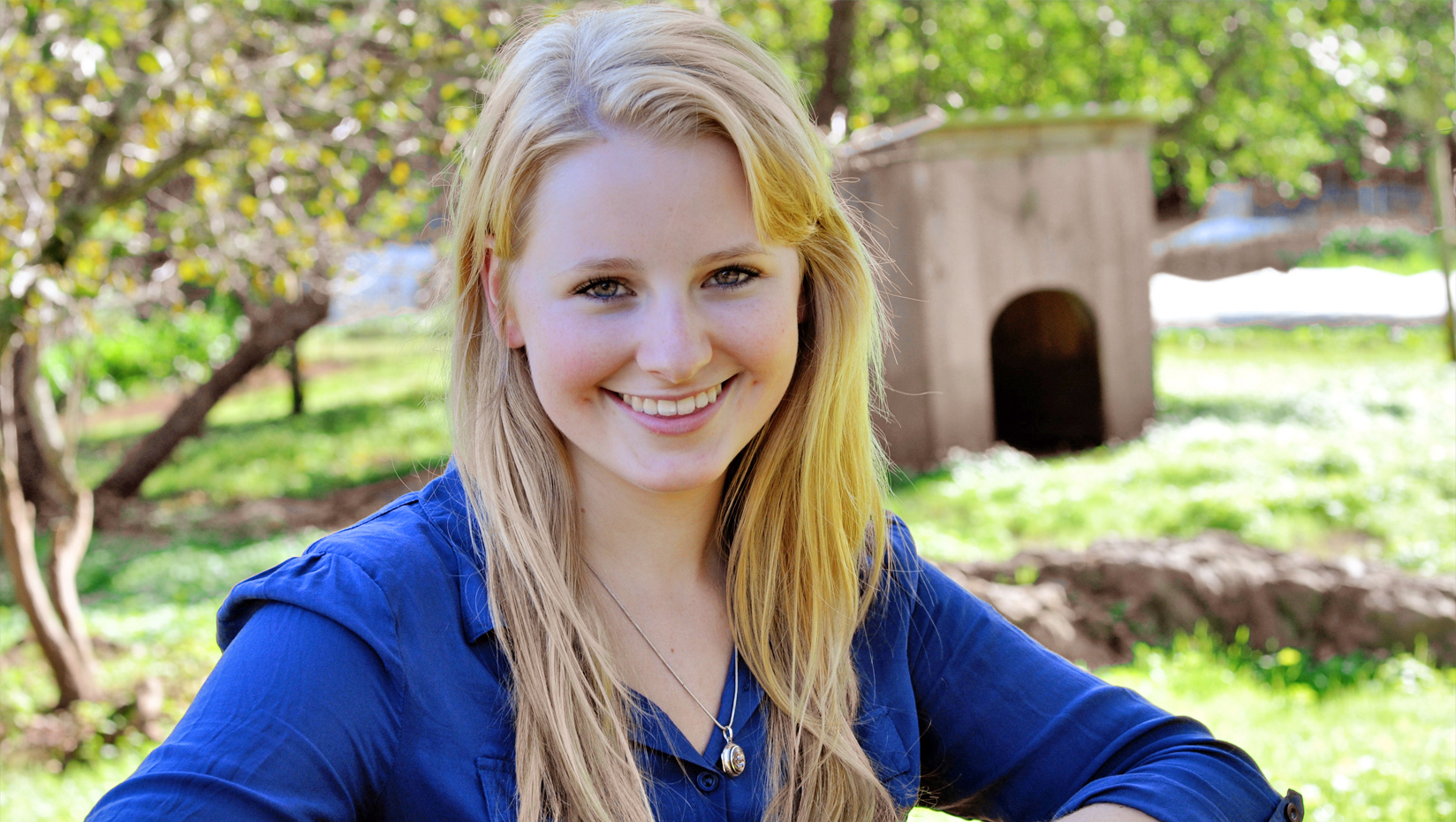 Afton Hupper: Connecting local food to Maine
Afton Hupper, an ecology and environmental science student at the University of Maine, is dedicated to making locally grown foods more accessible to Maine citizens.
Hupper — with a concentration in sustainability, environmental policy and natural resource management and a minor in sustainable food systems — is working with the Orono Economic Development Corporation to investigate the feasibility of a "food hub" for the Bangor area.
The need for a food hub — an entity which may aggregate, process and distribute local food to meet the institutional demand and strengthen the agricultural sector — was recognized by the Orono Economic Development Corporation.
"In Maine, there is a high demand for local food, but a low supply. Locally grown foods do not have an efficient channel through which they can flow from farms to larger institutional buyers," Hupper says. "Thus, there is opportunity for growth in Maine's agricultural economy."
Hupper's task within the project is to create an annotated bibliography of literature and resources pertaining to food hubs, which will inform a feasibility study currently being undertaken by the Maine Farmland Trust. The project is funded by the City of Old Town, the Town of Orono, the Bangor Savings Bank Foundation, Maine Community Foundation and Good Shepherd Food Bank.
"This is an incredibly interesting project that could positively impact the economic, health, social and environmental qualities of our state," Hupper says.
A childhood immersed in the beauty of Maine's forest and marine ecosystems is the root of her appreciation for the natural world. In high school, she became interested in environmental science and was inspired by the environmental justice movement. She says she has always had a passion for food and is excited to put that passion toward positively improving Maine food systems.
"I want to contribute to this movement in any way possible, as environmental issues are among the most pressing we face today," Hupper says.
Hupper is expected to graduate in May 2017.
Where are you from?
I grew up in St. George, Maine. It's a beautiful little fishing village in the midcoast region. I moved up the coast to Rockland at age 16.
Why did you choose to come to the University of Maine?
The university offered me many opportunities, including a strong interdisciplinary program of study, the benefits of the Honors College, and the ability to graduate without debt.
Could you cite your top three academic scholarships, achievements and awards?
John M. Rezendes Ethics Essay Competition (second place), John Ferdinand Steinmetz Book Award, and the Boyle Associates Scholarship Award.
Beyond academics, what extracurricular activities occupy your time?
I have volunteered as an ambassador for the EES [ecology and environmental sciences] program over the past year, attending accepted student days and speaking with parents and prospective students about UMaine and the program. I love sharing my experiences and knowledge with them. I also volunteer at the Orono Community Garden twice a week with John Jemison. This is a wonderful program which provides fresh produce to low-income seniors in the area. I also love traveling, reading, cooking and watching muckraking documentaries.
What are you plans after graduation?
Traveling. I have given thought to international WOOFing, where I could live on an organic farm and my labor would pay for my housing and meals. Career-wise, I could see myself working for a nonprofit or starting one on my own. I am very passionate about food as a vessel for environmental awareness and change. I have no clear vision of my future. I have chosen to go wherever my life takes me, and to remain open to new opportunities as they come along.
What difference has UMaine made in your life and in helping you reach your goals?
I really didn't have any specific goals coming into college, other than to succeed. While mentors and professors have certainly helped me with that, I think UMaine has provided me with opportunities to find my goals rather than to reach them. Doing research after only two years of study has been such a great experience and has helped narrow my focus as a student.
Have you worked closely with a professor or mentor who has made your UMaine experience better?
My adviser Tim Waring is amazing — a true wealth of knowledge and experiences. Every time I stop in to see him I know that I'll leave feeling so inspired. David Gross in Honors has also been influential, not only in the classroom, but also in recommending me for my current research internship and helping edit my submission for the ethics essay contest. I also have to thank Simin Khosravani for helping me in her office for three hours before a statistics exam. She's always willing to go the extra mile for her students.
Favorite class? Why?
This is a tough question, but the most enjoyable class I've taken in my first two years has been Mark Brewer's Honors preceptorial in spring 2014. I learned so much about western history and culture, all while engaging in some of the most fruitful group discussions I've ever experienced. He pushes his students intellectually, and I really worked for my grade. That's what made it so satisfying in the end.
Do you have a most memorable UMaine moment?
Maine Day, of course.