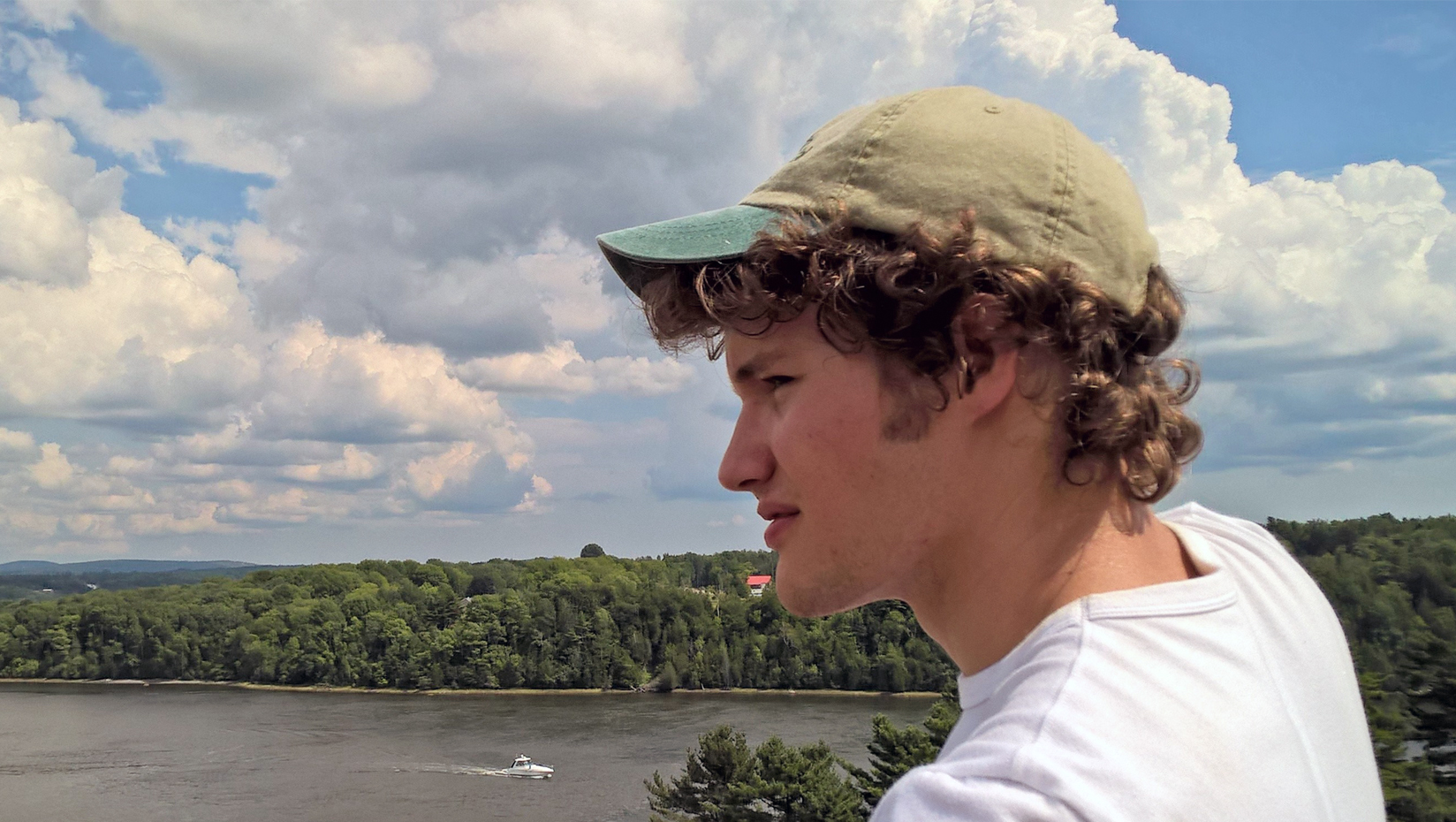 Zachary Mason: Exploring glaciers of the past
When Zachary Mason came to the University of Maine, he was unsure of what field he wanted to pursue. With strong interests in science and math, he joined a variety of clubs to dip his toes into different scientific disciplines.
When he signed up to attend a field trip with the UMaine geology club, he didn't know anyone on the list.
A year later, he was elected president of the club.
"I was just a shy guy in a group of great people, barely even talking to other members," Mason says. "But somehow they voted me the president for the next year. I must have done something right."
The group was joining the New England Intercollegiate Geological Conference at Sugarloaf mountain to find marine fossils. The group hiked to the summit, where the director of the trip explained that the area they were exploring was once partially submerged by the ocean.
Mason was astounded.
"At that moment, I knew that this was the major to be in. I knew that geology would fulfill my academic desires," Mason says.
Mason, an Earth science major with a minor in ecology and environmental sciences, is expected to graduate in May 2016.
For his Honors thesis, he is looking at when certain quartz-bearing boulders were deposited in Peru by glaciers using cosmogenic dating of beryllium. He hopes the inferences he makes will inform researchers about paleoclimate changes in the tropics, which can help researchers better understand and predict climate activity in the future. His research integrates topics from various geologic fields such as petrology, geochemistry, geochronology, climate science and glaciology. He was awarded a Center for Undergraduate Research (CUGR) grant to fund his summer research.
He recently completed a summer internship at the Northeast Geophysical Services in Bangor.
The internship is intended to equip students with knowledge of the latest methods in the field of geology. During the internship, he learned how to survey bedrock depth, groundwater contamination and buried drums/tanks.
Mason pursued the internship to take the knowledge he learned in the classroom a step further and apply it in the field.
"I enjoy interpreting and making inferences about the data I collect. I'll take a day in the field over a day behind a desk anytime," Mason says.
Hailing from Tweksbury, Massachusetts, Mason hopes to attend graduate school in a field related to geology — such as petrology, structural/tectonic geology or geochemistry. After his master's, he plans on pursuing a career in mineral exploration with the eventual goal of earning a Ph.D. and teaching geology at the college level.
"I feel that UMaine has provided me with avenues to discover and explore, and the School of Earth and Climate Sciences has provided me with the resources and tools to further my goals of being a researcher in the sciences," Mason says. "I believe my experiences at the university have allowed me to become more competitive as an applicant in the job market and for graduate schools."
One of Mason's most memorable UMaine experiences was traveling to Utah and Arizona with the geology club for Spring Break 2014. Destinations included Zion National Park and Grand Canyon National Park. It was one of the best trips of his life, Mason says.