Student Works with Communities to Evaluate Fisheries Management
For graduate student Elisabeth Maxwell, the best part of her research on shellfish fisheries management is working with fishermen who are her close collaborators every step of the way.
Working side-by-side with these crucial stakeholders gives her a rich, real world perspective that propels her research forward.
"Talking to the shellfish harvesters is the best part of the work. They are so incredibly knowledgeable about shellfish and their habitat. They are also very concerned about how things have changed and may change in the future. These are among the most helpful and kind people I have met in Maine."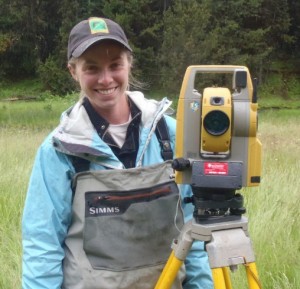 Maxwell, a master's student in the School of Marine Sciences, is working with her advisor, Teresa Johnson, Associate Professor of Marine Policy, to develop an assessment of structure and process in local shellfish management in Maine. Maxwell and Johnson want to identify unique characteristics at the local level that contribute to successful management. The research is part of the New England Sustainability Consortium (NEST), a multi-institutional project that aims to strengthen the scientific basis for decision making in the management of recreational beaches and shellfish harvesting. The team in Maine is led by researchers from the Senator George J. Mitchell Center for Sustainability Solutions.
The work is ongoing, but Maxwell said she is excited to share data and results with fishing communities. For her, the work is about making a difference in the lives of people dealing with urgent, real world issues.
"The goal is to to use the results of this work to inform not only officials at the state level but also the town shellfish committees," Maxwell said. "It will be very exciting to be able to present each community with information about their towns and where their management practices fall in relation to other towns along the coast. I'd like to be able to tell local stakeholders, such as fishermen and town officials, what makes their way of management unique, what practices make them stand out from the crowd."
Maxwell said the collaborative process that is at the heart of the Mitchell Center's mission has made a strong impression and has changed the way she originally thought about academic research.
"It is a pleasure to be part of a team of people who are not only doing great individual work, but also collaborating to ensure success for the entire team," she said.