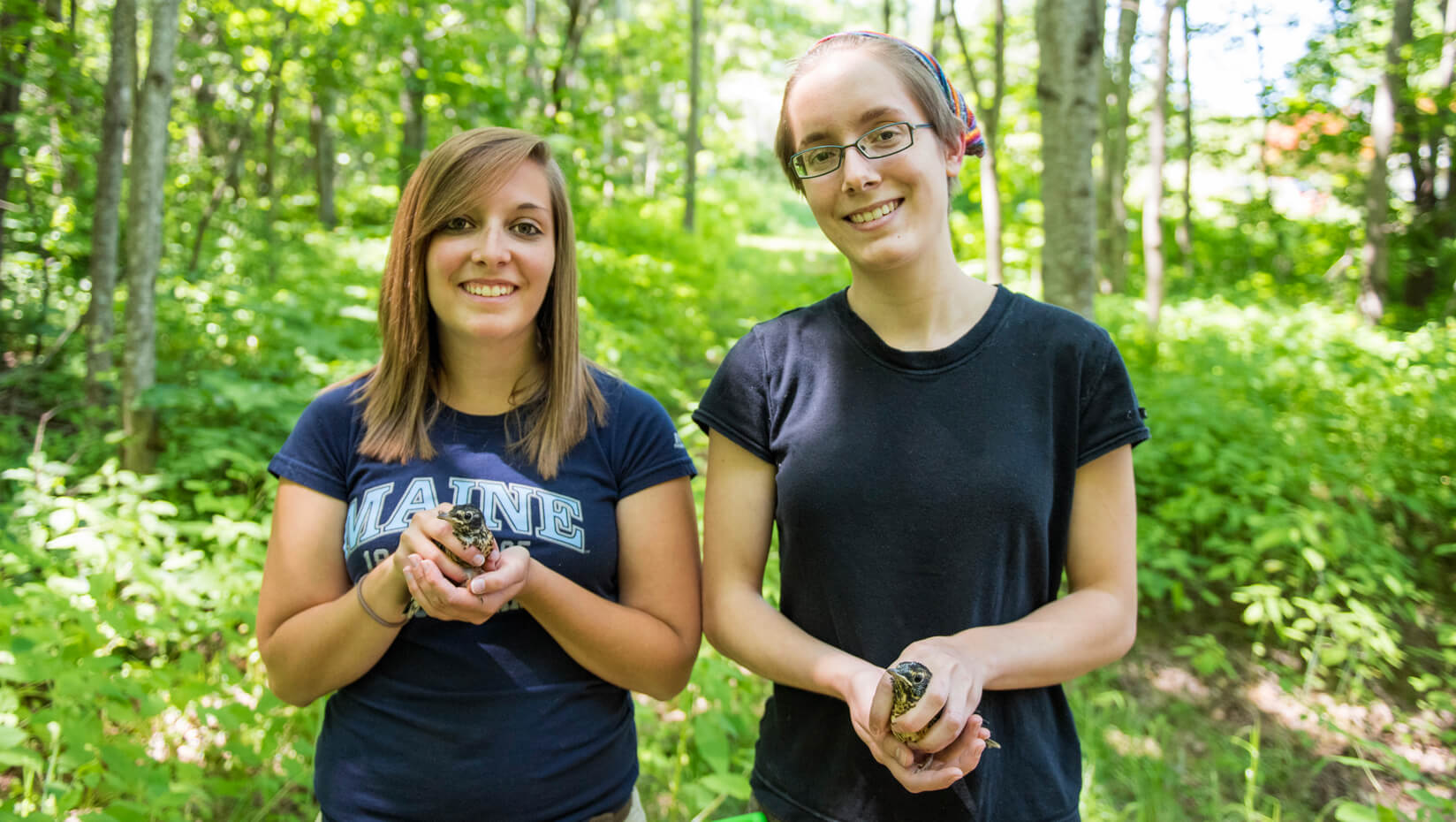 Alexandra Jimenez and Krystal Poulin: Birds of a feather at Avian Haven
As a young child, Alexandra Jimenez followed around squirrels and cracked open nuts for them. Her desire to help animals is still strong.
Today, the University of Maine sophomore from Montville is majoring in animal and veterinary sciences with a pre-veterinary concentration.
At UMaine, much of her academic concentration has been on cows and sheep at the Witter Center. But this past summer, Jimenez spread her wings, so to speak.
She took part in an internship at Avian Haven, a rehabilitation facility in Freedom dedicated to returning injured and orphaned wild birds to their natural habitat.
Jimenez calls her experience exhilarating and transformative. On her first day at the facility, a co-worker invited Jimenez to help feed a barred owl so young it hadn't yet opened its eyes. Nestlings' eyes open after about a week.
"That was my very first day and I was getting my feet wet up to my neck," says Jimenez.
More recently, she helped to blow dry a gannet after its bath. "I have learned more than I ever thought I could about birds," she says.
Jimenez is considering minoring in wildlife ecology and wants wildlife rehabilitation to be the focus of her veterinary career.
The toughest part of the internship, she says, is when patients die. While it's devastating, Jimenez says coping with death is part of life and of this learning experience.
"Every second is so rewarding. There's a feeling of accomplishment to see them fly off and start their new life," she says. "It's an unpaid internship but the abundance of unique experiences makes you feel rich."
July 16, Jimenez released finches with intern Krystal Poulin, who graduated in May from UMaine with a degree in wildlife ecology with a concentration in conservation.
Like Jimenez, Poulin says helping birds gain strength, heal and grow, then take flight — is a satisfying part of the incredibly gratifying internship.
Poulin says it's rewarding to reverse the negative impact of human creations and activities — whether that's habitat destruction, cat predation, lead ammunition, car strikes and or windows in buildings — through wild bird rehabilitation.
Studying wildlife was a natural progression for Poulin, who grew up in Sabattus in a family of outdoor enthusiasts.
At UMaine, she was particularly interested in learning about birds; Poulin says she's fascinated by their anatomy and behavior.
This summer, Poulin and Jimenez say they've gained an appreciation for the hard work associated with rehabilitative care.
Five days a week, hourly from about 8 a.m. until 8 p.m., they feed wild baby birds, including owls and kestrels. During patient intake, they assist with examination, feeding, testing for parasites and bandaging wings.
They also clean the outside flight cages — there are 14 of varying sizes and shapes built for multiple species — as well as the Pool Hall, an all-season facility for aquatic birds.
Choosing one or two favorite aspects of the internship is difficult, says Poulin, because "every experience every day is my favorite." Which all added up to helping her solidify her future plans.
"When I left college, I had no idea what I wanted to do. I have confirmed that this is definitely something I really, really enjoy," she says.
"It brings me so much happiness. There are long days and I love every minute of it. Marc (Payne, Avian Haven co-founder and co-director) told me when you're in rehab and love what you're doing that you can't tell time."
The fact Jimenez and Poulin are interested in wildlife rehabilitation as a career is good news for Diane Winn, who opened Avian Haven in February 1999 with Payne.
"Avian Haven's primary mission is returning birds to the wild, but our secondary mission is educating and training rehabilitators," says Winn, a retired Colby College sensory perception psychologist.
"We hope that some of our interns will be among the next generation of rehabilitators. Others should find their skill sets enhanced by their experiences here, so that they can become more effective in careers such as veterinary medicine or wildlife biology.
"Alex and Krystal are among the best interns we have ever had, and we look forward to working with more (UMaine) students in the future."
Mary Bird, yes, Bird is her last name, would like other UMaine students to have internship opportunities at Avian Haven, as well.
The former UMaine instructor who continues to work with faculty and students in the College of Natural Sciences, Forestry, and Agriculture is a member of Avian Haven's board of directors and is a volunteer driver.
She's committed to helping sustain Avian Haven by growing operating and endowment funds, forging stronger collaborative relationships with UMaine and other institutions, and cultivating the next generation of rehabilitation professionals.
In 2008, Bird was introduced to Avian Haven after helping rescue a chimney swift nestling whose nest had been dislodged in a storm. She was awed.
"The Avian Haven staff and volunteers didn't cuddle and coo over these creatures, but rather respected their wildness and did all that could be done to minimize the stress of human contact so that when recovered, the birds could return safely and successfully to lives in the wild," she says.
A bird's release may come days, weeks or months after it arrives. Photos of some releases, including details about where and how the birds were rescued, are shared on Avian Haven's Facebook page.
Each release signifies a healthy beginning and there have been numerous fresh starts in 2015 alone. As of June 26, more than 1,000 birds had been admitted to Avian Haven this year.
Since the facility opened in 1999, Winn, Payne and Avian Haven staffers have treated more than 12,000 birds, including loons, herons, hummingbirds, bald eagles, hawks, robins, owls, crows, mourning doves, barred owls, falcons, turkey vultures, ospreys, hawks, blue jays, pigeons, starlings and sparrows.
Birds unable to return to the wild sometimes remain at the facility as residents and "adopt" admitted juveniles.
In addition to being educationally valuable, the internship provided Poulin and Jimenez, with opportunities to advance part of Avian Haven's mission to "remedy the unfavorable effects of humanity's actions, promote tolerance for the needs of all life, and contribute to balance on [E]arth."
Contact: Beth Staples, 207.581.3777