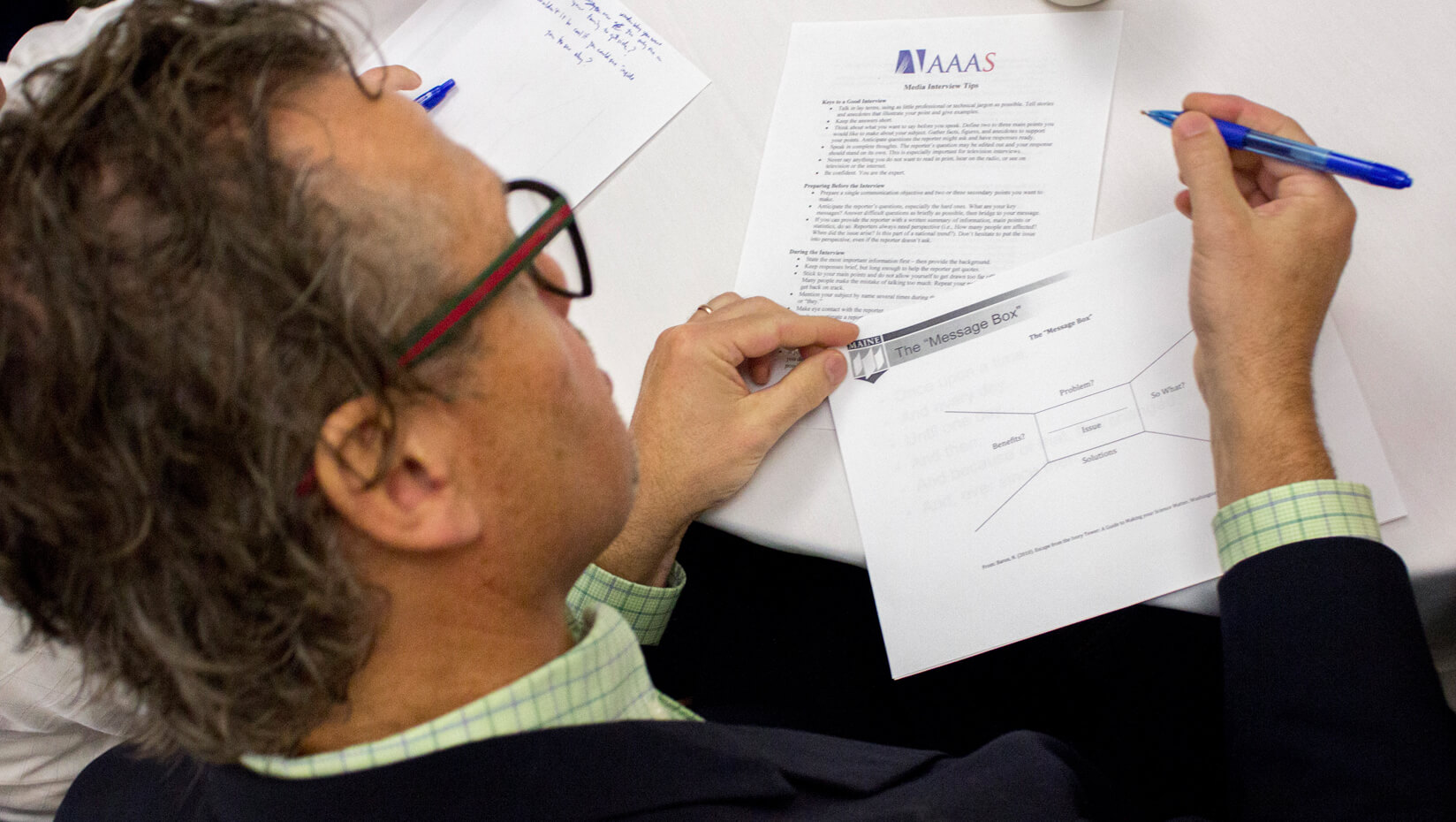 UMaine, Alan Alda Center for Communicating Science aim to connect researchers with students, public
As many University of Maine students and faculty headed home for Fall Break, one group of academics was back on campus, bright and early, Monday morning. They are members of the UMaine Faculty Fellows Program, and instead of hunkering down in their offices and research labs, they rolled up their sleeves and buckled in for a two-day intensive communication training.
The interactive training, offered through a collaboration between UMaine's Margaret Chase Smith Policy Center and Stony Brook University's Alan Alda Center for Communicating Science, combines theater improvisation techniques with communication training to create an experience that will help participants speak about UMaine and their own work with passion and confidence to students, policymakers and the public. As an official Alan Alda Center affiliate, UMaine offers the training on campus.
While there were plenty of laughs, in recent interview with The Boston Globe, Alan Alda, an actor best known for his role on the television series "M*A*S*H" and as host of PBS's "Scientific American Frontiers," said the training is not all fun and games — the improv activities encourage participants to connect with others.
"The exercises seem silly and trivial, but they make you vulnerable and open to other people," Alda said. "The more you're aware of the other person's response, the clearer you are going to be and the more impact you could have."
The Alan Alda Center's mission is to "enhance understanding of science by helping train the next generation of scientists and health professionals to communicate more effectively with the public, public officials, the media, and others outside their own discipline."
The Alan Alda Center, founded in 2009 by Alda and a team of researchers and educators, believes researchers have a responsibility to share their knowledge with the public. The center is primarily concerned with "the curse of knowledge," or the idea that a person can know something so well that they forget what it's like to be new to the information and therefore have a difficult time explaining their work and interests to others.
To address this phenomenon in research and education, the center developed the innovative communications-training program that includes workshops on media interview skills and teaches participants how to distill their message for various audiences. The improv acting sessions help researchers open up and think on their feet.
"Helping our faculty connect more effectively with communities, students and policymakers about their work and ensuring that we can best support the state of Maine is at the heart of being a public land grant research university. UMaine faculty bring remarkable opportunities to Maine, and this training helps inspire people to do more, connect more, and make their work matter more to our society," says Laura Lindenfeld, director of the Margaret Chase Smith Policy Center, which became an official affiliate of the Alan Alda Center in spring 2015.
On Oct. 12 and 13, 20 UMaine Faculty Fellows participated in the Alan Alda-style training led by UMaine staff members.
The UMaine Faculty Fellows Program was proposed and designed in 2013 to create better pathways for making UMaine's work matter more to the state. It is coordinated by Lindenfeld and Jennifer St. John, a research associate at the Margaret Chase Smith Policy Center.
"The program is designed to get faculty members and researchers more connected with Maine communities," Lindenfeld says. "The UMaine Faculty Fellows Program will help us bridge boundaries and create stronger connections between our university and the state. We already do so much for the state, but we can do more. Getting a creative, entrepreneurial group of professors together through this program is a remarkable opportunity to increase our ability to help businesses, industries and citizens. I want this program to help us make a tangible difference, and that is so inspirational and exciting."
From engineering to marine sciences to art history, the program currently includes 20 outstanding faculty members who are learning about contemporary issues in Maine. The program is preparing them to make their own research more engaged and relevant to issues in the state through training such as the workshop offered through the Alan Alda Center.
At the conclusion of the two-day seminar, participants were optimistic about the positive effect the training will have on their research.
"The Alan Alda training stands out in comparison with other communication workshops I've taken because it emphasizes empathy as well as message," says Jacquelyn Gill, a professor of paleoecology and plant ecology at the Climate Change Institute and School of Biology and Ecology. "In the classroom, as with talking to the media, we often focus so much on ourselves that we forget that the listener is just as important. Without a personal connection, you're less likely to listen, which means you're less likely to learn."
Roger Sher, a professor of molecular and biomedical sciences, says he has already found the training has changed the way he teaches and interacts with students.
"I had a student with whom I was having a difficult time communicating and was feeling frustrated," he says. "After the Alda training, I found myself reflecting on my role in the miscommunication instead of focusing on the frustration I felt was the student's fault. The next day I found myself in a much more cooperative and productive interaction with them. I found the Alda training made me able to see what I was doing in the conflict and allow myself to be vulnerable to being partially responsible for the problem without feeling defensive."
UMaine is one of several institutions from around the country in the Alan Alda Center's network. Affiliates include the University of Chicago Medical Center, Boston University School of Medicine, Robert Wood Johnson School of Medicine at Rutgers University and Dartmouth College.
The UMaine Faculty Fellows represent some of the first researchers and instructors at affiliate institutions to undergo an Alan Alda Center training and its effect on their work will be measured throughout the coming year.
Contact: Carmedy West, 716.471.6383