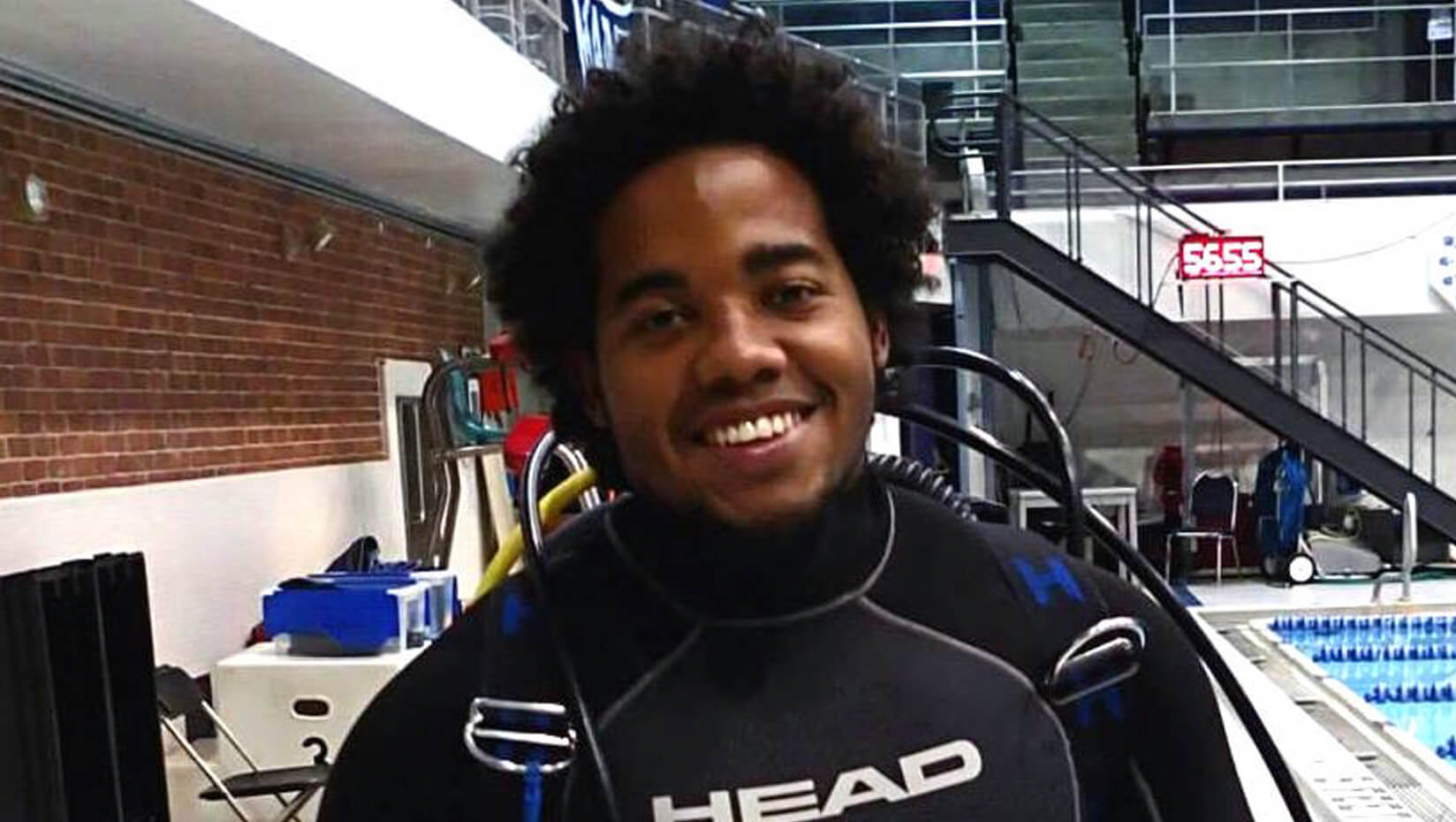 Ruleo Camacho: Promoting coral reef health
A graduate student at the University of Maine Darling Marine Center received a Young Investigator Award Honorable Mention at the 9th Florida State University Mote Symposium in October.
Ruleo Camacho, who is a pursuing a dual master's degree in marine biology and marine policy, presented his thesis research, "Antigua's Community Based No-Take Reserves: Developing a Bottom-Up TURF for Coral Reef Ecosystems" at the symposium in Sarasota, Florida.
The conference focuses on issues relevant to fisheries. This year's topic, "Territorial Use Rights for Fishers (TURFs)," drew about 100 people from around the world, including South Africa, Chile, Australia, India, Canada, the Caribbean and U.S.
The symposium examined conditions under which TURFs provide desirable social, economic, institutional and ecological results.
Camacho, who grew up in Antigua and Barbuda and has seen coral ecosystem degradation due to overfishing, pollution and weather-related events, focused on coral reefs and the community-based TURF system.
With guidance from advisers Bob Steneck and Teresa Johnson, Camacho developed a bottom-up management system to positively influence reef health. Camacho, a community organizer, convinced the fishing community to have a reef reserve in the Falmouth region of Antigua.
"Community-based management is a viable alternative to current (but failing) top-down management practices in Antigua and Barbuda to positively influence the key drivers needed for the recovery of the islands' coral reef ecosystems," says Camacho, whose research is funded by a Fulbright Foreign Scholarship and a Thurgood Marshall Scholarship.
Shifting primary responsibility of resource management to the main stakeholders — fishermen — was key to creating the reserve. Camacho actively involved fishermen in discussions regarding formation and location of the reserve. Their decision to not fish in the reserve is voluntary.
Steneck, who also attended the conference, said Camacho should be proud of the award.
"The small reserve he created is a demonstration project for the fishing community in Antigua, who are mostly too young to ever have seen a healthy coral reef. It is extremely hard to discuss future options with stakeholders if they have no concept of what the future could look like," says Steneck.
Heather Leslie, director of the Darling Marine Center, praised Camacho for his innovative, community-based research method.
"Ruleo's interdisciplinary approach to marine science and stewardship is exactly what we need to tackle 21st -century ocean challenges," she says.