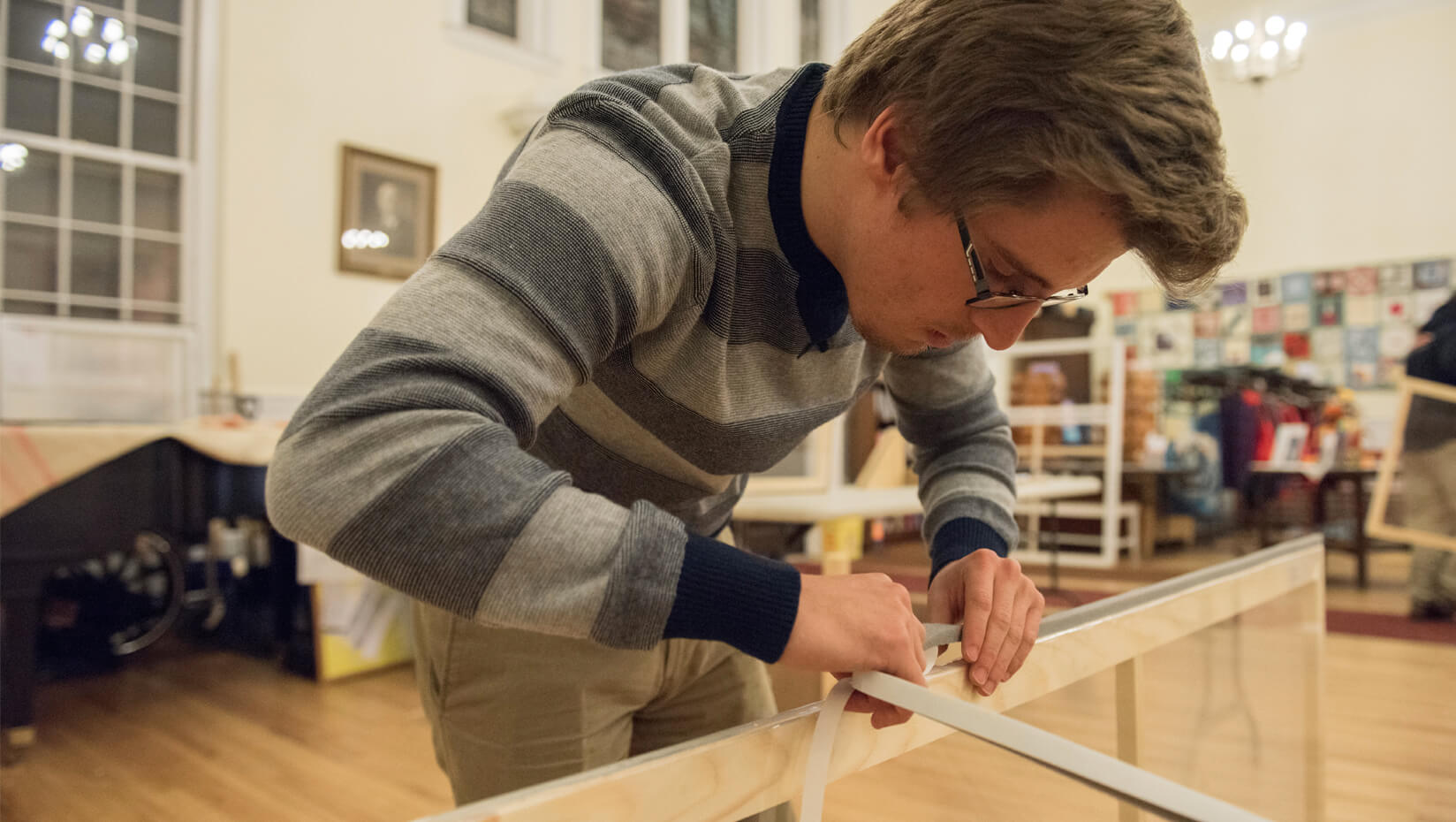 Students in economics class work with community to keep homes warm
Students in University of Maine economics professor Sharon Klein's service learning class have spent the semester working with the community to help keep homes warm throughout the winter.
The pilot course, "Building Sustainable Energy Communities Through Service Learning," teaches students about sustainable energy through hands-on community engagement.
Throughout the semester, the 10 students in the class recruited customers and volunteers, measured windows in customer homes, and built window inserts, which are pine frames wrapped in two layers of plastic with weatherization stripping around the edges.
The students worked with the Unitarian Universalist Society of Bangor (UUSB) and the volunteer-led nonprofit WindowDressers, which specializes in coordinating community-led window insert building events.
For two weeks in November, UUSB hosted the build event at the church in Bangor, and WindowDressers supplied the materials. With help from both groups and about 40 volunteers, including several from the Old Town Rotary Club and Brewer High School, the students built more than 350 inserts.
About 27 percent of the inserts will be donated to low-income families for a suggested contribution of $1 per insert.
For a final project, students in the course will estimate the energy savings and social benefits associated with the program.
"It has been truly inspirational to watch my students' dedication and excitement for this project build, their skills and knowledge grow, and relationships between community members and students blossom," Klein says. "I hope to be able to do more projects like this in the future and would certainly love to collaborate with WindowDressers, UUSB and the Old Town Rotary Club again. They are such a hard working, wonderful group of people."
The Senator George J. Mitchell Center for Sustainability Solutions helped fund the course as part of Klein's larger community energy research efforts.