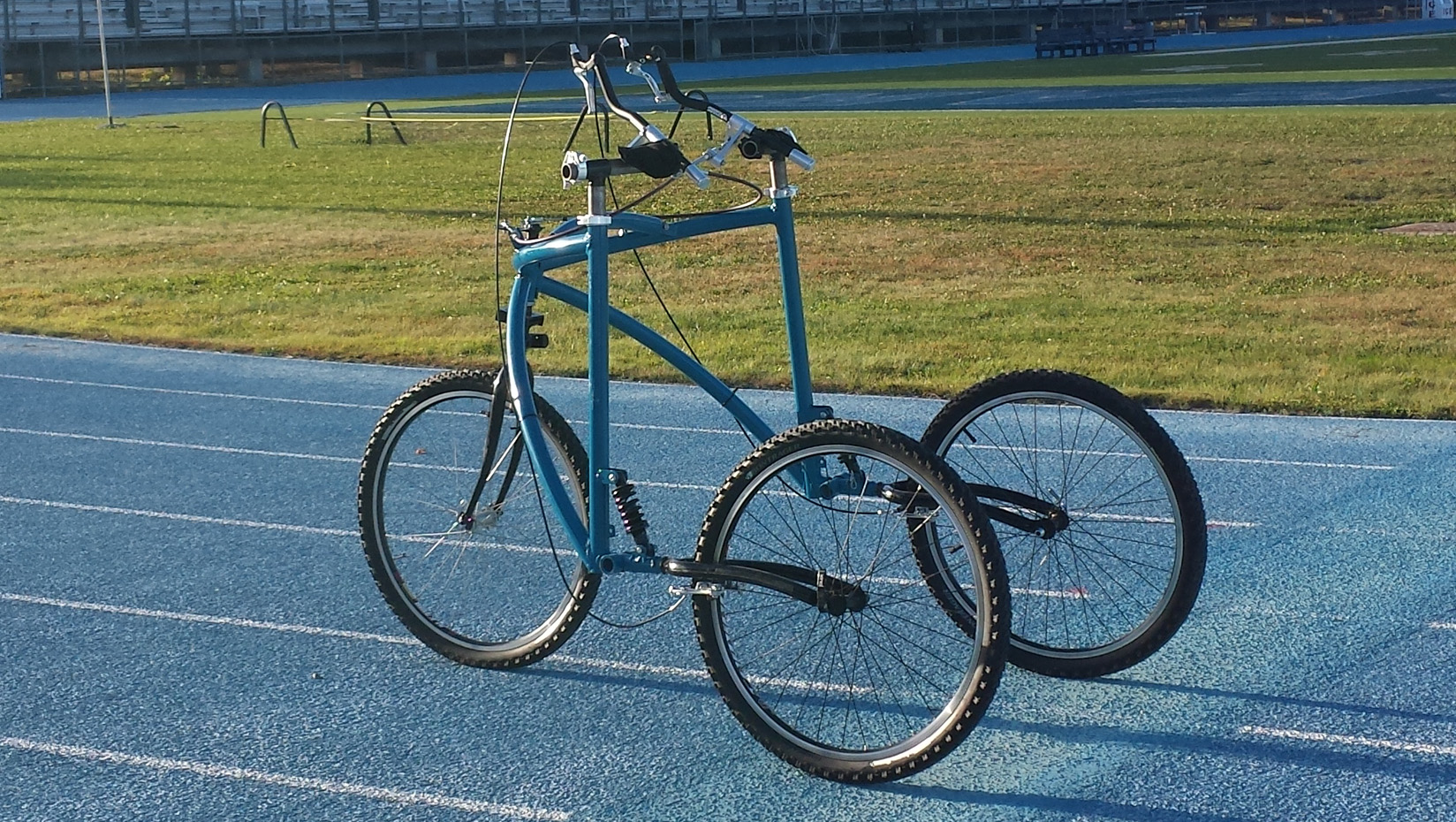 Researchers awarded $225,000 for testing, commercialization of mobility aid
An aesthetically designed mobility aid created by University of Maine researchers to meet the growing need for adaptive exercise engagement has received nearly $225,000 from the National Institute on Aging.
The one-year $224,999 National Institutes of Health Phase I Small Business Technology Transfer (STTR) grant will involve precision testing and the initiation of commercialization of the Afari™, a three-wheeled device that provides balance and weight-bearing assistance, stability, upright posture, active steering and braking, to those who seek safe and effective support while participating in outdoor fitness such as walking, jogging or running.
Afari was created to fill an unmet need for people who, without adequate and well-designed mobility support, would be unlikely or unable to exercise.
UMaine faculty members Stephen Gilson and Liz DePoy, both professors of interdisciplinary disability studies and social work, conceptualized the Afari in 2008 after DePoy could not find a functional device to allow her to run in a triathlon.
"I was finally successful on my treadmill in my gym in reaching the milestone that I needed for the running part of a triathlon. However, I realized that I could not run outside without balance support," DePoy says. "After looking for a device to help me balance in the competition, I only found durable medical equipment, rollators and walkers with small wheels. These were nonfunctional, ergonomically inadequate, and stigmatizing in appearance. Since there was no device that married function to aesthetic form, Stephen and I set out to craft and invent it."
Gilson and DePoy began the project with two seed grants from the Maine Technology Institute, and then sought collaboration with Vince Caccese, a mechanical engineering professor at UMaine. Working with Caccese and Ryan Beaumont, a UMaine mechanical engineering alumnus, the team formed the company Mobility Technologies in 2015 to commercialize Afari and other aesthetically designed products that are now being developed.
As the chief operating officer of Mobility Technologies, Beaumont is the principal investigator of the NIA grant. The STTR program is a congressionally mandated competition for domestic small businesses, in collaboration with universities, to engage in research and development that has the potential for commercialization. Successful completion of Phase I will provide the opportunity for Phase II, which would allow the team to apply for a grant to support large clinical trials and research on the benefits of Afari for varied populations.
"Funding from the NIH STTR program has been crucial for Mobility Technologies in the commercialization of the Afari," Beaumont says. "There has been a great deal of enthusiasm about this product from those with mobility impairments who want to be active outdoors. Phase I funds will help us ensure that it is safe and enjoyable to use in this way."
Funding from the project will go toward further validation of the Afari's functionality, safety, balance support and a unique weight-bearing monitoring system; usability and desirability testing; aesthetic acceptance; and planning to educate users and providers about the device and its benefits.
The goal of this Phase I STTR award is to complete the design, safety, aesthetic desirability, and usability testing of Afari for the population diagnosed with lower extremity osteoarthritis.
Osteoarthritis, diagnosed in more than 15 percent of the U.S. population, is the primary cause of musculoskeletal lower extremity disability. Although there is no cure, exercise remains the core treatment to manage the chronic joint condition regardless of age, pain, severity or disability, according to the researchers.
Yet, because of stigmatizing design and limited function of devices, many people with the condition abandon supportive equipment. Therefore they do not engage in regular fitness and may resort to invasive and risky joint replacement surgeries due to pain and decreased mobility, or they may experience health decline due to unnecessary sedentary lifestyles, the researchers say.
"I am hoping that Afari is the first in a long line of mobility equipment that is fully functional and looks good," Gilson says. "Liz and I have devoted our scholarship and teaching to the development and dissemination of theory that guides design and development of solutions to foster full participation for all people in all aspects of work, recreation and social life. Right now, people put stigmatizing equipment in the closet and do not use it even if they need it. None of us can benefit from devices that we do not use."
Contact: Elyse Kahl, 207.581.3747