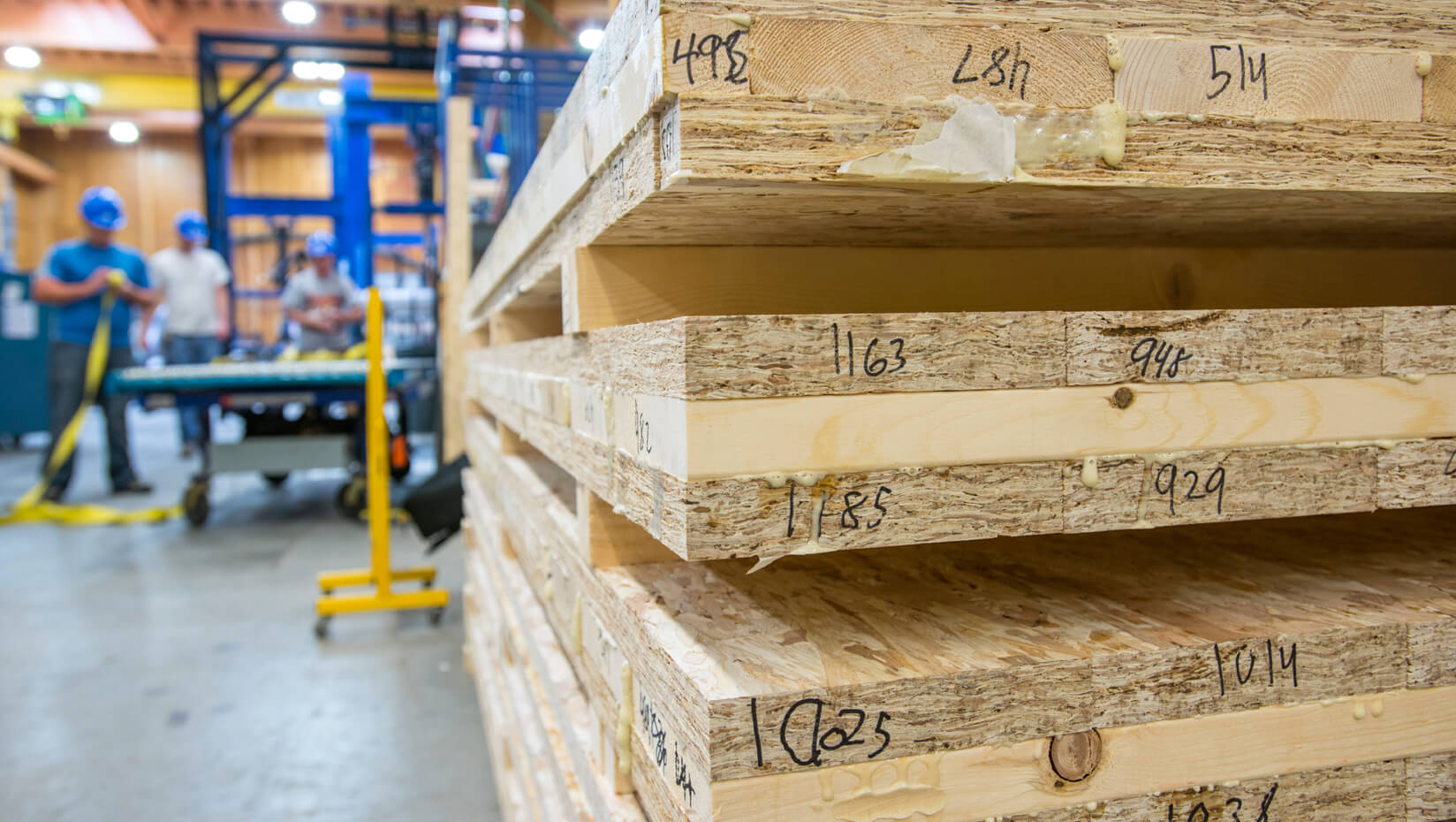 'Plywood on steroids' could help grow industry
Nicholas Willey once planned to be a lawyer.
Then, at his mother's suggestion, the then-Caribou High School student attended the free University of Maine Pulp & Paper Foundation program "Consider Engineering" that gives juniors insight into the field.
"It really opened my eyes to what engineering encompassed," says Willey.
As well as persuasively made the case for Willey — who enjoys science, math and innovation — to pursue an engineering career.
Six years later, he's well on his way.
In 2014, Willey earned a bachelor's degree in civil engineering from UMaine and now he's a graduate civil engineering student and a graduate research assistant at the Advanced Structures and Composites Center.
For his master's project, Willey is collaborating with university wood scientists and engineers to evaluate the performance of cross-laminated timber (CLT) made from solid-sawn and composite lumber from trees that grow in Maine and the northeastern U.S.
CLT — a massive timber construction product developed as an alternative to stone and concrete in the 1990s in Austria — is used to build homes and mid-rise commercial buildings in Europe and Canada.
Since CLT was recently incorporated in the International Building Code, it can be used in building construction in the U.S., providing it meets manufacturing standards.
"I really would like to see CLT be a material that's used more in the U.S. I think it's really beneficial for society," says Willey. "It would probably create more jobs and, at the same time, being a renewable resource, it would be really good for the environment."
CLT, says Stephen Shaler, is sometimes called plywood on steroids.
The director of the School of Forest Resources and associate director of the Composites Center heads the CLT testing project, which is funded by a $300,000 grant from the U.S. Department of Agriculture.
CLT consists of two-by lumber or composite (two-by-fours, two-by-sixes, or two-by-eights) glued together and stacked in alternating directions (with as few as three and as many as nine laminated layers).
The large, strong, stable panels are used as full wall segments, as well as in floors and roof systems.
CLT's numerous benefits have been touted in Europe and Canada.
Growing trees remove carbon dioxide from the atmosphere and using lumber from sustainably managed forests can lock up this carbon for centuries, says Shaler.
Thus, he says, CLT structures result in a much smaller carbon footprint than structures built with energy-intensive materials such as steel or concrete.
Shaler says CLT buildings in Italy have been erected because of the structural integrity they demonstrate during earthquakes.
The construction industry is interested in this building system, Shaler says, because cranes can quickly erect prefabricated CLT structures that have door and window openings precut at the factory.
"Time is money," he says.
CLT has had building code approval in Europe for a couple of decades. Shaler says buildings of 10 or so stories have been built with CLT and there are designs for a 60-plus-story CLT and steel building.
A firm in Oregon is approved for manufacturing CLT made with Douglas fir and larch — tree species native to that region. Another manufacturing center is planned in Montana.
Enter UMaine to test how CLT made with tree species that grow in Maine and the northeastern forests of the United States fare.
After the USDA awarded UMaine $300,000 to find out, the UMaine team began evaluating the strength, thermal and moisture properties of CLT made with spruce, pine and fir — a grouping called Spruce-Pine-Fir South.
The SPF-South lumber used in this research program comes from Pleasant River Lumber in Dover-Foxcroft, Maine.
UMaine also is testing a hybrid CLT panel made from a combination of solid-sawn SPF South lumber as well as an engineered wood composite — laminated strand lumber (LSL) — produced by Louisiana Pacific in Houlton, Maine.
This past summer, a Willey-led student team carefully built upwards of 45 4-foot-by-8-foot CLT panels. Then the students proceeded to break them during tests for flexure, shear, block shear, delamination and fatigue.
If CLT made of SPF South and LSL stacks up well, that could translate into new markets and increased commercial value of forests in the Northeast.
Willey and lead investigator Shaler are collaborating on the project with: Bill Davids, professor of civil engineering; Russell Edgar, wood composites manager; Doug Gardner, professor of forest operations, bioproducts and bioenergy; Roberto Lopez-Anido, professor of civil engineering; Robert Rice, professor of wood science; Mehdi Tajvidi, assistant professor of renewable nanomaterials; and Jaya Tripathi, a master's student in wood science.
In addition to the large-scale testing at the world-class Composites Center, UMaine is examining CLT and LSL on a small scale across campus in Nutting Hall.
As well as gauging a structure's stability, Shaler says it's important to know what the indoor environment of a CLT structure will be like.
That's where Tripathi comes in. The native of Nepal is evaluating hygrothermal movement — heat and moisture transfer — and thermal insulation value in an LSL-spruce-LSL hybrid CLT design.
Sensors embedded in CLT panels measure moisture content, humidity and temperature under a variety of conditions.
The USDA awarded UMaine the competitive grant because of the varied expertise and team approach demonstrated by university wood science researchers and engineers, Shaler says.
The final results will be important to several groups, says Shaler, including the lumber industry and architects.
Tripathi and Willey say it's rewarding to test a renewable resource that could one day provide jobs and be used to construct homes and businesses.
"You'd like to think the product you're working on is something that will come into light some day so that you can say, 'I put my stamp on that. My name is on that product. I helped develop it. I helped to make it what it is,'" says Willey.
Habib Dagher, director of the Composites Center, says CLT could open new value-added markets for Maine wood species, which is important today.
"By doing this research on new uses for Maine wood species, we open the door for a potential CLT manufacturer to locate a plant in Maine," he says.
"We are now exploring opportunities to build a pilot CLT building in Maine, a project that will bring together Maine architects, engineers, contractors and wood suppliers to build this expertise in Maine."
Contact: Beth Staples: 207.581.3777