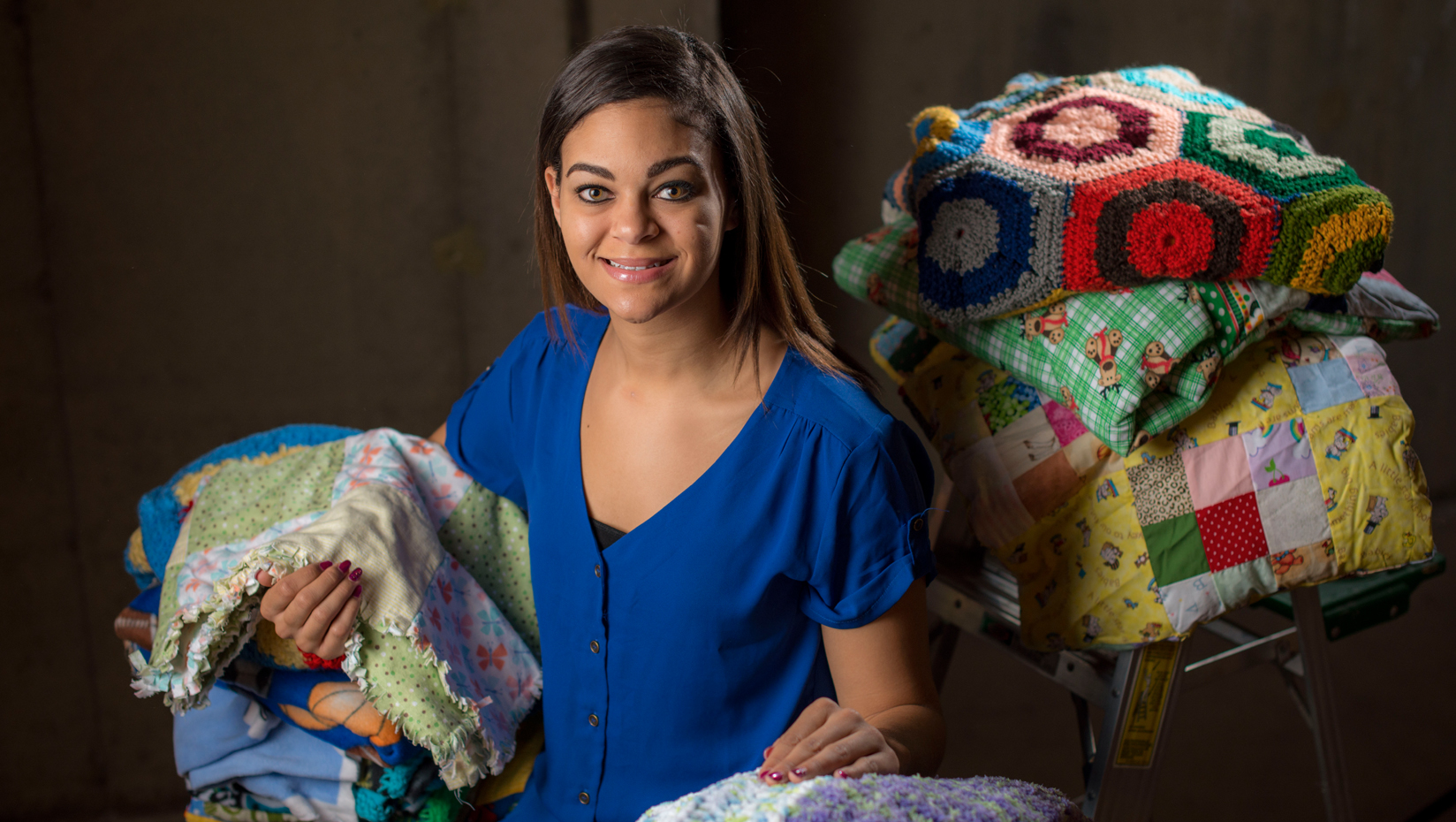 Sara Disselkamp: Social work major starts nonprofit for foster children
For as long as she can remember, University of Maine social work major Sara Disselkamp has been determined to give back to others. As an adoptee, she felt the need to help children who may not have been as fortunate as she was.
To do so, Disselkamp founded Something To Snuggle, a nonprofit that provides blankets for children in the Maine foster care system. When she's not busy in class, studying, working at her internship at Good Samaritan Agency in Bangor or training for the Miss Maine USA pageant, Disselkamp spends her time devoted to the organization.
In the last year, she has partnered with groups and individuals across the country to grow the organization. So far the nonprofit has donated nearly 500 blankets.
The Millinocket native was recognized for her efforts by Glamour when she was selected as Maine's 2015 Hometown Hero. The magazine named one "brave" woman from each state that is making a difference in their community.
"This honor was nothing that I had applied for, nobody had submitted my name, so I was in complete shock," Disselkamp recalls of learning the news through an email from a writer at the magazine. "I reread the email multiple times, and I remember becoming teary-eyed because at that moment, I felt that I had made a difference."
After graduation in May 2016, Disselkamp plans to pursue a master's degree and eventually become an adoption counselor.
Why did you choose to study social work?
Honestly it took me quite a while to figure out what I wanted to study. I switched my major two times before I discovered social work was my calling.
I knew that whatever occupation I went into, it needed to involve me helping others. I've always found one of my strengths to be how I communicate with others, and envisioned myself working with people to help them with whatever challenges they may be facing in their personal lives.

Describe your nonprofit:
Something To Snuggle was founded in the summer of 2014, but at that point it simply started as a project.
As an adoptee, I've always known that it was part of my purpose here on Earth to give back to others. It took me a long time to figure out exactly how I was going to do that. I remember brainstorming different ways that I could give back to kids who may not have been as fortunate as I was.
As a social work major I knew a great deal about the foster care system. It broke my heart to know that a lot of the time when children are removed from their homes and are being transitioned into their foster homes, they don't get to take any belongings with them. I thought that although it was a simple concept, a blanket would serve as a good security item for a child.
I began making the fleece tie blankets to donate to organizations such as Adoptive and Foster Families of Maine, as well as DHHS. By promoting this project by word of mouth and social media, many in my hometown jumped on board and the project began to spread like wildfire.
I was able to turn what started as a project, into my nonprofit — Something To Snuggle — and have had people make and donate blankets from all over the state of Maine. I've also received packages with blankets to donate from people who live in other states which is extremely heartwarming.
What are your long-term plans for the organization?
People often ask me how long I'm going to continue Something To Snuggle. My goal is to continue promoting my nonprofit year-round.
With over 2,000 children in Maine's foster care system, it's certainly an issue that needs to be brought into the spotlight. I plan to continue raising awareness on these topics, and would love to see every foster child in Maine get a blanket to call their own.
Describe your internship:
Every senior in the field of social work participates in an internship that goes from the fall until we graduate in the spring. I've been doing my internship at Good Samaritan Agency in Bangor. It is a school for teen mothers or expecting teens. They also provide child care and adoption services.
My experience at Good Sam's over the past four months has been nothing short of amazing. I've learned an incredible amount not only from my supervisor but from the students, as well.
Although I have a lot more to learn before I begin my work in this field, I feel that Good Sam's has been the perfect fit for me with regards to my internship. Every day I'm there is truly a blessing.
Walk us through a typical day in your life:
My fall semester was the busiest semester I've encountered. Mondays, Tuesdays and Thursdays I was at my internship from 8 a.m. to 2:30 p.m. — I needed 200 hours in both the fall and spring semester at Good Sam's. On Wednesdays, I had class from 9:30 a.m. to 2 p.m. When I wasn't at Good Sam's or in class, I was doing homework.
All of 2015 I was also dedicating any extra time to Something To Snuggle; making blankets, delivering blankets, talking to different groups about the nonprofit and trying to spread the word throughout our state.
All of 2015 I was also training for the Miss Maine USA pageant so even with my internship, classes and Something To Snuggle, I was at the gym daily. I had to find time to rehearse and prepare myself both physically and mentally.
People always ask me, 'Sara, do you sleep?' And my answer for last semester is 'No, not really.' I seriously wouldn't trade any of it for the world though. I love getting my education, I love helping others and I love what I do with my spare time.
Have you worked closely with a professor or mentor who made your UMaine experience better?
There have been two women who have absolutely made my UMaine experience better.
My adviser and professor Kelly Jaksa is truly one of the most beautiful souls I have ever met. She continuously goes out of her way to bend over backward to help not only me but also my classmates. She always has a smile on her face when I see her, and I can tell she genuinely cares about each and every one of her advisees and students.
Robin Russel is the second person who has made my experience at UMaine better. Robin is such a sweetheart and has such a wonderful personality. She's wonderful as a professor and is so brilliant to talk to after class. She is another one who genuinely wants all of her students to do well and succeed.
Both Kelly and Robin have inspired me to be a better student and future social worker.
Why UMaine?
Both of my parents and my brother graduated from UMaine and have been extremely successful in my opinion. I knew I needed to be the fourth Black Bear in our family. UMaine was my perfect fit.
I'm a very family-oriented person so I wanted to be close to my hometown, but attend a university with diversity and one that brought me new adventures. UMaine has done just that.
What difference has UMaine made in your life and in helping you reach your goals?
UMaine has given me a wonderful education and has prepared me to my greatest potential for going into the field of social work. It has provided incredibly caring professors who even through some of my struggles have helped me reach my senior year to graduate in May.
UMaine has also made me realize that we all truly can be the change agents this world needs.