College of Natural Sciences, Forestry, and Agriculture to honor three outstanding faculty members
The University of Maine College of Natural Sciences, Forestry, and Agriculture will honor faculty in economics, agronomy and forestry during a ceremony at 3 p.m. April 25 in Nutting Hall.
The recipients are:
Outstanding Teacher: Caroline Noblet, assistant professor, School of Economics
Outstanding Public Service: Gregory Porter, professor of agronomy, School of Food and Agriculture
Outstanding Research: Aaron Weiskittel, associate professor of biometrics and modeling, School of Forest Resources, Irving Chair of Forest Ecosystem Management
Noblet overhauled the School of Economics undergraduate academic program and established a teaching laboratory that has reached thousands of students during her short tenure. According to peers, Noblet's work also is exemplary in the classroom, where she introduces many students to the field of economics for the first time.
"She brings her research program to the classroom, infecting her students with understanding that economics is a discipline alive, not just chapters in a textbook," said Alan Kezis, former associate dean for the college.
Noblet is a Maine native who enjoys studying natural resource decision-making and working with students at the undergraduate and graduate level. In 2012, she earned the college's 2012 Outstanding Graduate Mentor Award. Noblet is most interested in considering the changing environmental and economic landscape of her home state and how UMaine students can be prepared to step in as leaders.
Porter has dedicated three decades at UMaine to solving challenges faced by potato growers in the state and beyond. His research and service focus on solving nutrient management problems, improving soil productivity through crop rotation and soil amendment use, and developing new potato varieties. In the past two years, in partnership with the Maine Potato Board, he introduced three new varieties in an effort to provide growers with high-quality potatoes that have higher yields and better disease resistance than current varieties.
Porter's time is officially devoted to research and instruction. But he also regularly responds to questions from the public and frequently shares his expertise in state and national forums. Porter has served the college on a number of committees, sometimes as chair.
The nature of Porter's research, coupled with his efforts to ensure his findings are accessible to those working on the ground, provide a public service for potato growers and consumers the world over.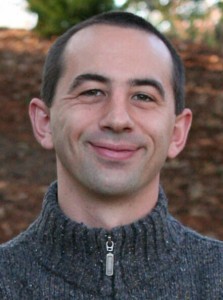 Weiskittel joined UMaine in 2008 and has garnered nearly $5 million in competitive extramural funding for his research, published more than 65 articles in forestry and scientific journals and authored a book titled "Forest Growth and Yield Modeling." He is globally regarded as an authority on forest biometrics and modeling and is the associate editor for three journals of forestry.
New forest growth and yield models, which Weiskittel recently unveiled for Maine's Acadian forests, are vital tools for scientists and land managers to predict future wood supplies, wildlife habitat and ecological conditions.
"Forest growth models are only unveiled every few decades in most regions. So, Dr. Weiskittel's accomplishment represents a significant milestone in forest management. He is literally on a path that will significantly improve forest management efforts across the region," said Robert Wagner, director of the Center for Research on Sustainable Forests and the Henry W. Saunders Distinguished Professor in Forestry.
"Dr. Weiskittel's research accomplishments exemplify the highest performance we hope for in professors at a land grant university."
Contact: Erin Miller, 207.581.3204