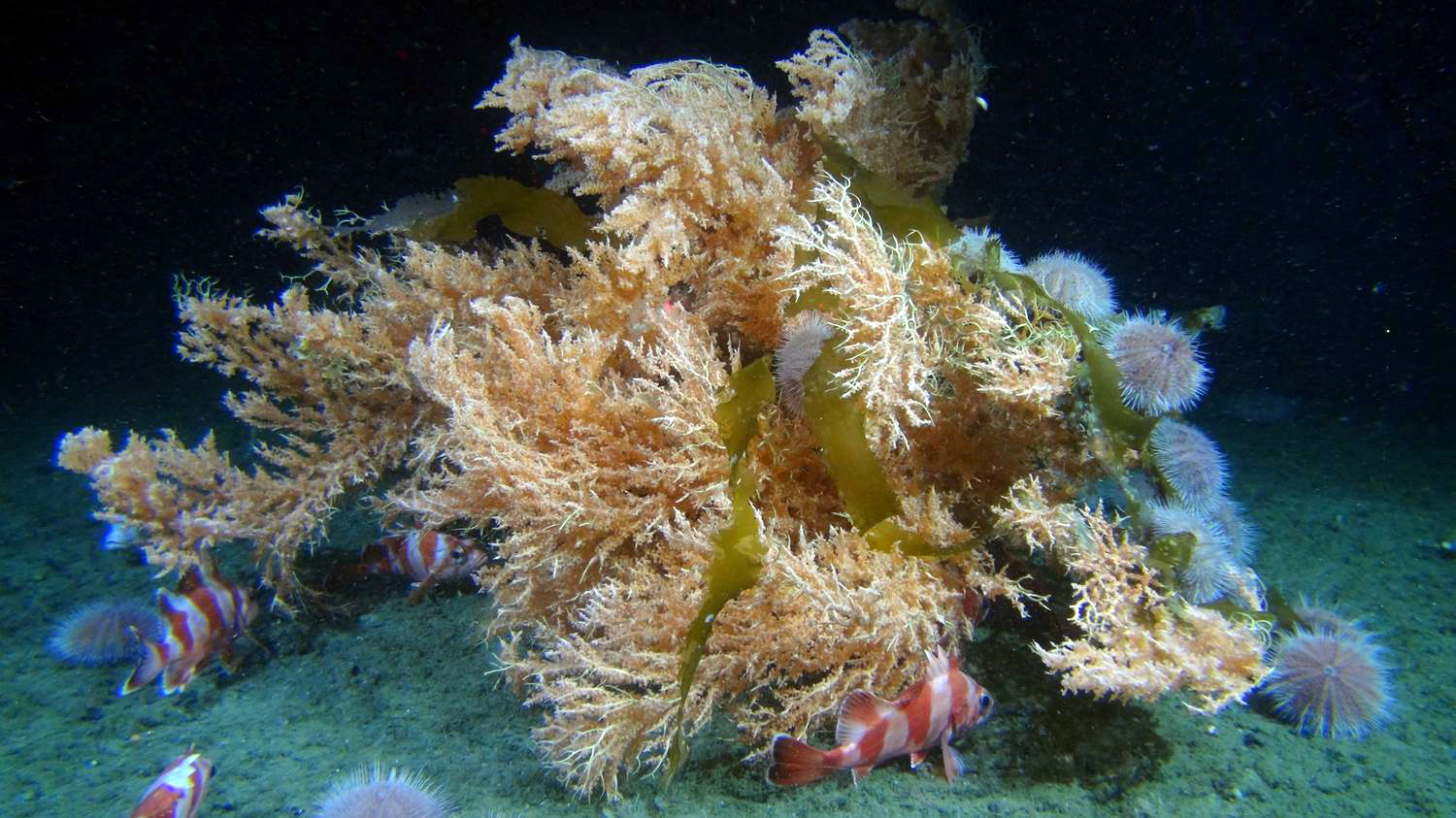 Waller explores spectacular coral colonies in Glacier Bay
Rhian Waller received an incredible gift to celebrate the National Park System's 100th anniversary in 2016.
The University of Maine associate professor led the first-ever extensive expedition of the underwater fjords in Glacier Bay National Park and Preserve in Alaska.
"Glacier Bay National Park is such an amazing area, it's very hard to put it into words. Pictures are really the best way to describe the park. [It's] really one of the treasures of the National Park System," she says of the protected 3.3 million acres north of Juneau, Alaska that contain majestic mountains, glaciers, rainforests, coastlines and deep fjords.
Fewer than 300 years ago, a glacier thousands of feet thick covered the area. And when the massive ice sheet receded, it created the deep fjord system.
Today, visitors to GBNP see low-lying forests, bears, breaching humpback whales, puffins, sea lions and otters.
And thanks to photographs and videos taken by Waller and colleagues, park guests also will be able to learn about the life that thrives well below the water surface.
Prior to this two-week March expedition, Waller says very little was known about underwater ecosystems in the park and preserve. The goal, she says, was to explore, map and survey underwater habitats and ecosystems.
The exploration was revealing; Waller says the team located what could be two species of corals that have never been found in this area before.
In addition to the lush, enormous extensive coral colonies — some measuring more than 15 feet — Waller says the team documented healthy, diverse marine life teeming around the colonies — including many species of fish, sea stars, crabs and worms.
Because GBNP is a dynamic environment created by a receding glacier, Waller told the National Oceanic and Atmospheric Administration that she and her colleagues got a rare glimpse of ecological succession in action, including "virtually watching the corals claim territory as the glaciers retreat back into the bay."
Waller, who has taken part in dives all over the world, says the corals in Glacier Bay National Park are some of the most spectacular she's ever seen — lush, healthy communities, corals larger than cars, teeming with life.
"We knew that there would be corals in some of these areas within the park, but we didn't know just how amazingly healthy and just how extensive these coral communities would be," she says.
In March, Waller and the team traveled aboard R/V Norseman II to Glacier Bay. During days, teams of two scuba divers took turns exploring the fjords to a depth of about 100 feet.
And for 11 hours each night, scientists guided the remotely operated underwater (ROV) vehicle Kraken2 about 1,000 feet down to the bottom of the fjords to document and collect organisms.
Waller now will analyze samples gleaned from the collaborative project with NOAA, the U.S. National Park Service, U.S. Geological Survey, University of Connecticut and Rutgers University.
Research papers will follow.
So too will proposals to monitor the protected and dynamic environment, says Waller, who is based at the Darling Marine Center in Walpole.
It would be fascinating and informative, she says, to observe how corals grow and colonize in the fjord and document how the underwater ecosystem changes when the glacier becomes a hung glacier — no longer touches the fjord surface.