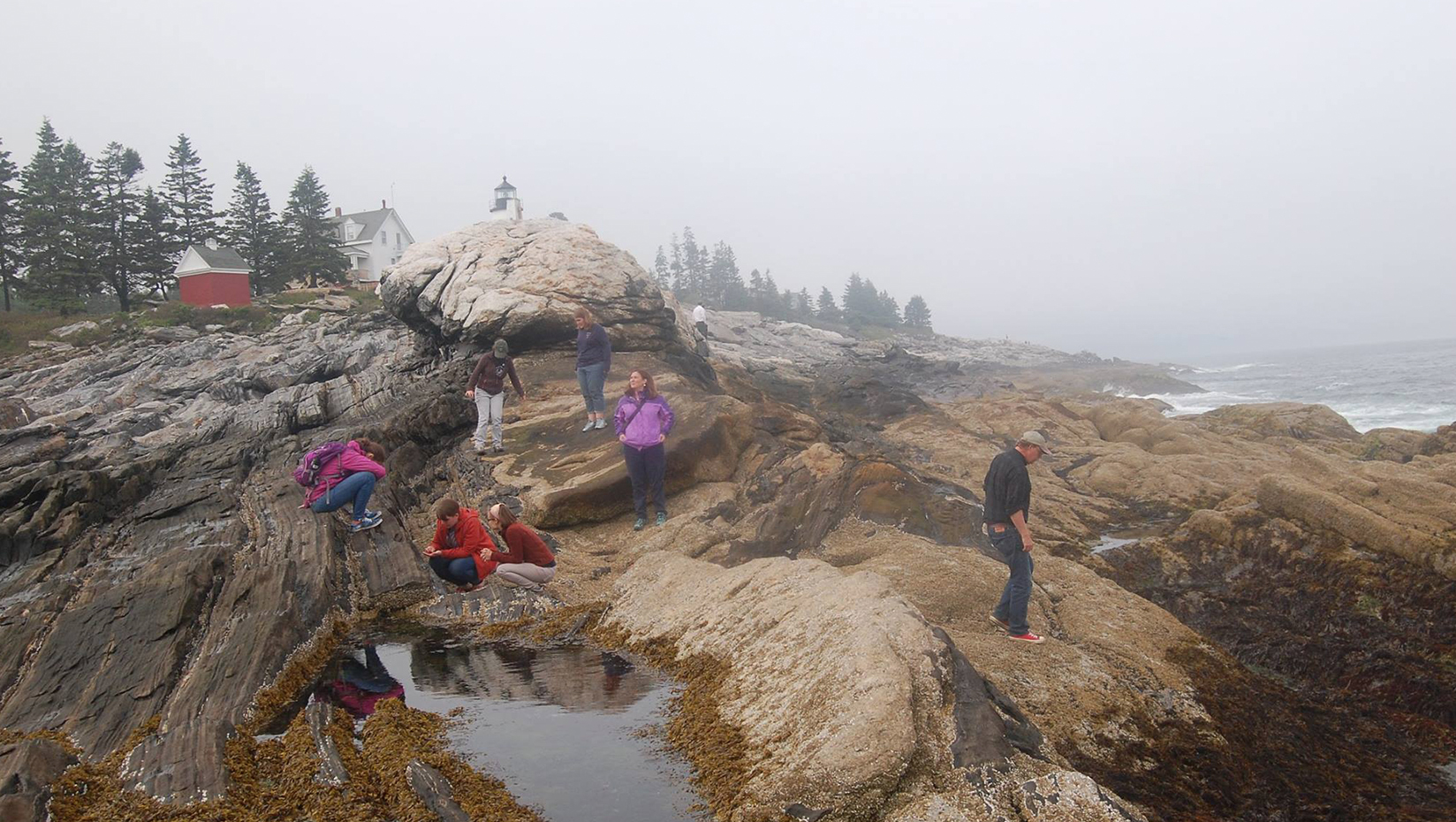 SEA Fellows explore university-industry marine partnerships
Eight students from Maine universities delved into the science and practice of marine aquaculture last week, thanks to an innovative new program developed by the University of Maine and University of Maine at Machias.
Students visited sites from Walpole to Eastport under the leadership of UMaine Darling Marine Center director Heather Leslie and UMM professor Brian Beal.
Leslie and Beal developed the SEA (Science for Economic Impact & Application) Fellows initiative to catalyze university-industry partnerships related to the state's marine economy.
"Students are hungry to learn more about how their developing skills as researchers can be applied to problems that really matter to Maine communities and marine businesses," says Leslie, who also is the Libra Associate Professor in UMaine's School of Marine Sciences.
"This week got them off to a great start."
SEA Fellows hailed from Maine as well as from other states. This year's Fellows are: Antonia Barela of New Boston, New Hampshire; Caroline Carrigan of Topsham, Maine; Emmah Day of Exeter, Maine; Justin Lewis of Rochester, New York; Melissa Rosa of New Haven, Connecticut; Molly Sisk of Plymouth, Minnesota; Margaret Towle of Gorham, Maine; and Breanna Whittemore of Bridgewater, Massachusetts. Descriptions of their projects are posted on the Darling Marine Center website.
Fellows met with marine entrepreneurs at five industry sites — Mook Sea Farm in Walpole; Maine Coast Sea Vegetables in Hancock; Moosabec Mussels Inc. in Jonesport; A.C. Inc. in Beals; and Cooke Aquaculture in Eastport — during the weeklong orientation.
They also learned from researchers engaged in aquaculture-related work at the Darling Marine Center in Walpole, UMaine's Center for Cooperative Aquaculture Research in Franklin, and the Downeast Institute for Applied Marine Research and Education in Beals.
One emerging theme from entrepreneurs on the tour was that they are engaged in both aquaculture and traditional fisheries.
For instance, the kelp harvested by Maine Coast Sea Vegetables is collected from the wild, but company founder Shep Erhart is starting to culture kelp in collaboration with researchers from the UMaine School of Marine Sciences and Maine Sea Grant because he recognizes farming seaweeds as a potential boon to his business.
Moosabec Mussels CEO Ralph Smith is engaged in a similar collaboration focused on mussels with Beal, who is the scientific director of the Downeast Institute as well as a professor at UMM.
Students say they particularly appreciated learning from industry leaders about how research informs business plans, and how science could be helpful in further building Maine's marine economy.
"My experience is primarily biological, and I think it'd be helpful to get some lobster 'street cred' by working more directly with fishermen," says Rosa, an SEA Fellow from University of New England.
Towle, an SEA Fellow from UMaine, echoed that sentiment: "I know about the science," she says. "I want to learn more about why it matters."
SEA Fellows will share their science and talk about why it matters during a free afternoon symposium Aug. 11 at the Darling Marine Center. To register, email Kathleen Thornton, kthornton@maine.edu.
The SEA Fellows initiative is funded by a U.S. National Science Foundation award to Maine ESPCoR, which supports Sustainable Ecological Aquaculture Network (SEANET) projects throughout the state. The program also benefited from in-kind support from the Darling Marine Center and the University of Maine at Machias marine field station at the Downeast Institute.
Contact: Linda Healy, 207.563.8220