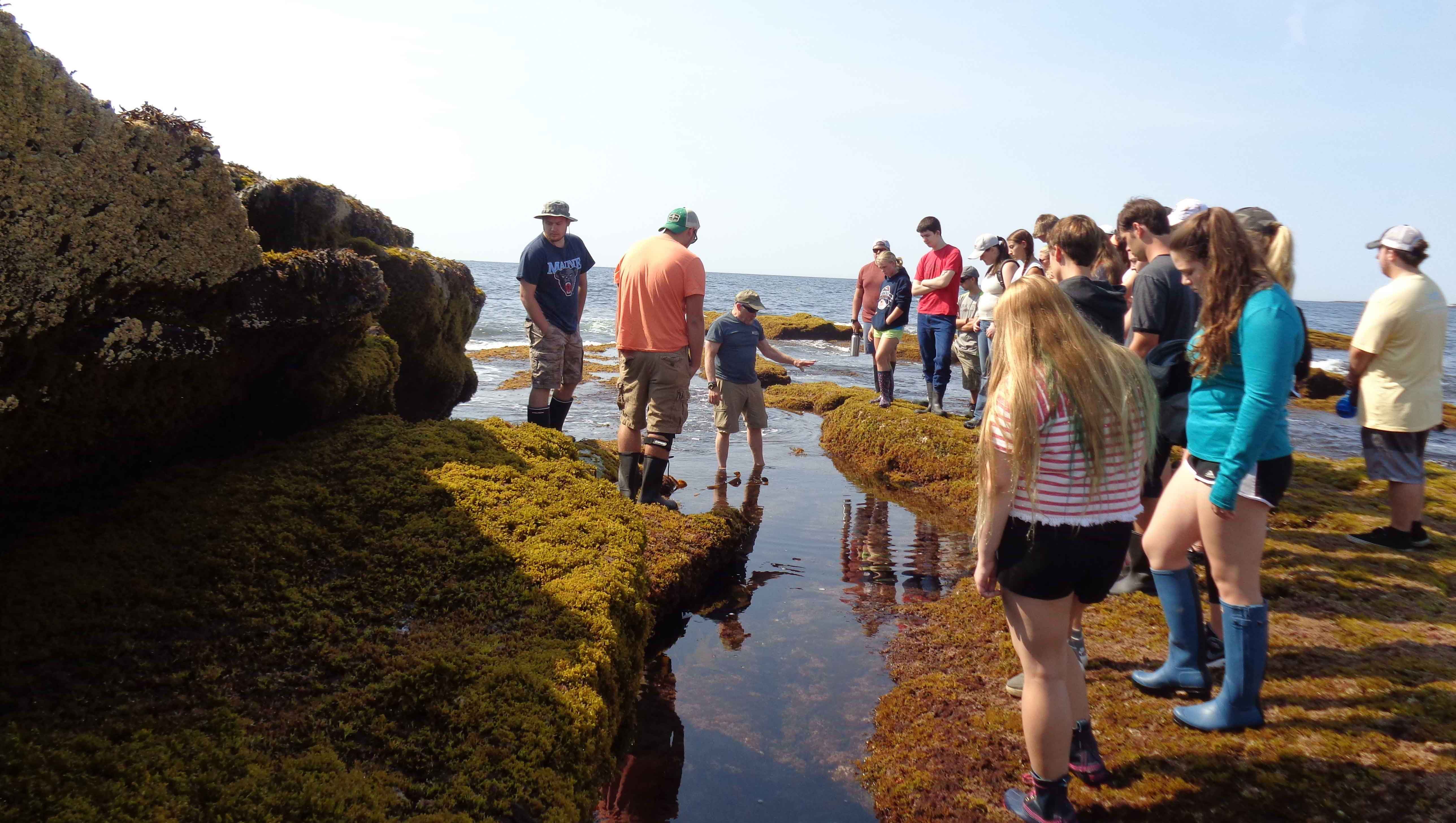 UMaine Marine Sciences Boot Camp connects students to the ocean
The annual Marine Sciences Boot Camp at the University of Maine's Darling Marine Center (DMC), in Walpole, offers first-year students an intensive preview of what their lives will look like as marine-science majors.
"I loved every minute of it," said Miranda Furnari, a student from Danvers, Mass. "It was so incredible to actually get a taste of what a career in marine science would be like and just makes me more sure of my choice to be part of the college of marine sciences."
Boot Camp is open to 30 first-year students enrolled in the University of Maine's School of Marine Sciences. Held this year from August 23-26, the orientation began with a scuba-diving lesson at UMaine's Orono campus, followed by two days at the Darling Marine Center, the university's marine lab.
"This experience is a snapshot of what makes our program one of the best in the country," said William Ellis, undergraduate program coordinator and associate professor of oceanography at UMaine's School of Marine Sciences (SMS).
That snapshot included presentations, fieldwork, and the chance to explore the DMC's labs and classrooms on the Damariscotta River. Students also went out on the river on the Ira C., UMaine's 42-foot research vessel.
Sydney Leonard, a freshman from Wisconsin, called Boot Camp a wholly unique experience. "It made me feel welcomed by the university and the program," she said.
Boot Camp also introduces students to their fellow marine-science majors, and those bonds can be enduring. Juniors Hanna Deon and Abigale Shaughnessy met at Boot Camp in 2014. Now they're friends and roommates again at the Darling Marine Center while attending SMS' residential undergraduate program, Semester-by-the-Sea. In that program, undergraduate marine science students live at the DMC for a semester while taking classes in marine biology and ecology as well as oceanography, environmental microbiology, and fisheries.
"I signed up for Boot Camp because, as an out-of-state student, I didn't know anyone who would be attending the University of Maine with me," said Shaughnessy, who is from Enfield, Conn. "Going to Boot Camp made me decide to go to Semester-by-the-Sea my junior year. I absolutely loved the Darling Marine Center."
Deon, who is from Farmington, Maine, said she applied to the University of Maine because of the Darling Marine Center. She had been considering only out-of-state schools until her mother convinced her she should also take a look at UMaine. On that tour, she met Dr. Ellis, who handed her pamphlets on Boot Camp and Semester-by-the-Sea. Those out-of-state schools didn't offer similar programs, said Deon.
"He said, 'If you come here, you can do fieldwork.' I definitely wanted to be in the field. That's what got me," said Deon. "As soon as I got to Boot Camp, I was like, 'This is what I want to do.'"
This year, 70 first-year students are enrolled as marine science majors, the largest cohort ever in the School of Marine Sciences. That's in line with increased first-year student enrollment at the University of Maine, which welcomed the largest class in its history—2,248 students—for the fall semester.
The University of Maine's Darling Marine Center is the state's hub for applied research for coastal fisheries, aquaculture, and environmental monitoring. For more information about educational and public events at the DMC, please visit the website,
dmc.umaine.edu
.