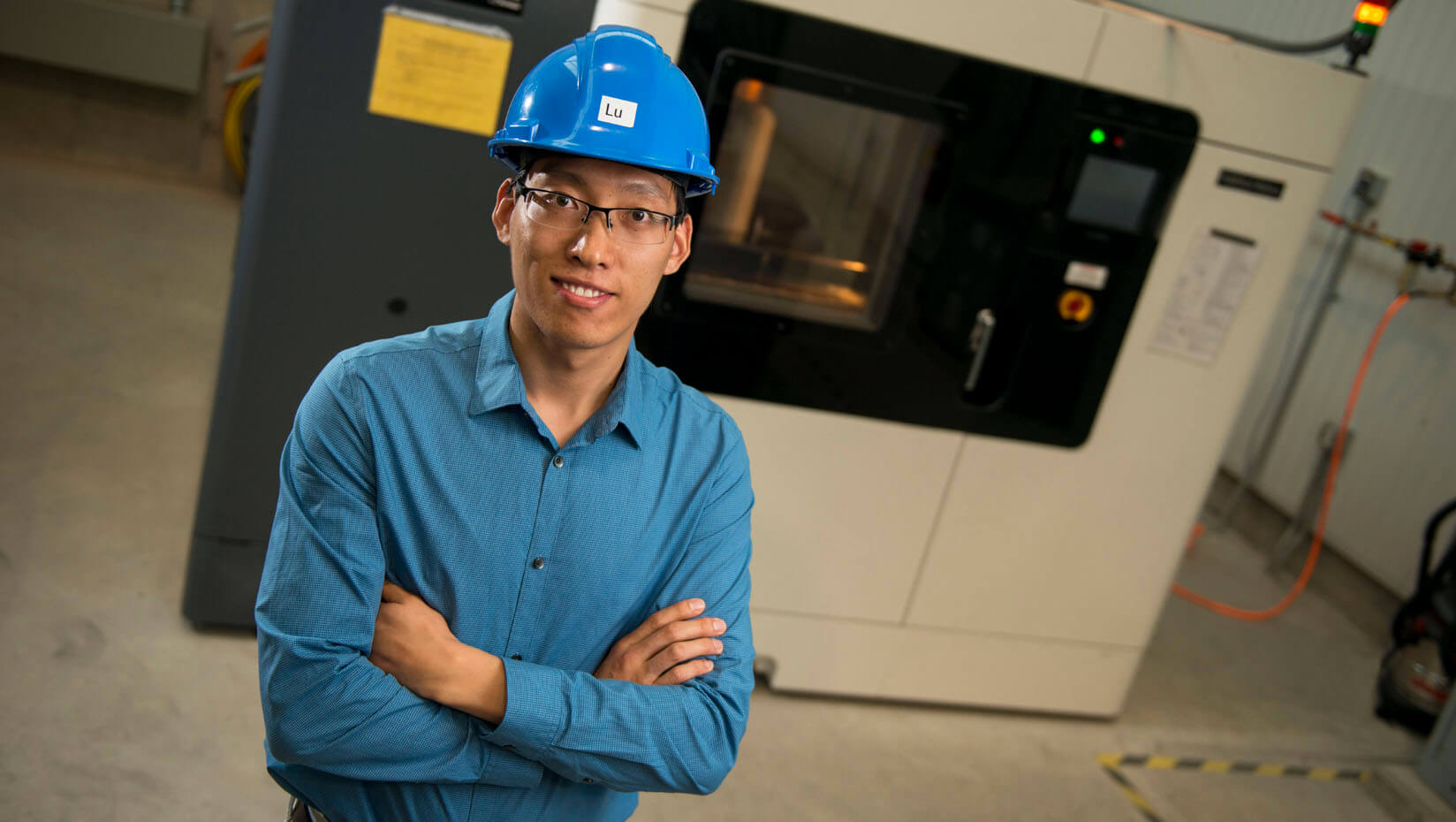 Lu Wang aims to transform wood pulp into 3-D printed products
Maine is home to more than 17 million acres of forestland, making it the most heavily wooded state in the nation, and the forest products industry has long been an important part of the state's economy.
Lu Wang, a Ph.D. candidate in the University of Maine School of Forest Resources housed at the Advanced Structures and Composites Center, is searching, at the subcellular level, for new and innovative ways to use one of Maine's most valuable and iconic resources.
Wang's research focuses on cellulose nanofibrils (CNF) and their potential application in enhancing polymers used for 3-D printing.
CNF are one of the most basic building blocks of plants and trees, and help give wood its strength and rigidity. The abundant, naturally occurring compound can be extracted from trees, plants, waste wood and other biomass to add value to new and existing products.
The incredibly small fibers of cellulose molecules — about 1/100,000th the width of a human hair — are estimated to be as strong as steel, but five times lighter. They have the same stiffness as other types of high-performance synthetic fibers, including Kevlar. CNF are nontoxic, biodegradable and derived from renewable sources.
Wang's doctoral research focuses on cellulose nanofibril-reinforced plastics, working in collaboration with Douglas Gardner, professor of forest operations, bioproducts and bioenergy, who conducts research at the Advanced Structures and Composites Center.
Research in the use of cellulose nanomaterials in plastics is a focus of the center's Polymer Nanocomposites Lab.
While 3-D printing is poised to revolutionize the manufacturing industry, Wang says there are some technical issues that need to be solved before the technology can reach its full potential.
"We are addressing one of the most important and fundamental issues in 3-D printing; the printing material," says Wang.
There are two main challenges with conventional 3-D printed plastics, Wang says. First, some materials, like polypropylene, tend to deform during the printing process and warp the printed parts.
Second, the 3-D printing process generates voids inside the printed parts and, as a result, they tend to be less strong than their conventionally molded counterparts.
Wang believes these concerns can be addressed by using CNF derived from Maine wood pulp. He says the material has extraordinary potential to be used as a reinforcement in plastic polymers where synthetic fibers, like carbon fiber or Kevlar, are conventionally used.
"Nature has already made this product for you and we just need to get it from nature. You're just harvesting it. It's not synthetic," says Wang.
The team hopes to produce a strong and lightweight CNF-reinforced 3-D printed plastic that can compete with the conventional industrial synthetic plastics available.
The potential applications of a stronger, more lightweight 3-D printed material are diverse and include use in biomedical, automotive and aerospace industries.
Wang recently was recognized for his research and awarded a 2016 Society of Plastics Engineers (SPE) Automotive Composites Conference and Exhibition (ACCE) graduate scholarship.
The $2,000 scholarship is awarded to students whose composites-intensive projects were judged by SPE to have the greatest potential impact on ground transportation.
He is the second School of Forest Resources student to win the highly competitive and international award. UMaine alumnus Alper Kiziltas '14, received the award in 2012.
Wang came to UMaine after receiving his bachelor's degree from Central South University of Forestry and Technology in Changsha, China and his master's degree from Nanjing Forestry University in Nanjing, China.
He believes the School of Forest Resources is at the top of the list when it comes to forest and wood science research and says the faculty and facilities at the Advanced Structures and Composites Center give him the opportunity to fully explore the possibilities of nanocellulose polymer technology.
"I can't think of a better place to do this research," says Wang.