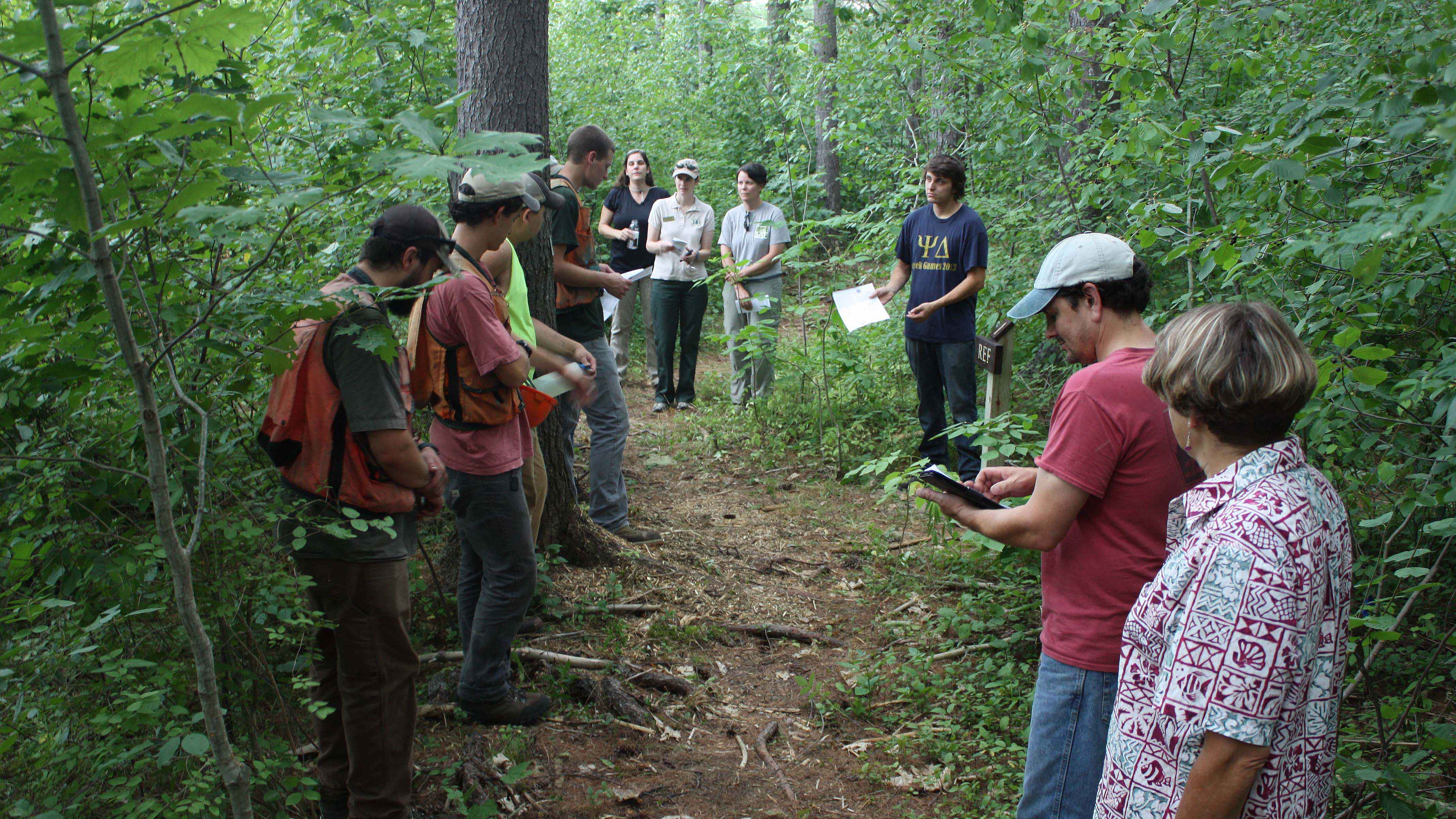 Striding to better forests for native plants
It was a rainy afternoon in the Penobscot Experimental Forest when Shantel Neptune, a student in the University of Maine's Ecology and Environmental Sciences Program, snapped a pair of garden loppers through neon pink flagging tape, culminating a ribbon-cutting ceremony.
Neptune and the five fellow members in the Wabanaki Youth in Science (WaYs) group came together from across Maine to blaze a new educational trail this past summer in the Penobscot Experimental Forest, located near the Northern Research Station, 686 Government Road, Bradley.
"I'm wicked impressed with WaYs and the community that supported their work to make this fabulous trail," said tish carr, the project's coordinator.
The half-mile long Invasive Treatment Trail, now open to the public, offers walkers a glimpse of what the WaYs group learned. They developed a brochure and interpretive signage on the trail to help walkers learn to identify invasive plants and treatment options, with the aim of encouraging voluntary mitigation of a growing threat to native life in Maine's forests.
The two-year project required a great deal of labor from the young leaders, including meticulous data entry, clearing brush with hand tools and digging holes for signage posts. Most described that manual work as their favorite activity of the experience for the sense of accomplishment it offered.
The project also offered learning opportunities. It required them to survey the forest's understory, identify invasive plants and test treatments to try to mitigate their presences to improve opportunity for native flora.
"When I go for a walk now I'm trying to identify plants. It's totally changed how I look at the forest," said Keyana, a WaYs student.
The local community came together to enrich the students' hands-on learning experience. Jessica Leahy, an assistant professor with UMaine's School of Forest Resources, designed the trail. Erik Blomberg, an assistant professor in UMaine's Department of Wildlife, Fisheries, and Conservation Biology, taught the WaYs youth how to rate deadwood habitat for bats, woodpeckers, and insects and build bat boxes to improve nesting access. Cultural Knowledge Keepers from the Penobscot Nation taught the WaYs group about edible and medicinal plants.
"When you know uses you learn to respect the forest more," Kahlan, one of the WaYs group participants, said.
"One thing that makes WaYS is our sense of community. We are able to combine our western knowledge with local indigenous knowledge to provide a rich understanding of our forests," carr said.
The trail is open from sunrise to sundown every day, and is free to visit. The Penobscot Experimental Forest is a 3,800-acre tract of land in Bradley owned by the University of Maine Foundation and managed by UMaine in partnership with the U.S. Forest Service.
For more information, contact waysprogram@gmail.com.
Contact: Erin Miller, 207.581.3204