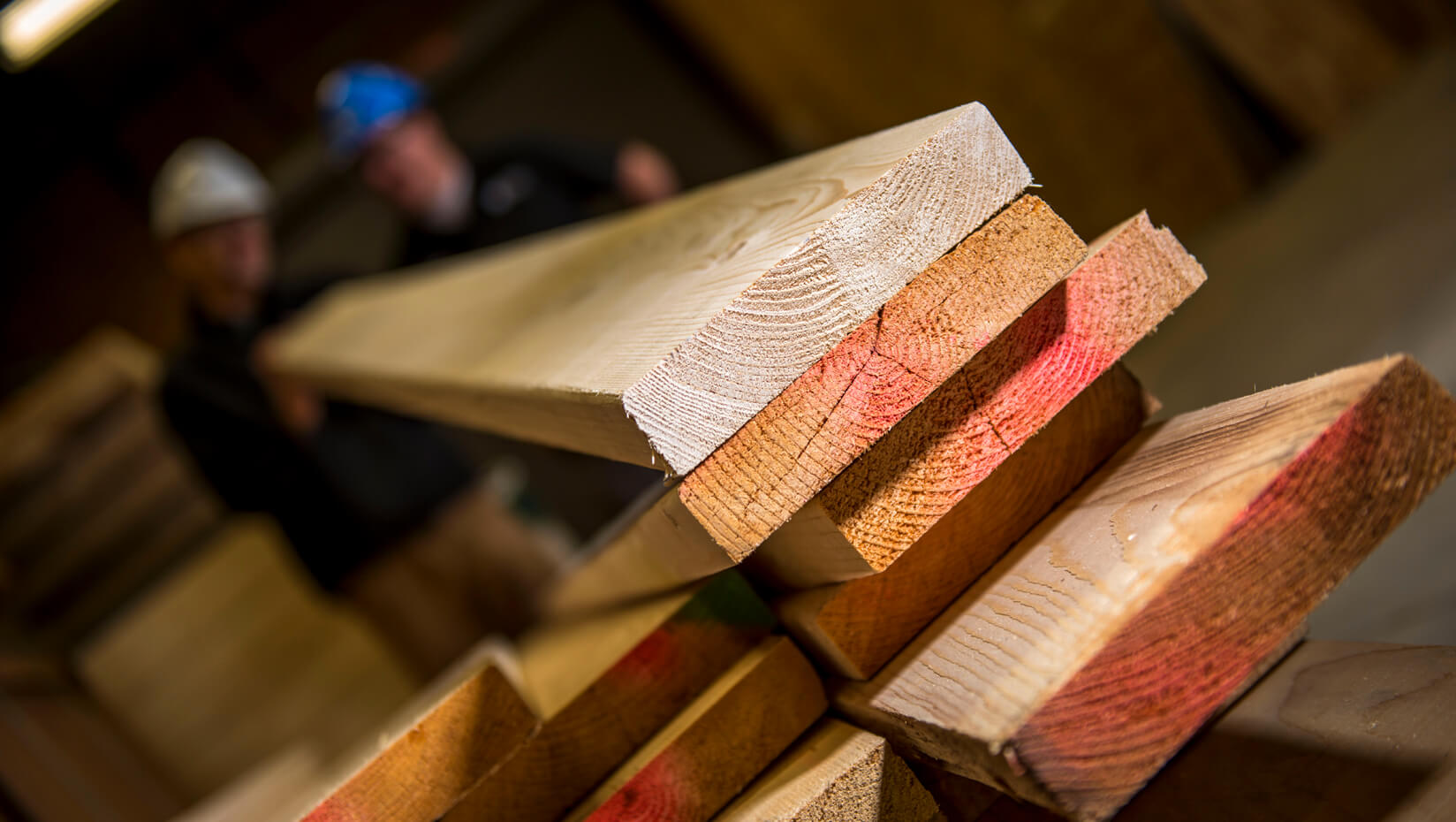 Norway spruce tested at UMaine approved for construction-grade lumber
Note: A press conference and test demonstration with university and industry officials from J.D. Irving, Pleasant River Lumber and the Northeastern Lumber Manufacturers Association will be held at 10:30 a.m. Nov. 2, at the University of Maine Advanced Structures and Composites Center. The press conference will cover how the approval of Norway spruce as a construction-grade dimensional lumber will have an immediate positive economic impact on sawmills and landowners in the state and region. A media advisory with additional details about the event will be issued Tuesday.
Norway spruce, a wood species extensively tested at the Advanced Structures and Composites Center at the University of Maine, has been approved for use as construction-grade dimensional lumber.
Based on the testing at UMaine, on Oct. 20, 2016, the American Lumber Standards Committee (ALSC) approved the inclusion of Norway spruce in the Spruce-Pine-Fir South grouping of wood species for home construction and industrial applications.
Introducing Norway spruce into the market marks a nearly once-in-a-lifetime occasion, says Jeff Easterling, president of the Northeastern Lumber Manufacturers Association (NELMA).
"This is a momentous occasion for the building industry," he says. "The addition of a new species hasn't happened in almost a century, and it's been a very exciting year as we've worked to shepherd it through testing and bring it into the mainstream."
Landowners, loggers, lumber mills, retailers and builders all are expected to benefit from being able to utilize lumber from some of the millions of Norway spruce trees, many of which the Civilian Conservation Corps planted in the United States during the Great Depression.
From Oct. 15, 2015 to Feb. 2, 2016, a team of staff and students at the UMaine Composites Center, led by Russell Edgar, wood composites manager, and Jon Hill, wood composites technician, tested 1,320 pieces of lumber milled from Norway spruce grown in Maine, Vermont, four regions of New York and Wisconsin.
The team then derived allowable design values (including bending, tension, shear and compression) for the species and wrote the final report that NELMA submitted to ALSC.
"It is exciting to be involved in this type of research, which has immediate and direct economic impacts for the state and region. This is exactly why our center exists," says Edgar.
Stephen Shaler, associate director of the UMaine Composites Center, director of the School of Forest Resources and principle investigator for the project, says UMaine students, staff and faculty benefited immensely from the strong collaboration with NELMA and the forest products industry for this research.
"It has inspired students to pursue careers in the field and we look forward to a continued partnership with NELMA and the forest industry," he says. The financial support of the USDA-NIFA (United States Department of Agriculture National Institute of Food and Agriculture) was instrumental."
Habib Dagher, executive director of the UMaine Composites Center, says he's extremely pleased that the research and testing conducted on Norway spruce at the Composites Center will help invigorate the lumber industry in Maine.
"This type of transformative partnership with industry has led to more than 500 research and development programs with companies across Maine, the U.S. and the world," he says.
For complete information on the impact of Norway spruce on the building products and design industry, as well as additional details on history, grading and the mill perspective, visit nelma.org/norwayspruce
More information about testing conducted at UMaine is available online.