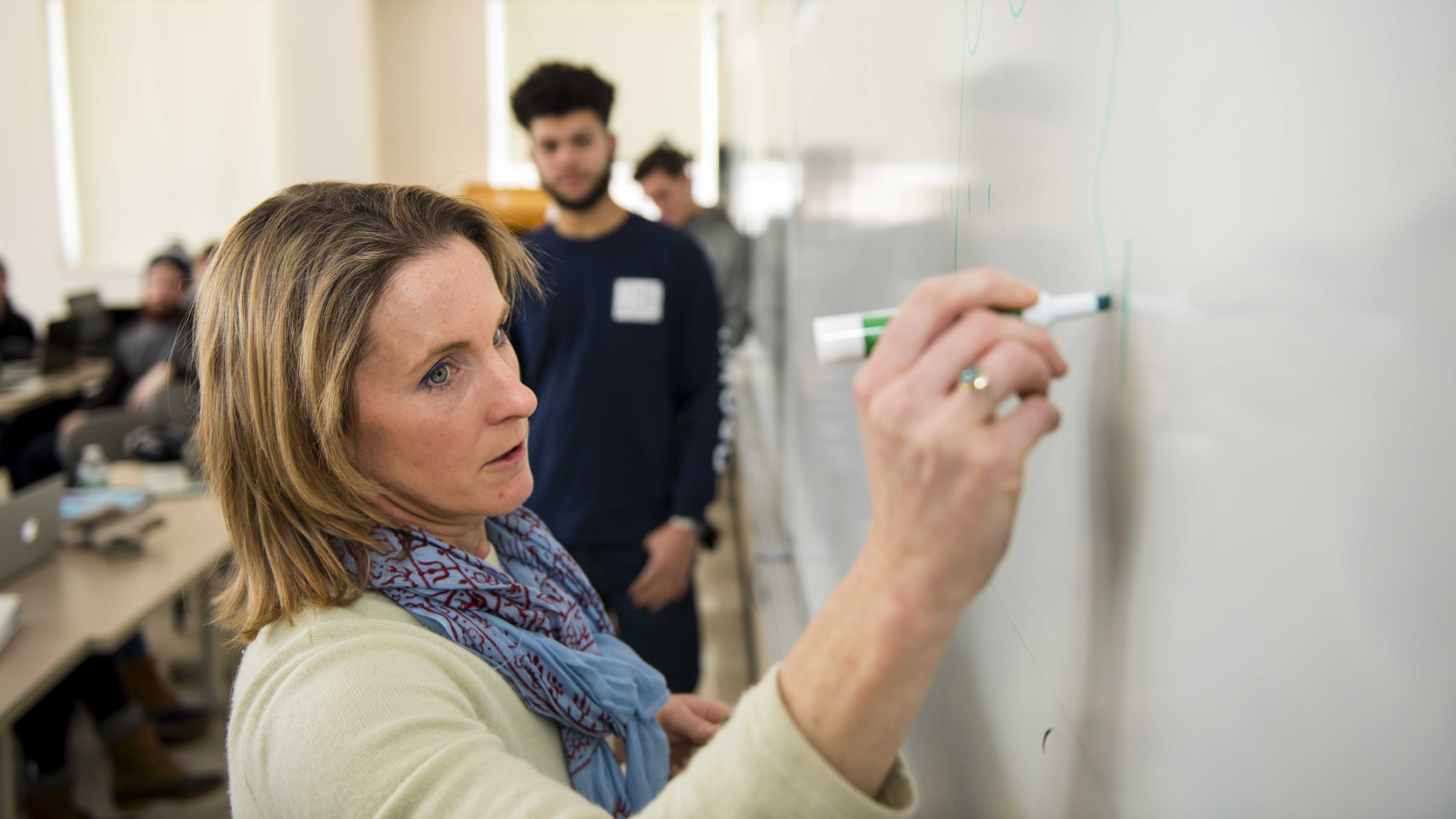 New Faculty: Sally Molloy
The College of Natural Sciences, Forestry, and Agriculture brought a wealth of experience and expertise to its community when it welcomed new faculty this fall. Over the next few months we will feature a new faculty member every Monday and Wednesday to help you get acquainted with these new members of our community.
Please join us in welcoming Sally Molly as a faculty member to the Department of Molecular and Biomedical Sciences!
Title
Assistant Professor of Genomics
Highest Degree
PhD in Microbiology, University of Maine, DNA vaccines and fish health
Specialty/Research Area
Current research area: Bacteriophage genomics and STEM education
When did you discover a passion for your specialty?
In 2011 as an assistant research professor and faculty member in Department of Molecular and Biomedical Sciences and in collaboration with the Honors College, I developed the curriculum for the SEA PHAGES Phage Genomics course at UMaine. This course provides a deep learning experience to 1st-year  students and is part of the HHMI-SEA PHAGES program.  This where my passion to study bacteriophage biology and STEM education began. The course provides 1st-year students the opportunity to learn current techniques in the field of microbiology and genomics while carrying out their own novel research project.  We have expanded the research component of the course to include group activities and reflective assignments that simultaneously teach students both scientific content as well as personal, interpersonal, and critical thinking skills essential to good science. We focus on the following skills and attributes: the capacity for interdependent thinking, the ability to recognize past knowledge that becomes relevant in a new situation, the ability to develop a strategy and to create visual tools to solve complex problems, the ability to persist in the face of challenges, knowing that this kind of courage pays off, the ability to communicate ideas/results clearly, and the capacity to develop some degree of self-awareness, openness, and the kind of interpersonal effectiveness that enhances the development of individual learners who work well within a research team.  Students that graduate from this course have an opportunity to continue working on more advanced phage biology research projects in my lab or are primed to enter other laboratories in first or second year of college.
Why UMaine?
I love Maine and I love UMaine. I received my BS in Biology and German at Colby College but with my experience at Umaine I realized that students at the University of Maine, particularly those in the Honors College, have an opportunities for the richest learning experiences that are on par or surpass that of liberal arts colleges. By being a member of both NSFA and the Honors College, I get to be a part of that. I have the opportunity to conduct exciting research with undergraduate students. This is a bit like going to the Zoo with your child and seeing the wonder of nature through their eyes. Watching first and second year students ask novel research questions and discover new knowledge is a 1000 times more exciting than if I had discovered it myself. I get to be a part of that in my own laboratory and in the teaching laboratory. Because my the classroom and laboratory are integrated my daily routine is full of discoveries. I also have the opportunity to teach in the Honors college Civilization series. That means I get to submerse myself in classics all year long and think about things outside of science, things that really matter but I might not have time to think about otherwise. At the same time teaching in the Honors civilization series has made me a better scientist and a better educator.  On first glance one might think that a seminar focused on reading classic literature and a research laboratory course each pull from different strengths and, in some ways they do. However, in my experience the study of one enhances the other. Beneath the structure of the academic material there are concepts that are all interconnected.
What is one thing you look forward to in the coming year?
I am really looking forward to the students coming back this year: my classroom students and my research students. I will have 24 new first year students in the classroom that will discover new things about science, but more importantly discover their own potential to conduct exciting science at the University of Maine. My research students also have really exciting puzzles to solve in the laboratory including an RNAseq project in virus infected mycobacterial cells.