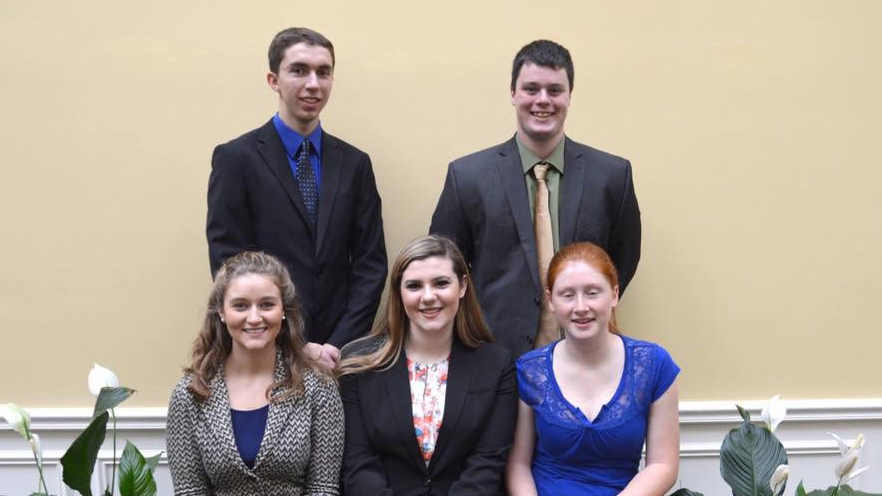 UMaine student teams up to win the 2016 Northeast Dairy Challenge
Glens Falls, NY – Five students from five universities combined their business acumen and animal husbandry expertise to win the platinum award at the 2016 Northeast Regional Intercollegiate Dairy Challenge this November.
Carly Amsden, a third-year animal science student in the University of Maine's School of Food and Agriculture from Elliot, Maine, and her team beat out 23 other groups from 14 colleges and universities spread throughout the Northeastern United States and Canada to take the first place award.
Amsden was joined by Derek Oliver of McGill University, Jamie St. Pierre of Cornell University, Jordan Hubbell of SUNY Cobleskill and Kiersten Foster of Alfred State College.
The team, which was sponsored by Progressive Dairy Solutions Inc., also received special recognition when they were granted the Don Rogers Award, which is reserved for teams that perform with the very best excellence in the competition.  Don Rogers is a retired farm business management consultant with Farm Credit who worked throughout the Northeast and was a founding member of the Dairy Challenge.
In the competition, the team evaluated Welcome Stock Farm in Schuylerville, NY. This six-generation dairy farm is owned by the Peck family and milks 895 cows and markets purebred breeding stock.
The Dairy Challenge is a two-day competition where students apply theory and learning to an operating dairy farm.  Teams first receive production and financial information about a dairy farm in the area, followed by an in-person inspection of the farm. The students then have a brief question and answer session with the farm owner. With this information, the teams develop a farm analysis, which includes recommendations for nutrition, reproduction, animal health, housing and financial management.
The next day each team presents their recommendations to a panel of expert judges in a 20-minute presentation, and then fields questions from the judges.  The teams are evaluated based on the balance and quality of their presentation, their response to the judge's questions and the accuracy of their analysis and recommendations.
The team would like to thank the farms, volunteers, and many sponsors who make this educational opportunity possible.
Contact:
Dr. David Marcinkowski
207-581-2740
davidmar@maine.edu