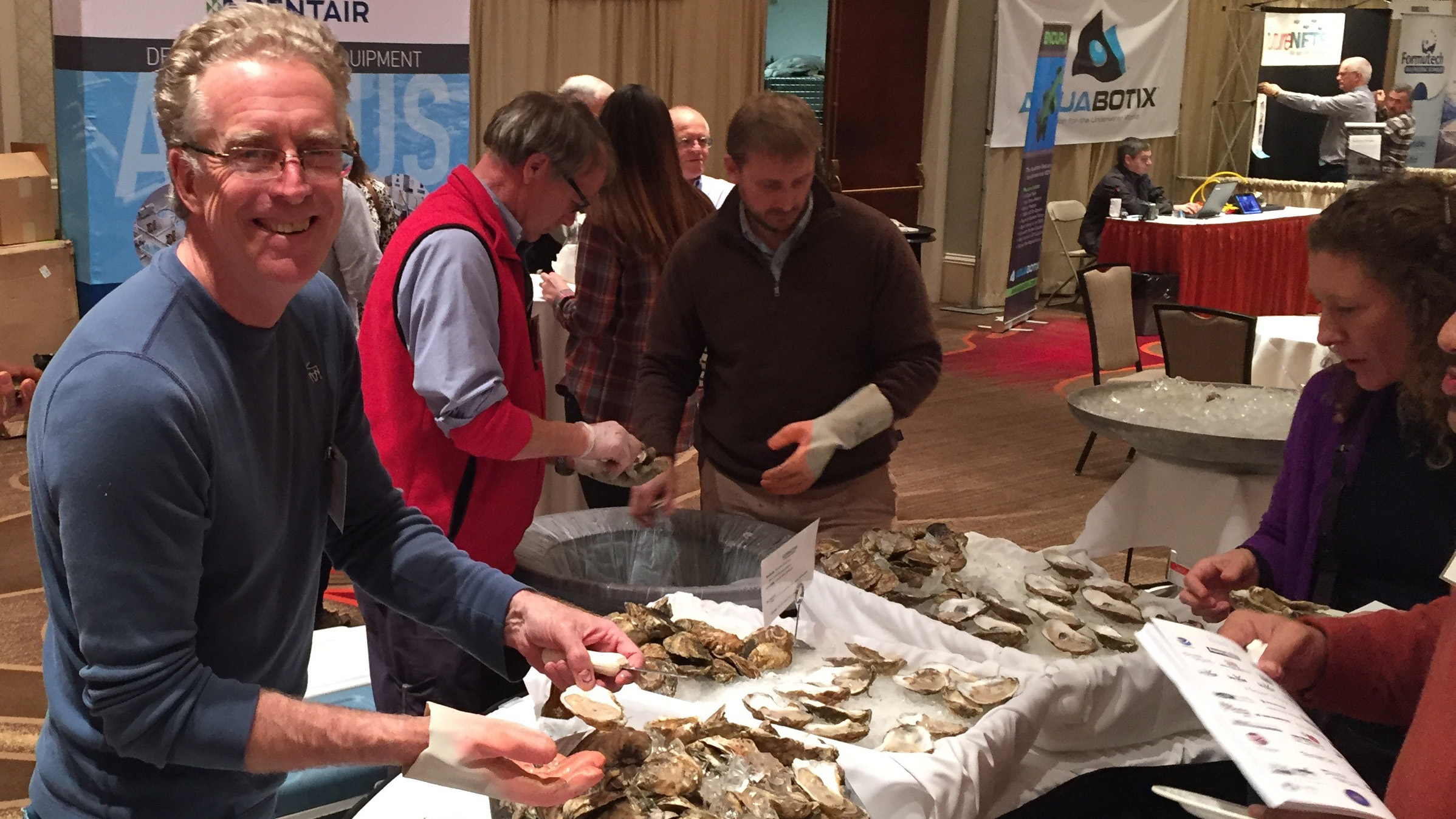 Maine aquaculture industry, scientists well-represented at regional conference
Over 500 sea farmers and marine researchers from the Damariscotta area gathered in Providence, Rhode Island for the the Northeast Aquaculture Conference & Exhibition (NACE) this January.
"There was a really good number of producers and scientists, including a lot of young people there, both from the entrepreneur side and science side." said Dana Morse, extension associate for Maine Sea Grant, who is based at the University of Maine's Darling Marine Center (DMC) in Walpole.
"We created the conference in 1998 because we wanted to bring together growers, researchers and others who are involved in the industry from around the region," said Chris Davis, executive director of event organizer, the Maine Aquaculture Innovation Center, also based at the DMC. "It was great to see so many people there, especially producers."
The three-day event was partnered with the 37th Milford Aquaculture Seminar, and featured educational presentations, workshops, field trips to research facilities and farms, and a tradeshow with industry-related vendors.
Cheyenne Adams, a School of Marine Sciences graduate student at the DMC who studies oyster feeding activity and food quality for UMaine's Sustainable Ecological Aquaculture Network (SEANET) attended the meeting for the first time. "NACE was an awesome experience," she said. "I presented preliminary data and proposed hypotheses for future research during the poster session, which sparked conversation with growers and drew invaluable scholarly advice from research faculty."
Morse said although the technical information was excellent, he was most impressed by the attention that aquaculture is getting and the energy from people already involved in it.
"Out in the hall you'd see clusters of people," said Morse. "They're talking shop. That's a really good function of an event like this."
Located at 193 Clarks Cove Road in Walpole, the University of Maine's Darling Marine Center is an active center of marine research, education, and community engagement. We study coastal and marine ecosystems, as well as the human communities that are a part of them, in Maine and around the world. For more information about the DMC and our K-12 programs please visit our website: dmc.umaine.edu.