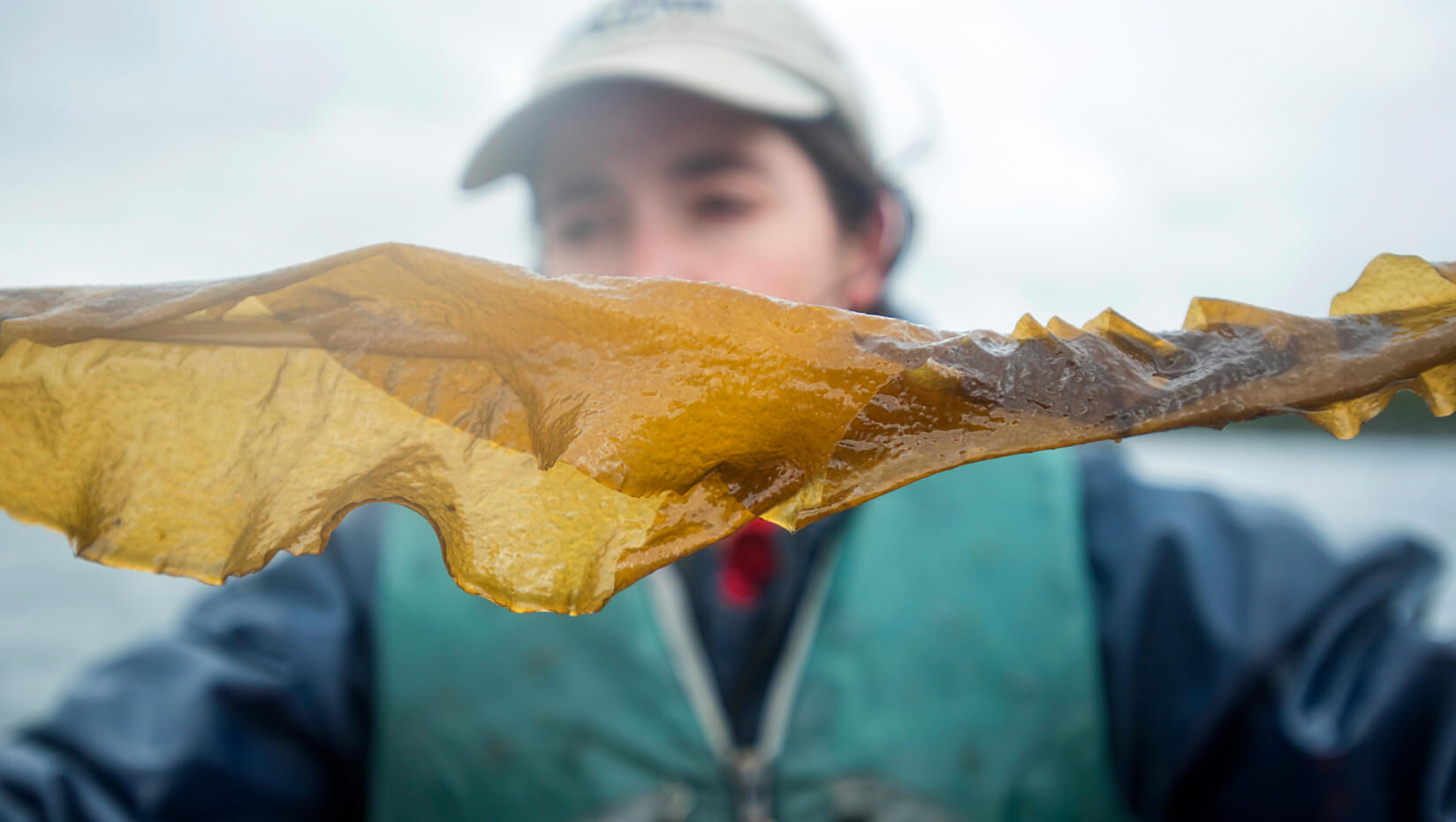 Aquaculture — Putting Maine on the map
With Earth's population of more than 7,495,217,688 increasing by one person every 15 seconds, there's an intense demand for nutritious, high-protein food.
Aquaculture — the farming of aquatic plants and animals — is helping to meet the need. And it's the fastest-growing form of food production.
In Maine, innovative research is being conducted to better understand how aquaculture interacts with the state's coastal ecosystems and surrounding communities.
The University of New England — including faculty, staff and graduate and undergraduate students — is one of the lead partner institutions working to advance aquaculture in Maine through SEANET, the Sustainable Ecological Aquaculture Network.
Established through a $20 million grant awarded by the National Science Foundation to Maine EPSCoR at the University of Maine, SEANET provides researchers at multiple institutions with opportunities to utilize the unique coastal landscape as a living laboratory for sustainable aquaculture study.
In addition to UMaine and UNE, partners include Bowdoin College, Cobscook Community Learning Center, Downeast Institute for Applied Marine Research and Education, Maine Maritime Academy, Saint Joseph's College, University of Maine at Machias and the University of Southern Maine.
Gretchen Grebe, a UMaine graduate student based at UNE, examines nutrient availability in Saco Bay. With a research-intensive farm grant provided by SEANET, Grebe collaborates with area shellfish and kelp farmers to strengthen understanding of the relationships between aquafarming and the environment.
Her interdisciplinary approach draws on ecological principles, phycology (the study of seaweeds and other algae), coastal resource management, biochemistry and marine entrepreneurship.
Grebe's findings will give sea farmers valuable information about site selection.
"The results of my research will provide kelp farmers and harvesters with more information about the best places to grow and harvest kelp to maximize the nutritional value and quality of their products," she says.
The research is intended to ensure top-quality food from the sea reaches consumers' plates.
Adrianus Both, also a UMaine graduate student at UNE, is examining the nutritional value, origin and quality of detritus (organic matter produced by the decomposition of marine organisms) in Saco Bay. He wants to determine detritus' capacity as a supplementary diet for shellfish aquaculture.
"This research informs energy transfer within ecosystems, as well as expanding the site selection criteria for aquaculture," says Both, whose findings will enhance the potential for successful expansion of sea farming along Maine's coast.
Carrie Byron, one of four tenure-track professors funded by the SEANET grant, is expanding research at UNE that she began during her Ph.D. dissertation. Her focus is on food web dynamics as they pertain to shellfish farms and coastal aquaculture. Byron's goal is to understand how aquatic foods are sustainably grown.
Byron, with Both, Grebe and Adam St. Gelais, looks at dietary preferences of shellfish. She wants to determine whether shellfish prefer detritus to other particles.
"Shellfish feed on whatever particles are in the water," says Byron, an assistant professor at UNE. "There is a direct link to the ecosystem, and that ecosystem is feeding the farm. I'm trying to understand those dynamics — the processes on the farm that have an influence on the ecosystem."
Byron and the team also want to understand how detritus contributes to shellfish growth.
"We know shellfish are capable of consuming detritus, but we don't know how that energy gets incorporated (if at all) into their tissues for growth," she says.
Markus Frederich's ecophysiology lab at UNE has used SEANET funding to investigate effects of invasive green crabs on the shellfish industry.
Green crabs pose a threat to aquacultured shellfish raised in the intertidal zone. Understanding their behavior can inform mitigation strategies, including deployment of netting and fencing to protect shellfish on farms.
Lab personnel have focused on the stress response of soft-shell clams in the presence and absence of green crabs, as well as the differences in physiology and destructiveness among genetically different populations of green crabs.
UNE graduate student Amanda Keegan exposed softshell clams to various densities of crabs in the field and in Frederich's lab. She found that clams in the presence of crabs had stunted growth, which indicates clams reallocate energy resources toward a stress response.
Interestingly, the strongest responses of softshell clams — including shell opening and heart rate — occurred in the presence of a dead clam. Thus, an alarm signal for the clams may be due to the odor of a dead animal of the same species rather than due to the presence of a predator.
UNE graduate student Louis Logan has studied green crabs from Newfoundland, Nova Scotia, Maine and Iceland. He found that crabs from Nova Scotia — a genetic hybrid between the Maine and the Newfoundland populations — are the most aggressive.
This elevated aggression, though, is not correlated to the destruction of eelgrass beds. The more aggressive Nova Scotia animals — which Logan said are moving south into Maine — don't burrow to hide.
The less aggressive Maine population of green crabs, though, do burrow and uproot and destroy eelgrass plants.
In Ursula Röse's chemical ecology lab at UNE, work is focused on expanding sea vegetable aquaculture. Chemical defense compounds of brown macroalgae have been a major focus. Several undergraduate students, including UNE sophomore Andrea Call, are examining algal defense compounds.
"To defend themselves, land plants often produce compounds that fight off pathogens and herbivores," says Röse, an associate professor in the Department of Biology.
"As our research over the past few years has shown, brown algae that are only distantly related to land plants are responding in similar ways. These secondary metabolites may not only affect algae-specific pathogens and herbivores but may also have medicinal properties for humans."
With her students, and using gas chromatography-mass spectrometry, Röse identified compounds that are upregulated in response to stress in the seaweed F. vesiculosus.
Röse, who teaches medicinal plant biology, will test extracts of these algae on human pathogens in collaboration with colleague Kristen Burkholder, a microbiologist.
St. Gelais, an assistant research scientist with the UNE Center for Excellence in the Marine Sciences, has led the conceptualization and construction of a sea vegetable nursery and research lab in the UNE Arthur P. Girard Marine Science Center in Biddeford.
In addition to supporting research efforts, the nursery is a regional hub for farmers to source their "seed."
The nursery has established partnerships with several new kelp farming companies and provided seed kelp to farmers in southern Maine and Casco Bay.
"After communicating closely with our community partners in the sea vegetable industry, it was clear that limited outlets for sourcing their seed was an issue," says St. Gelais.
"Southern Maine was in need of leadership in this area and UNE's infrastructure, faculty and staff expertise are well-suited to fill this important role."
Additionally, St. Gelais established a demonstration kelp farm in Saco Bay that serves as UNE's field research platform for sea vegetables. Last season, the farm grew just shy of one ton of sugar kelp and it's on track to surpass that total in 2017.
"Our demonstration farm allows the UNE Ocean Food Systems Group to address research questions from engineering and ecology to product safety and ecosystem services," says St. Gelais. "The farm is being leveraged by research teams across SEANET institutions and disciplines."
Barry Costa-Pierce, director of the UNE Center for Excellence in the Marine Sciences and a co-principal investigator on the SEANET project, says UNE research projects have helped aquaculture garner attention throughout the state.
"Because of the buzz generated by SEANET, there are many more people interested in sustainable aquaculture here and in this region," he says.
Costa-Pierce has developed partnerships and teams to work on priority aspects for the expansion of sea vegetable and shellfish aquaculture in Maine. He's also expanded relationships between SEANET and the state's coastal communities.
Opportunities for interdisciplinary collaboration have enhanced partnerships with industry and other academic centers throughout the nation and world, and enhanced community building at the local level.
Research conducted through SEANET could lead to discoveries that address constraints on aquaculture, from engineering to social ecology.
Costa-Pierce says the potential for growth is exciting.
"There has been a tremendous ingress of new ideas and partnerships, and an influx of energy, with insights into not only applied, but basic sciences here," he says.
UNE's aquaculture research has several goals. Researchers — including Grebe, Both, Byron, Röse, Frederich, St. Gelais and Costa-Pierce — are advancing understanding of local ecosystems and their capacities for sea farming.
And, they're learning more about conducting local aquaculture in a socially responsible way.
Contact: Beth Staples, 207.581.3777