Focused on Food Waste
Fourth-year UMaine Food Science and Human Nutrition major Olivia Conrad took the first place award in the 2017 Sustainability & Water Conference Undergraduate Poster Competition. Her poster, titled "Objective analysis of the physical and microbial quality changes that occur in packaged baby spinach when stored past the best-by date," was the result of a research project she did with her advisor Balu Nayak, assistant professor of Food Processing, Food Science and Human Nutrition, School of Food and Agriculture.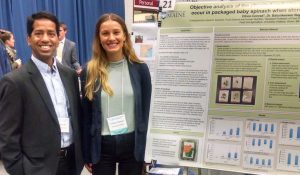 Nayak is also a member of the Materials Management in Maine team within the George J. Mitchell Center for Sustainability Solutions. Materials management is a way of thinking beyond waste disposal to a more holistic system of managing materials throughout their lifecycle. Food waste reduction is one component of the team's research to promote sustainable materials management in Maine.
Conrad's poster noted that, globally, approximately one-third of the food produced for human consumption is wasted on an annual basis. Food waste is a term that describes the result of behavioral tendencies among consumers once food products have made it to the home. In nations with industrialized food supply chains, food waste is a major issue. Specifically, a large portion of food waste in the United States typically occurs at the "retail and end-consumer stages of the supply chain."
Household food waste is typically a result of: the availability of cheap foods; confusion over the meaning of date labels; lack of awareness regarding the impacts of food waste; improper or insufficient product storage; superfluous purchasing of already-owned products.
Among food products wasted by consumers at the household level, fresh fruits and vegetables comprise the largest category of food losses. Such products are typically associated with having high water activities and close to neutral or low acidic pH values, factors that enhance a food product's likelihood of supporting microbial growth. Consequently, fresh fruits and vegetables are subject to spoilage caused by the overgrowth of the inherent microbial populations in/on the products. Spoilage in turn leads to "organoleptic" changes in the product, which include changes in appearance, texture, color, and flavor.
A story about Conrad published by UMaine News can be viewed here.