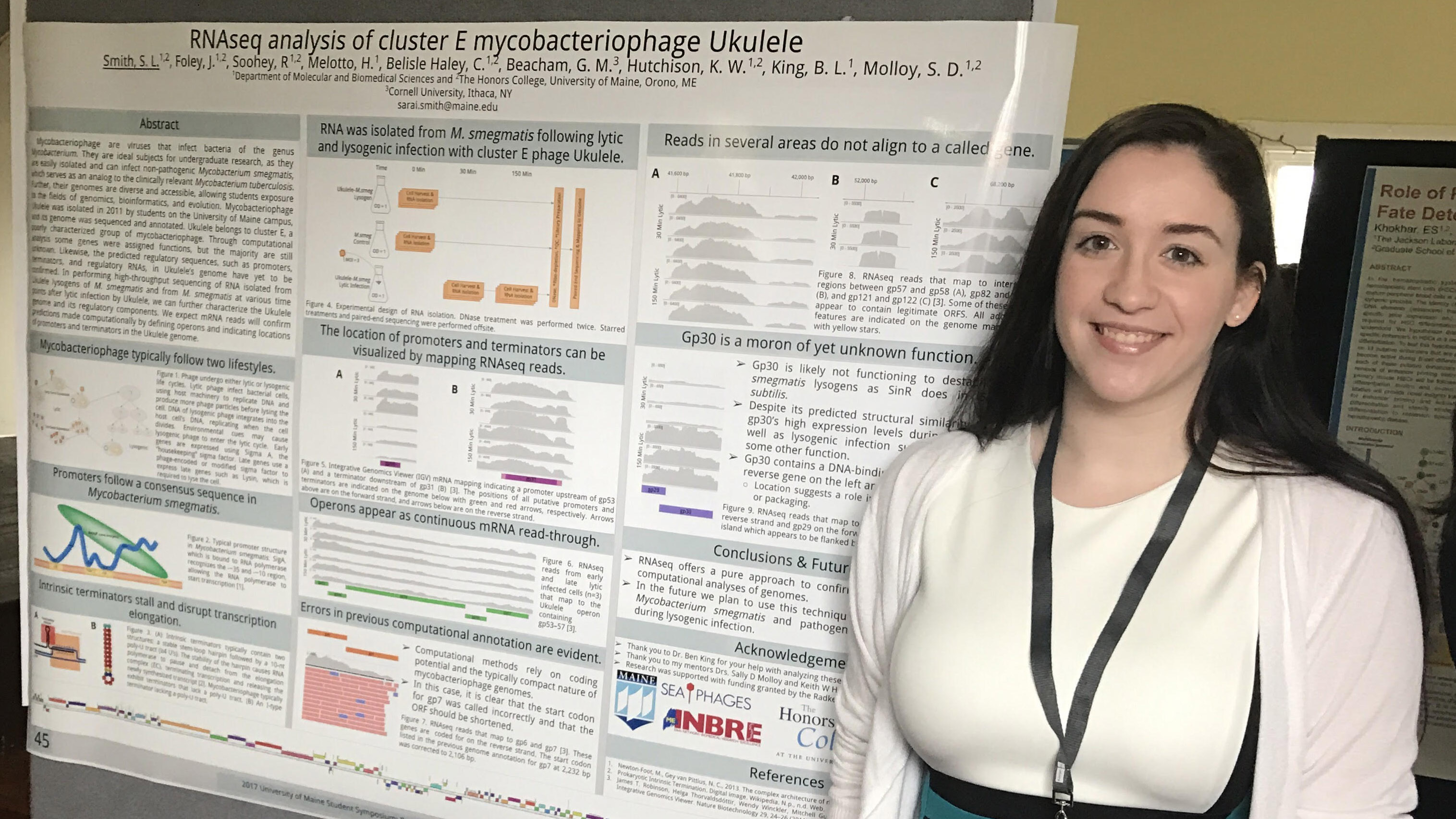 Smith's gene research wins at symposium
Sarai Smith, a third-year microbiology and biochemistry double major in the University of Maine Department of Molecular and Biomedical Sciences and the Honors College took the top undergraduate presentation title at the University of Maine Student Symposium.
Smith, of Amesbury, Massachusets, competed alongside over 1,200 graduate and undergraduate students at the public showcase of UMaine student research at the Cross Insurance Center in Bangor on April 24.
Her presentation, "RNA-seq Analysis of Cluster E Mycobacteriophage Ukulele," featured a research project Smith completed with six other undergraduate students. The project examined gene regulation triggers, called promoters and terminators, to test if predictions from her previous research were correct and identified unexpected anomalies to be considered in future research.
"I'm very happy that people are willing to give hard sciences a chance because I know it can be unapproachable when you are not in the field. People were so open to hearing about my research, and that is exciting to me!" Smith said.
Smith says she entered the symposium for the opportunity to communicate her research, so taking home the overall award was an unexpected bonus to the experience.
According to her mentor, Assistant Professor of Genomics Sally Molloy, "What stands out about Sarai is her depth of knowledge about the science and I think that came through in the presentation. She is absolutely fearless, and if she does not know something she just figures it out."
Smith was first exposed to genomic analysis in the Phage Hunters Advancing Genomics and Evolutionary Science research course led by Molloy, Assistant Professor of Bioinformatics Benjamin King, and Keith Hutchison, professor emeritus in the Department of Molecular and Biomedical Sciences.
The Symposium was organized by UMaine Graduate Student Government and the Center for Undergraduate Research to showcase the work of students from academic disciplines ranging from the sciences and engineering to arts and humanities.
Awards and cash prizes were given to the symposium's top presentations, posters and exhibits.