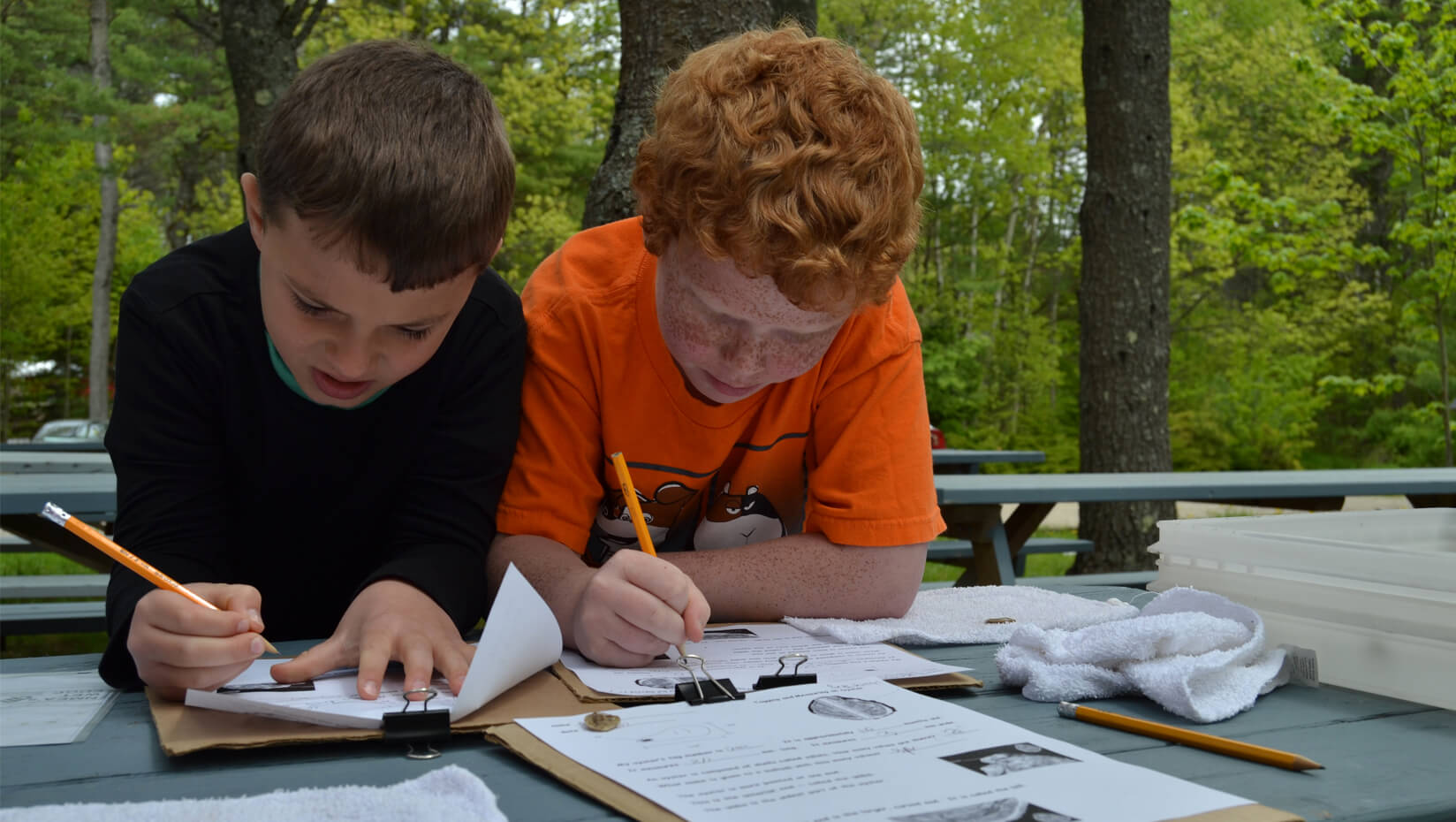 Future of oyster industry in third-graders' hands
"Are we going to be dissecting something?" a Great Salt Bay third-grader asked as he entered the classroom.
When he got a whiff of the empty petri dish in front of him, he announced, seemingly pleased with his guess: "Yup, this smells dissected."
For the next 45 minutes, he and other students learned about oyster anatomy by dissecting oysters and studying their shells.
The next generation of oyster farmers are getting their training at an early age at the University of Maine Darling Marine Center.
Nearly 50 third-graders from Great Salt Bay School visited the DMC to continue the oyster gardening project which they started last fall.
In addition to dissecting oysters, they learned about intertidal zones, tagged and measured oysters and studied sea creatures under a microscope.
The junior oyster gardening program began with a conversation between Dana Morse, an extension associate with UMaine Sea Grant and Cooperative Extension, and Alison Macmillan, a teacher at Great Salt Bay School.
In 2004, with funding from Maine Sea Grant, Morse started an oyster gardening class for adults. Participants learned about oyster biology, aquaculture, estuarine ecology and more.
Macmillan wondered if a similar program could be adapted for elementary school students.
"It's really a natural fit," Morse said. "You've got biology, ecology, math, writing skills all wrapped up into one, and since there's a living animal involved, kids just get really engaged. Working with the teachers and students at Great Salt Bay has been a blast."
Macmillan and fellow GSB teacher Jennifer Gregg created a successful pilot program for their students in the 2009–2010 academic year.
The following year, GSB extended the program to the entire third grade, and now, junior oyster gardening is incorporated into the school's science standard.
"It's completely aligned with our science curriculum," Gregg said. "We are practicing place-based education and kids learn about using their local environment as they grow oysters."
This program is more than relevant for these students, since a lot of them have family members who are fishermen, aquaculturists and marine scientists. Experts in these fields visited third-graders to talk about the importance of the work for the local community and the nation.
Aquaculture is the major waterfront industry in Maine, with farmers annually selling $50 million to $100 million in aquaculture products. Since 1970, the DMC has fostered pioneering research in the quest for clean and efficient growth of the marine economy.
"The DMC is delighted to collaborate with Sea Grant and give students a chance to feel what it's like to be marine scientists. I find it rewarding," said Lili Pugh, DMC's K–12 education coordinator.
Pugh has been involved with the junior oyster gardening program since 2011. "It's always good to get students excited about science," she said.
Contact: Aliya Uteuova, aliya.uteuova@maine.edu