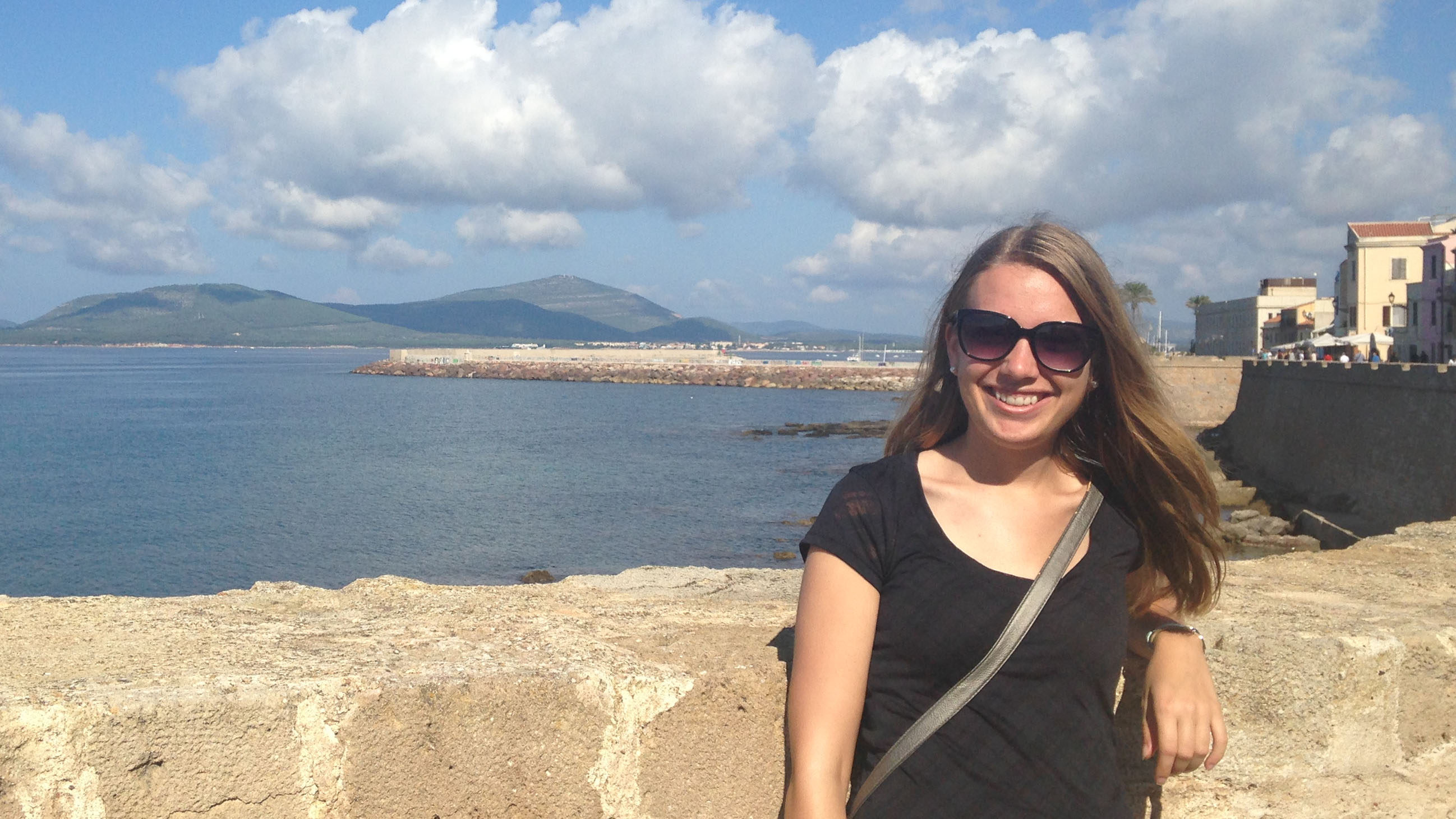 Lee and Sunny Allen International Student Travel Awards – Emily Wilkins
Emily Wilkins reports on taking her UMaine forest resources education abroad. Wilkins is one of six students from the School of Forest Resources whose experience abroad was made possible, in part, thanks to support from the Lee and Sunny Allen International Student Travel Awards.
Major
M.S. in Forest Resources, Class of 2017
Hometown
Woodbury, MN
Favorite tree and why
Aspen trees. I think it's really cool how they are all connected by their root structure; how they work as one big community. The trees aren't in competition with one another, rather they work together. On the surface, one tree may die, but it still lives on through the root structure and larger organism. I think this is beautiful and how I try to view human society too.
Tell me about where you went.
I went to Novi Sad, Serbia first, and then briefly traveled to Croatia and Hungary to visit parks. After that, I traveled to Alghero, Italy, which is on the island of Sardinia. Before traveling back to the U.S., I stopped in Rome and Vatican City.
What did you do there?
In Novi Sad, Serbia, I was attending and presenting research at a conference called "Monitoring and Management of Visitors in Parks and Protected Areas." This conference takes place every other year and brings together researchers from all over the world. Then, I went to Croatia and Hungary as part of a post-conference tour which brought us to parks and protected areas in three different countries to compare how park management differs and explore management across borders. After this post-conference tour, I went to Alghero, Italy, to present research at Tourism Naturally conference (a conference on tourism in changing natural environments). At both conferences I gave oral presentations from research I had done for my master's thesis. Before traveling back to the U.S., I also stopped in Rome and Vatican City to experience more Italian culture outside of the island of Sardinia.
How did your experiences abroad support your professional growth?
Both of my conference presentations are now scientific journal articles that are in peer review. Presenting at these conferences was a great way to talk to other researchers in my field and get feedback on my work so that I could strengthen my research before I submitted it for publication. Additionally, I met so many amazing scholars from all over the world at both conferences. Everyone was so nice and open to talking with me, and many people were genuinely interested in me and my work in Maine. I gained a lot of ideas for potential future research projects and built up a wonderful network of people around the world I could email if I ever wanted advice or to collaborate.
How did these experiences affect your personal growth?
Prior to this experience, I had never been out of the country. I never had the opportunity to travel abroad before and was fairly nervous to travel somewhere I didn't know the language. This experience taught me so much about myself and other cultures! I absolutely loved the culture of Serbia, and have been trying to infuse my life with some things I really liked there (such as living more of my life outdoors, being happy with less, prioritizing people over things). Experiencing other countries helped me have a better understanding of the world and become a more engaged global citizen. Plus, now I'm excited to travel abroad more and not nervous to travel alone or with language barriers!
Is there anything you would like other students to know?
If you have the opportunity to go abroad – take it! If you can, save up money and prioritize going somewhere else. It will teach you so much and help you become a better, more understanding person in this world. I promise it will be worth the cost to travel.
Is there anything you would like the donors that created the Lee and Sunny Allen International Travel Awards, or other prospective donors to know?
You aren't just paying for students to go have fun or take a vacation abroad. You're really changing our lives. International travel is so important to create people who are engaged global citizens because it's just hard to have an understanding of the larger world if you've never left your home country. Additionally, traveling abroad is expensive for many students who are already struggling to pay for tuition, so this presents an opportunity many students would not have otherwise.