Environmental horticulture student interns at California berry farm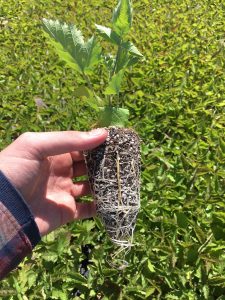 Dylan Hendrickson, a senior majoring in Environmental Horticulture, put his education to work this summer at Driscoll's, a fourth-generation family berry business in Corralitos, California.
Hendrickson grew young plants in both a tissue culture lab and an outdoor nursery setting.  He worked on research projects including exploring the effects of salts, plant hormones and gelling agents in growing media and examining the use of water pulse mats to save water.
Driscoll's controls roughly one-third of the six-billion-dollar U.S. berry market, including conventional and organic strawberries, blackberries, raspberries and high-bush blueberries. The company develops proprietary breeds of berries; licenses them to approved Driscoll's growers in California, Mexico and other regions; and sells the fruit in the fresh section of grocery stores. The company also owns a farming company, which grows about a third of Driscoll's fruit.