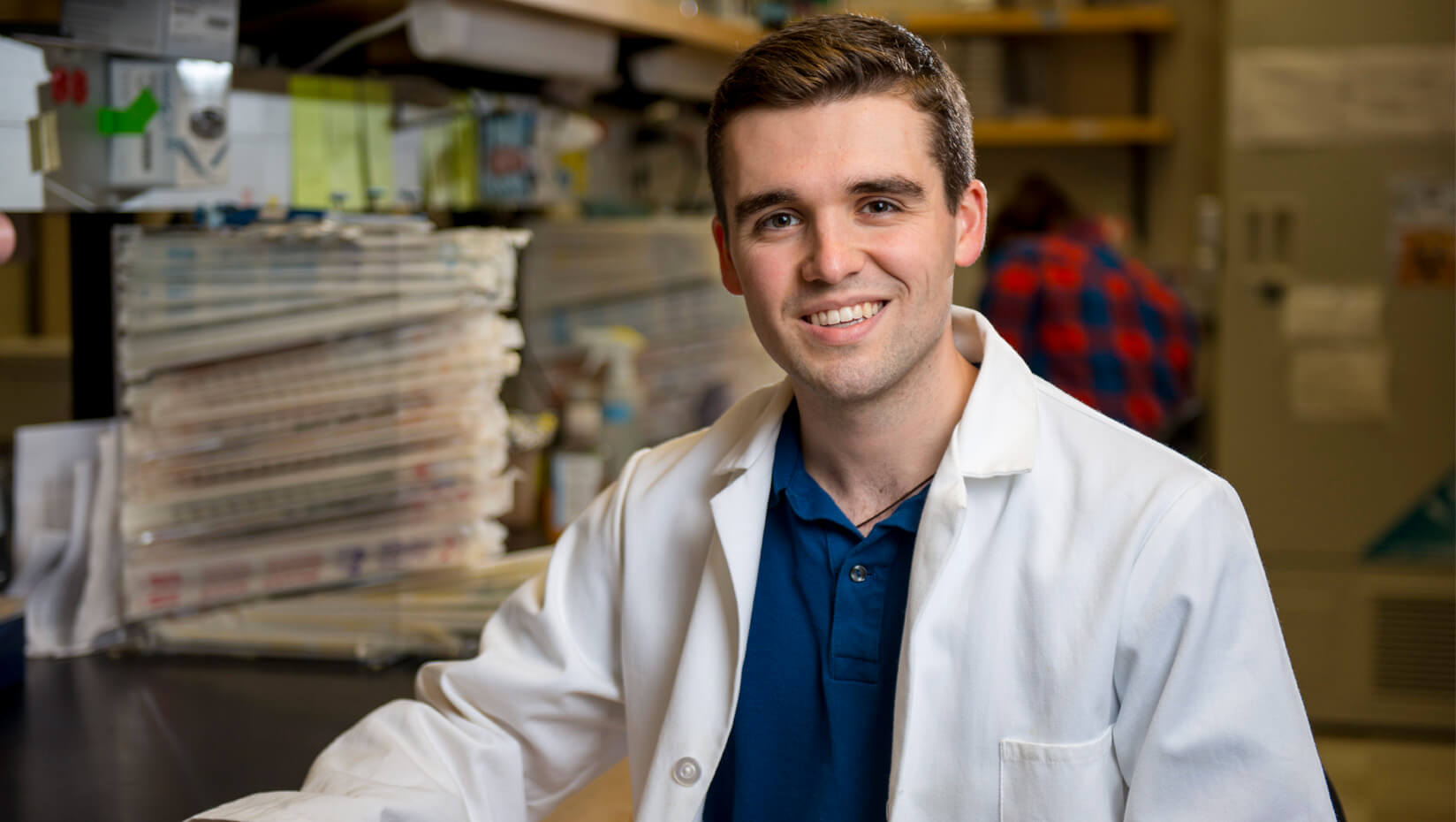 Drew Brooks: Microbiology, music double major on track for medical school
Drew Brooks, a microbiology and music double major from Lyman, Maine, came to the University of Maine with a goal of becoming a medical doctor.
As a sophomore, Brooks already has been accepted to Tufts University School of Medicine through the Maine Track Early Assurance program.
Born of a partnership between Tufts and Maine Medical Center (MMC) in Portland, Maine Track Early Assurance reserves a limited number of seats per year for sophomores from University of Maine System institutions, as well as at Bates, Bowdoin and Colby colleges.
The program, which was established in 2008 and accepted its first students in 2009, began with the hope that a significant number of its graduates will go on to practice medicine in Maine.
Typically, the program accepts five to seven Maine students — this year, there were six. All three UMaine students who applied were accepted. They are guaranteed spots at TUSM after they graduate from UMaine in 2019, if they maintain a 3.5 GPA or higher.
At UMaine, Brooks is researching fungal host-pathogen interaction under the guidance of microbiology professor Robert Wheeler. He has received a Frederick Radke Undergraduate Research Fellowship grant for his work with Candida albicans infections in zebrafish swim bladders.
Beyond academics, he is a member of the Newman Center's Black Bear Catholic faith-based club, and has sung with several groups including University Singers, Black Bear Men's Chorus and Oratorio Society.
"I had sung a little bit in high school, but had no professional vocal training," Brooks says. "I really wanted to develop my voice and understand better the inner workings of music. Music is a means of enrichment and culture, not only for me as a student and recipient, but also for those that my music inspires."
Why microbiology?
I chose to study microbiology because I am fascinated with the way life works at the microscopic level. In other words, what is happening in our cells, and in the components of those cells, that makes life possible? Questions like these and the passion to delve deeper into understanding life, health and disease inspired me to pursue a degree in microbiology.
Furthermore, microbiology is a great pre-medical degree which has helped in my acceptance to Tufts University School of Medicine. The relationships that I formed with faculty and mentors in the Department of Molecular and Biomedical Sciences, as well as the School of Performing Arts, turned my acceptance at Tufts from possibility to reality.
Why UMaine?
I grew up in Maine, and I hope to come back to Maine after medical school. So it's no surprise that UMaine was an obvious choice. UMaine is a big campus but has that small campus feel to it. It feels like home.
If you are passionate about music and desire to excel in the performing arts, the School of Performing Arts is the place to be.
Where on campus do you spend most of your time?
I spend the most time in Hitchner Hall, home of the Department of Molecular and Biomedical Sciences. Hitchner Hall is where I conduct my research involving mucosal candidiasis in zebrafish. When I am not taking classes or practicing music, you can probably find me in Hitchner Hall.
What difference has UMaine made in your life and in helping you reach your goals?
I think if it weren't for UMaine, I would not have been accepted to TUSM. The hard work the university, together with Maine Medical Center, has done to make medical education more attainable for students is commendable.
I received tremendous support and advice from the UMaine Career Center. Without the preparation they provided me, my chances of being accepted to Tufts would have been tenuous at best.
The University of Maine has been very generous to me and all its students. Being able to attend an in-state school made my education affordable and possible. If it weren't for the generosity of the university, I probably wouldn't be completing two fantastic degrees, let alone one.
Any advice for incoming college students who are considering two majors?
If you can handle a double degree, do it. I have found it to be a very enriching experience. But don't get in over your head. Twenty credits per semester can really wear on you after a while. Know yourself and what you are capable of, but don't put limits on yourself either. You are capable of a lot more than you might think.
What are your plans for after graduation?
I plan to work during the summer and then pursue an MD/MPH dual degree through TUSM Maine Track.
Contact: Elyse Catalina, 207.581.3747