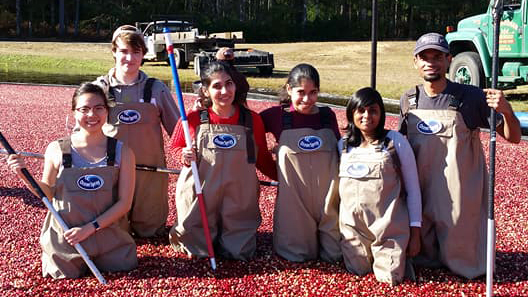 Food Science Club visits Ocean Spray headquarters
Students in the University of Maine's Food Science Club took their learning on the road to learn about cranberry growing and processing from Ocean Spray.
The graduate and undergraduate students visited the company's headquarters in Middleborough, Massachusetts. There, they were greeted by Dr. Brianna Hughes, an associate manager of product development and UMaine alum. The students toured a bog where cranberries are grown, as well as the Ocean Spray's headquarters and cranberry receiving station. The students also had the opportunity to ask cranberry farmers and researchers questions about their production and product development process.
"We were excited to see something we haven't before and thrilled to see real-life applications of what we learn in our classes look like! As young food scientists, such exposure helps us learn and apply those learnings, network with the industry and build a team spirit with our fellow food scientists," said Dhriti Nayyar, one of the students who attended the tour.
The Food Science Club meets every other Wednesday at 4:30 p.m. in the lobby of Hitchner Hall. For more updates, visit them on Facebook.