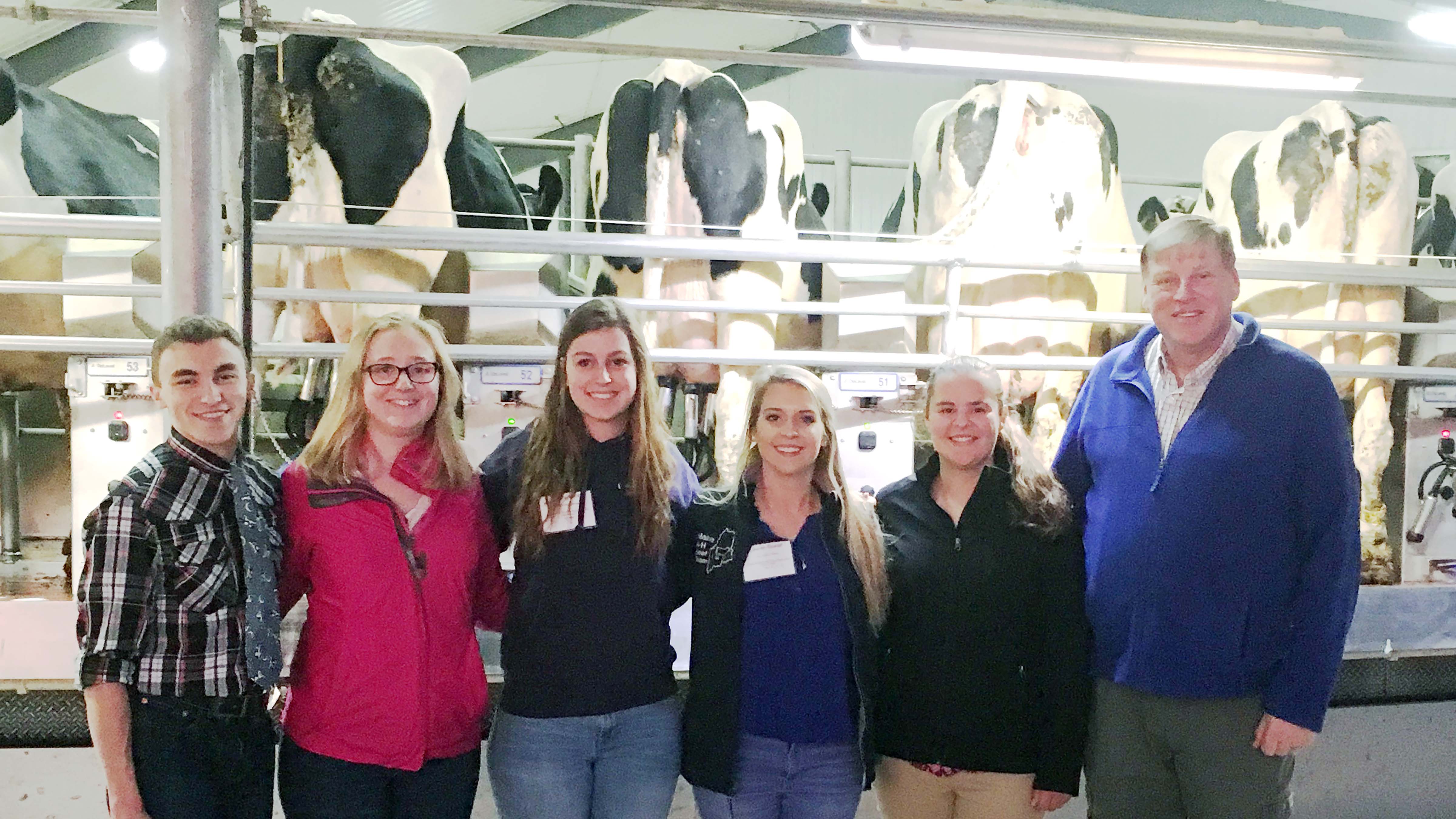 UMaine Students Compete at Northeast Regional Intercollegiate Dairy Challenge
By Grant Herchenroether
Five animal and veterinary science students from the University of Maine competed at the 16th annual Northeast Regional Intercollegiate Dairy Challenge®. Schools across the Northeast sent students to compete against one another in this real-world application event. These students are pursuing potential careers in the dairy industry including farmers, researchers, educators, financial analysts, nutritionist, service providers and much more. The event took place in Auburn NY from October 26-28.
The UMaine representatives included Lauren Guptill of Waldoboro, Maine; Alexandra Banks of Orono, Maine; Hadley Moore of Old Town, Maine; Sadee Mehuren of Searsmont, Maine; and Grant Herchenroether of Naugatuck, Conneticut. Dr. David Marcinkowski, an associate professor in the School of Food and Agriculture, coached the team.
Dairy Challenge is a three-day competition for students representing animal and dairy science programs at North American universities. Students compete in four to five person teams to apply theory and their learning to a working dairy farm. In its 16-year history, the Dairy Challenge has helped train thousands of students through the national contest, Dairy Challenge Academy and four regional contests conducted annually.
Collegiate participants visited 3 dairy farms in New York, as part of their training to help farmers evaluate and adapt management to optimize success and animal care. Also, industry professionals presented cutting-edge research, new programs and career opportunities to students.
On the first day of the competition, students met the other members of their teams. For the regional events, each team is comprised of students from different schools to help teach them cooperation, leadership and adaptation skills. The teams were handed binders and laptops with information about the farm they would be evaluating.
After evaluating records students visite their assigned farm examine the facilities and ask the owners and staff any questions they generated while reviewing the farm's data. It was also the time for the students to identify any notable factors that were not represented in the data.
The second day of the competition consisted of the students submitting their presentations, a career fair and a trip to Sunnyside Farm. The career fair gave students a chance to meet potential employers and learn more information and specific areas of the dairy industry. Sunnyside Farm is a major dairy operation in Scipio NY milking 3,600 cows three times a day. This gave students a chance to see both sides of the dairy farm spectrum and the potential they have in the industry.
Sunnyside showed good old dairy hospitality by hosting a delicious dinner filled with every dairy product under the sun. After the meal, participants and dairy professionals listened to a presentation by Dan Simmons from Continental Search & Outplacement Inc. Simmons discussed the changing workplace environment and how to make it more efficient for employee and employer.
The final day of the competition consisted of the final team presentations, judge commentary, and an award ceremony.
North American Intercollegiate Dairy Challenge was established as a management contest to incorporate all phases of a specific dairy business. Its mission is to develop tomorrow's dairy leaders and enhance progress of the dairy industry, by providing education, communication and networking among students, producers, and agribusiness and university personnel. NAIDC is supported completely through generous donations by 120 agribusinesses and dairy producers, and programs are coordinated by a volunteer board of directors. The National Competition will be hosted in Visalia CA on April 12-14, 2018.