New York exhibition includes innovative device that got its start at UMaine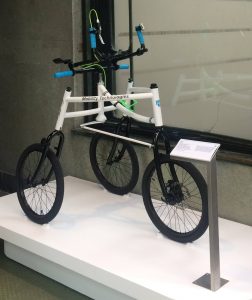 AFARI, a three-wheeled outdoor mobility device developed at the University of Maine and now manufactured by a Maine-based company, is one of more than 70 innovative designs in the "Access+Ability" exhibition on display through Sept. 3 at Cooper Hewitt, Smithsonian Design Museum in New York City.
From low-tech products that assist with daily routines to the newest technologies, all developed in the past decade, the public exhibit "explores how users and designers are expanding and adapting accessible products and solutions in ways previously unimaginable," according to the museum website.
AFARI was invented by UMaine professors Stephen Gilson and Liz DePoy, and engineered by professor Vince Caccese. Project funding came from two seed grants from the Maine Technology Institute and then by National Institutes of Health. Alumnus Ryan Beaumont contributed his biomechanics experience in product development and manufacturing.
Together, the four launched the company Mobility Technologies to bring AFARI to market, with Beaumont as the CEO and lead marketer.
AFARI is an aesthetically designed device, positioning the user in an upright stance. It enables persons who need or want balance, stability and/or weight-bearing assistance to participate in outdoor jogging, running and distance walking on diverse terrain.
According to Cooper Hewitt curator, Cara McCartney, AFARI's beauty lies in its seamless design, appearing as if the users are walking their bikes.
Gilson and DePoy created the outdoor mobility equipment for their own use. After training for a triathlon and reaching the requisite distance on their treadmills, DePoy, who has limited balance, realized that she would not be able to compete without adaptive equipment. But none existed that embodied both form and function for outdoor mobility. AFARI is nonstigmatizing and stylish, built exclusively for outdoor movement. It fosters independence, social interaction, and confidence, while promoting endurance, strength and upright posture.
Cooper Hewitt, Smithsonian Design Museum "advances the public understanding of design through dynamic, interactive exhibitions, stimulating programming, and a broad array of online learning resources," according to its website.