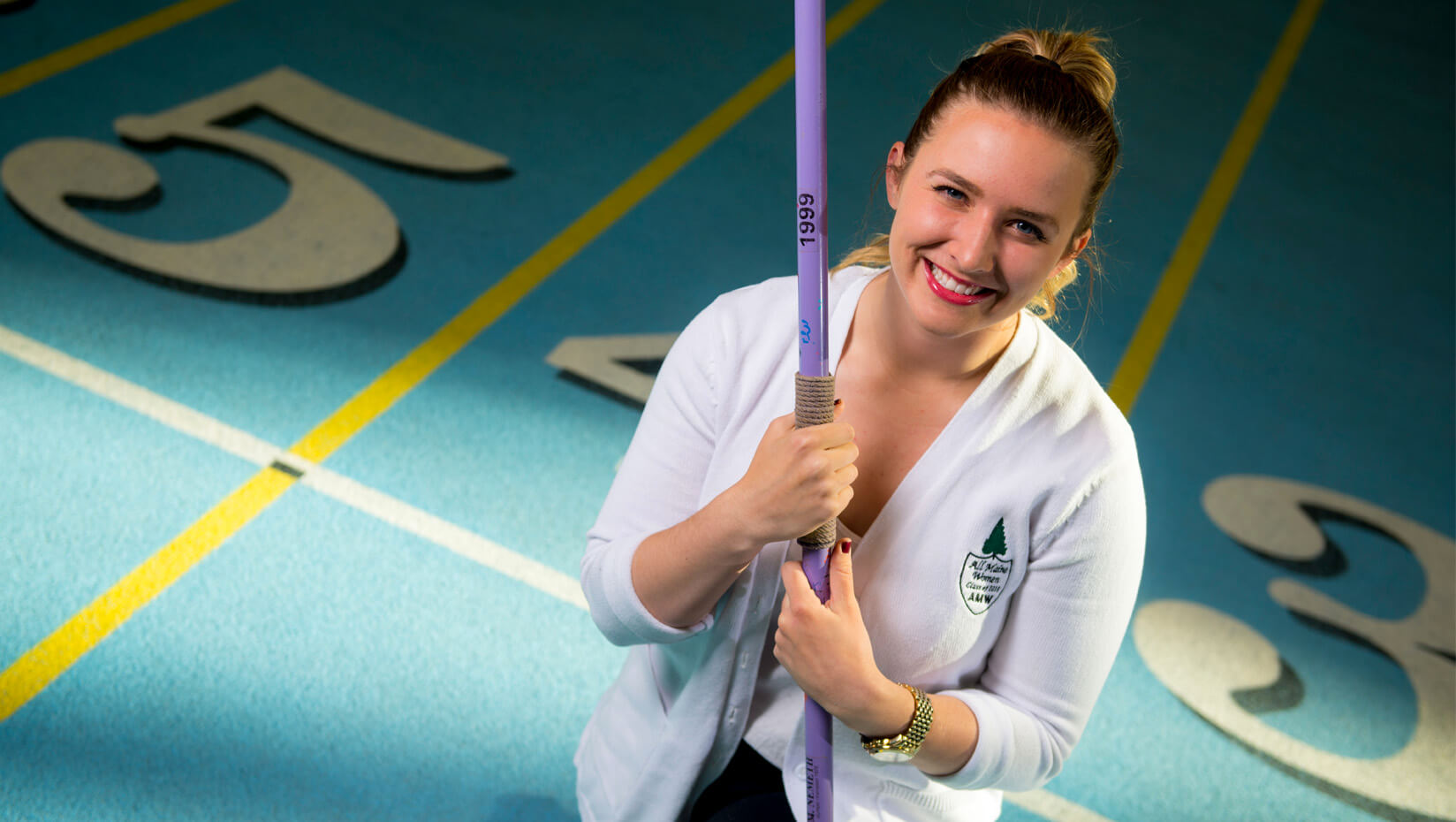 Kayla Greenawalt: Scholar-athlete makes case for protecting the environment
Exploring national parks as a teen during a family cross-country trip made a lasting impression on Kayla Greenawalt.
"It made me want to be around that environment and protect the environment," says the University of Maine ecology and environmental sciences major.
Greenawalt, who returned from a research trip to the Falkland Islands with Ph.D. student Dulcinea Groff in late January, is doing just that as an undergraduate researcher.
On the Falkland Islands — a 4,700-square-mile archipelago off the coast of South America — she collected soil samples around tussac (tussock) grass.
Groff examines sediment and peat cores that contain seabird guano to reconstruct how seabirds and tussac grass were impacted during abrupt climate events as long as 15,000 years ago.
Understanding the past can inform and prepare people for future climate change, including extreme weather, says Greenawalt, whose concentration is sustainability, environmental policy, and natural resource management.
Tussac grass grows in dense clumps, reaches nearly 7 feet in height and has long roots. It helps prevent erosion and is vital to many species on the islands, providing habitat and breeding ground for seabirds and seals, as well as food for sheep.
About 3,400 people live on the Falkland Islands. Tourism provides a number of jobs, thanks to the penguins, seals and nearby whales. Sheep farming does too.
In some areas, grazing sheep have decimated the towering tussac grass. In the absence of grass in some areas, Greenawalt says penguins nest by burrowing into the ground.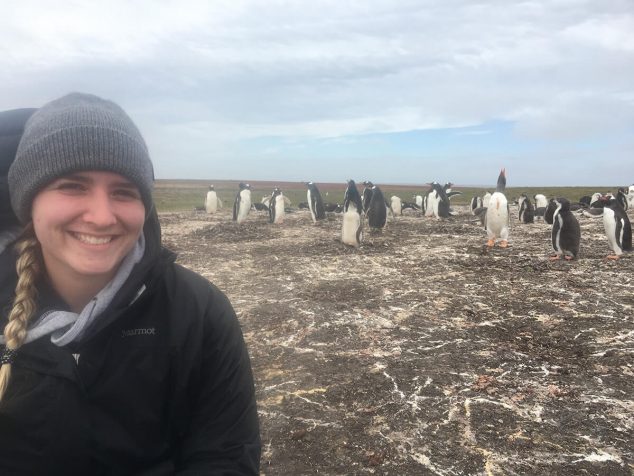 Greenawalt and Groff often logged 16-hour days, one of which included a 14-mile round-trip hike to collect soil. The wind, sights and smells were breathtaking, Greenawalt says, adding the travel, and research and life experiences were well worth the financial output.
"If I didn't go, I knew I would regret it forever," says the former Center for Undergraduate Research (CUGR) Fellow and a member of All Maine Women — a society of leaders, scholars and role models at UMaine.
"The world is so big. And in the field, it was very eye-opening. Nothing ever goes as planned, and you roll with it. And it usually works out."
The fourth-year student, who also majors in business management and minors in legal studies, will return to campus for a fifth year.
The Schuylkill Haven, Pennsylvania native fell in love with Orono at first sight during a high school visit in late November. "There was two feet of snow on the ground, I had talked to one person and I turned to my mother and asked, 'When can I send in my deposit?'"
Next year, she's anticipating new college experiences and making the most of her final year of eligibility throwing javelin on the track and field team.
In high school, Greenawalt played soccer and ran the 800-meter. And, at age 13, she hurled a softball a distance of 154 feet to win a national softball-throwing competition.
Her first year at UMaine, she was doing well academically and had some free time, so she walked onto the track and field squad. "I told the coach, 'I know I can throw a softball. And I'm willing to work.' This past year, it [the javelin] began to click."
And then some; Greenawalt placed fifth with a throw of 36.05 meters at the 2017 America East Outdoor Championship.
"I love doing track," she says. "It's opened me up; I used to be so quiet. Now I know so many people inside and outside athletics."
After commencement in 2019, Greenawalt plans to attend law school on the East Coast and pursue a career as a climate change lawyer.
Contact: Beth Staples, 207.581.3777