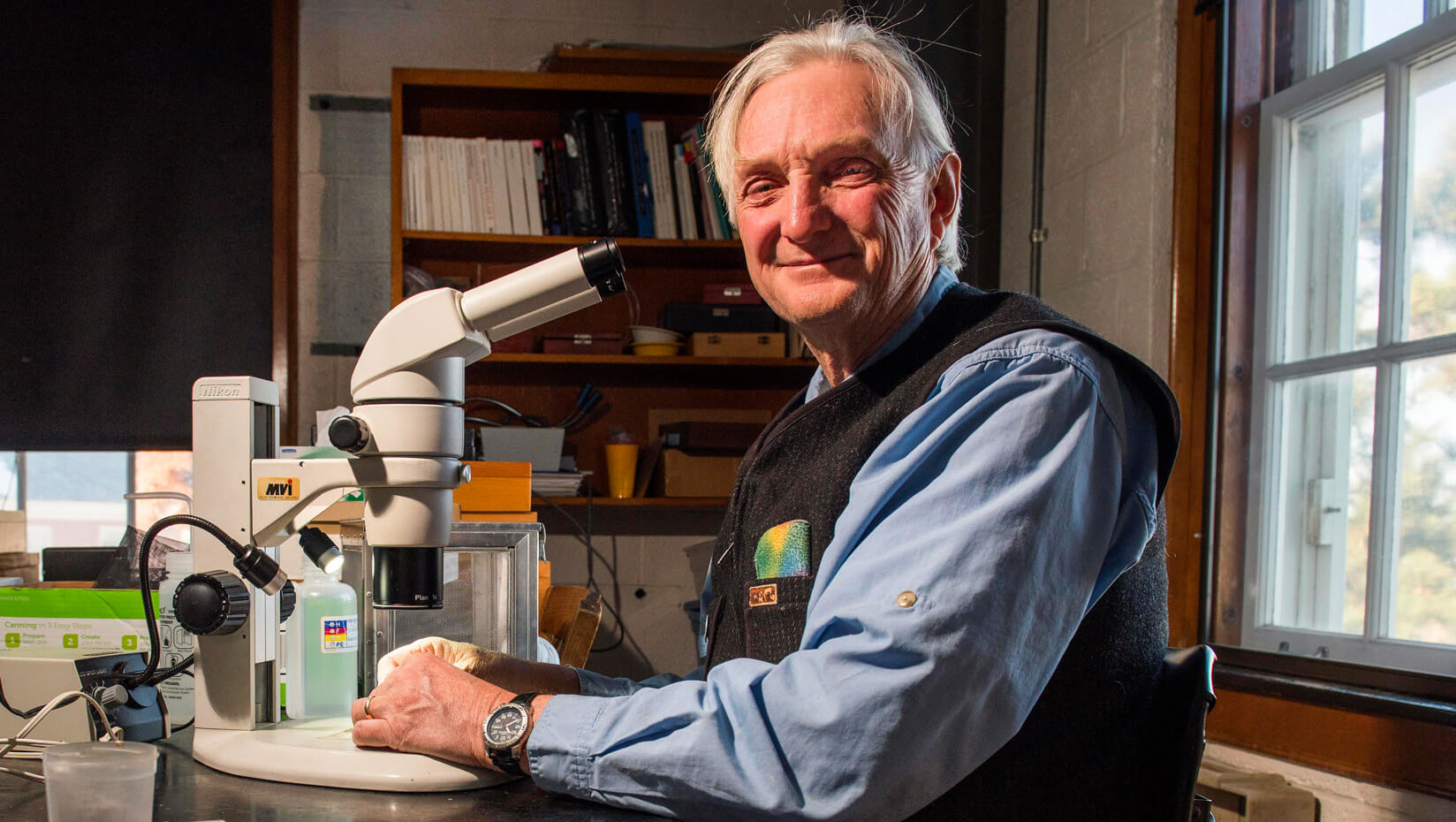 Drummond named 2018 Distinguished Maine Professor
Frank Drummond, an internationally recognized entomologist whose decades of research on insect pests, bees and reproductive biology of the blueberry plant have contributed to the growth of Maine wild blueberry production, has been named the 2018 University of Maine Distinguished Maine Professor by the UMaine Alumni Association.
The Distinguished Maine Professor Award, sponsored by UMaine's classes of 1942 and 2002, annually honors a professor who exemplifies the highest qualities of teaching, research and public service.
The award will be presented at the UMaine Alumni Association Awards Celebration on Thursday, April 26. Drummond also will be honored as part of the President's Faculty Recognition Luncheon on May 12.
Drummond is a professor of insect ecology in UMaine's School of Biology and Ecology, and the insect pest management and wild blueberry pollination specialist in University of Maine Cooperative Extension. The breadth of his career is reflected in his research interests that include pollination ecology and insect pest management, and scientific techniques that span statistical modeling and computer simulation to molecular ecology. His research venues range Maine's blueberry and potato fields to Australian sugarcane plantations. In addition, he has a passion for teaching; at UMaine, he has taught 29 classes — from insect biology to computer simulation modeling.
Drummond has always worked in cooperative research with students and other researchers at UMaine and beyond. Today, his productivity and project diversity involves 60 research colleagues. He has mentored 36 graduate students, published 267 scientific journal articles and 60 Extension bulletins, 14 video tutorials and one computer software tool. He and his students and colleagues have presented 359 talks at scientific meetings and 495 talks to farmers and the general public. Drummond has been the principal or co-principal investigator on more than $26.7 million in research funding. That funding includes USDA grants investigating ecological and behavioral approaches to insect pest management, least toxic approaches to use of insecticides for insect control, genetics of the blueberry plant and its pollination, and pollinator conservation to address stress on native bees, as well as, colony collapse disorder in honeybees. In addition to providing solutions to critical needs of Maine's agriculture, these research grants provided research training opportunities for almost 100 undergraduate students, many of whom went on to pursue research in their careers.
Since joining the UMaine community in 1988 as an applied insect ecologist, Drummond has focused on finding solutions to important agricultural insect problems, especially in Maine. His research on wild blueberry insects has resulted in recommendations focused on minimizing impacts on the environment, while saving growers money, increasing yields, improving the quality of the fruit, and making Maine wild blueberries more competitive in the global market.
One of his many successful efforts to help farmers manage the blueberry maggot fly, was based on the flies' feeding and dispersal behavior, resulting in a field perimeter management tactic — an effort that saved growers money and reduced the environmental impact of insecticide applications. Drummond and his colleagues also have researched and developed organic methods for blueberry production — the only complete organic insect pest management plan for wild blueberry production in North America.
In addition, Drummond created a statistical model to predict the impact of human activity on streams, which became the basis for Maine law and informed national Environmental Protection Agency guidelines.
Among his many honors, Drummond received UMaine's 2013 Presidential Research and Creative Achievement Award. He has a Ph.D. from the University of Rhode Island.
Contact: Margaret Nagle, 207.581.3745